NEW RELEASES!!!!!!

LIKE US ON FACEBOOK: TIME OUT FOR COMICS

ORDER YOUR NEW RELEASES THROUGH US!! Shipping and Handling fees may apply.

Time Out For Comics will be celebrating 30 years in business on September 1, 2023!!!!

Phone: 1-207-360-1034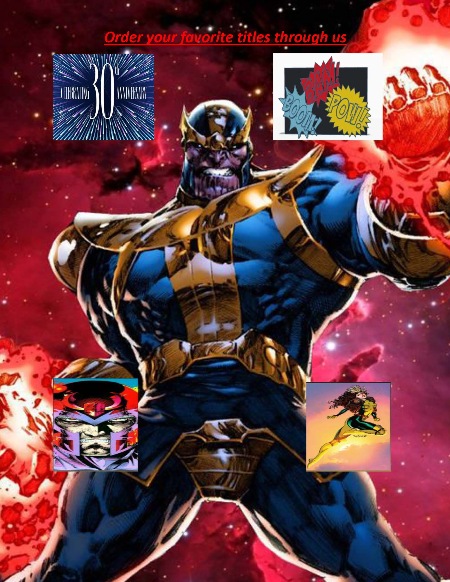 In store October 4, 2023:


MARVEL:


ALIEN ANNUAL 1
Marvel
ALIEN VS. ALIEN: PITY THE XENO! A Xenomorph queen and her hive descend on a dark world. They're hungry - they're always hungry - and stand poised to overrun this planet like they have so many others. Until the native life fights back. Declan Shalvey and Danny Earls deliver an action-packed story and show-stopping visuals in this standalone entry in the Alien mythos!

FANTASTIC FOUR 12
Marvel
What happens when a parallel world starts out different from our own but, through random chance and development, begins to resemble our Earth more and more closely? And what happens when those two universes begin to merge not just in style, but literally? It's a fascinating scientific question that the Fantastic Four will have to consider as they swap places with their counterparts in this other world and find themselves battling for survival in the universe where everyone is a dinosaur, and not anthropomorphic ones, but literal full-scale dinosaurs with all their super-powers, wearing amazing super-hero costumes! Can Sue Storm defeat Brachiosaurus Iron Man? Can the Human Torch take down Lambeosaurus Captain Marvel, her head frill mimicking her human counterpart's spiked hair? Can Reed Richards ever stop Quetzalcoatlus Black Widow, the deadly assassin of the skies? Beyond the dinosaurs and chaos and two universes merging, this issue also features emotional and heartfelt reunions with some missing members of the Fantastic Four family! So: Dinosaurs and catharsis, together at last. Plus: Sue Storm's doctorate is finally revealed!

IMMORTAL X-MEN 16 [FALL]
Marvel
APOCALYPSE WHEN? When everything has already gone wrong, you may think at least you have nothing to worry about. You'd be wrong.

STAR WARS: DARTH VADER 39 [DD]
Marvel
THE CRUCIBLE OF HATE - A DARK DROIDS TIE-IN! The DROID SCOURGE takes over one of DARTH VADER'S closest allies - and seizes one of MUSTAFAR'S greatest weapons! To survive, Vader must finally reclaim his control over THE FORCE by exploring his deepest hatred. Featuring the answer to the terrifying question: Who does Vader hate more than anyone else in the galaxy?

X-MEN 27 [FALL]
Marvel
SOMETHING CAUGHT YOUR EYE? When Cyclops joined this iteration of the X-Men, his pitch was simple - "I am the X-Men." If this is so, the enemies of X-Men seem to have this fight all sewn up.


DC:


BATMAN #138
DC Comics
(W) Chip Zdarsky (A/CA) Jorge Jimenez
THE GOTHAM WAR CONTINUES! Batman is on the ropes as the Gotham War heats up following a shocking betrayal! It's father versus son, teacher versus student in the knockout fourth chapter of this brutal war. But who is really pulling the strings in this explosive event? Thousands of years have led to this moment!

DETECTIVE COMICS #140 FACSIMILE EDITION
DC Comics
(W) Various (A) Various (CA) Win Mortimer
Written by Bill Finger, Otto Binder, and others Art by Dick Sprang, Jimmy Thompson, Curt Swan, and others Batman and Robin meet the Prince of Puzzles in his 1948 debut. Obsessed with puzzles and driven to win at any cost, Edward Nigma decides to create a costumed persona--the Riddler--and taunts the Dynamic Duo with clues about his upcoming crimes. Will the World's Greatest Detective finally be outwitted by this cunning criminal? Follow along with the Dark Knight and see if you can solve the Riddler's riddles in this facsimile reprint collecting the Batman tale, all the backup stories, and vintage ads of the 1940s.

JOKER THE MAN WHO STOPPED LAUGHING #11
DC Comics
(W) Matthew Rosenberg (A/CA) Carmine Di Giandomenico
Two Jokers walk into a bar...and one won't be walking out. Both men who claim to be the Clown Prince of Crime are ready to end their little game, but they can't do it alone. A who's who of Gotham's worst will pick sides and decide who lives, who dies, and who gets the last laugh!

INDEPENDENTS:


GODZILLA: HERE THERE BE DRAGONS #4
IDW Publishing
AVAST, MATEYS! As One-Eyed Henry Hull continues his bizarre tale, Sir Francis Drake and his men find themselves surrounded by monsters, both human and kaiju! While the crew of the Golden Hind have taken terrible losses from giant bats and colossal sea turtles, they've yet to face the REAL dragon. But they might not need to worry about Godzilla if Ebirah slays the King of Monster Island—or Drake and his crew—first!

STAR TREK: HOLO-WEEN #1
IDW Publishing
Acclaimed writer Chris Sequeira (Justice League Adventures and Sherlock Holmes: Dark Detective) and Eisner-nominated artist Joe Eisma (Morning Glories and Engineward) are bringing horror to the holodeck in a new four-issue miniseries in the month of October!
After enduring an anxiety-ridden passage through a solar storm, Captain Picard and the crew of the U.S.S. Enterprise take to celebrating Halloween to reset the mood. But while the Earth holiday involves sweet treats and other festivities, they soon learn that fear is in season when crew members begin to go missing one by one.

TRANSFORMERS #1
Image Comics
(W) Daniel Warren Johnson (A) Daniel Warren Johnson, Mike Spicer (CA) Daniel Warren Johnson
Transformers #1 begins an all-new era for the iconic robots in disguise from superstar creator Daniel Warren Johnson (Extremity, Do a Powerbomb,DC's Wonder Woman: Dead Earth) and colorist Mike Spicer (Stillwater). Optimus Prime was supposed to have led the Autobots to victory. Instead, the fate of Cybertron is unknown, and his allies have crash-landed far from home, alongside their enemies—the Decepticons. As these titanic forces renew their war on Earth, one thing is immediately clear: the planet will never be the same. New alliances are struck. Battle lines are redrawn. And humanity's only hope of survival is Optimus Prime.

____________________________________________________________________________________

In store September 27, 2023:


MARVEL:


AVENGERS 5
Marvel
Battle zone: Vatican City. God vs. living godhead as Thor battles Idol Alabaster. Battle zone: Sydney. Witch vs. revenant as the Scarlet Witch wages war upon the Dead. Battle zone: Toronto. Engineer vs. artist as Iron Man clashes with the Citysmith. Assembled, the Avengers are invincible. But separated, how can they triumph?

AVENGERS ANNUAL 1 [CHAOS]
Marvel
CONTEST OF CHAOS FINALE! When Agatha pits the Avengers against the winners of the previous chaos battles, they realize they must choose between saving their friends and stopping the creation of the new Darkhold. But their choice may have consequences that no one - not even Agatha - could have imagined.

IMMORTAL THOR 2
Marvel
TORANOS WALKS THE EARTH! An Elder God of the Utgard-Realm had marked Thor for destruction - and a city with him. Yet the only power that could prevail carried its own terrible price. And all the while, Loki waited - Loki, who took no side and played no favorites...even if it be their own kin. This is the story of THE IMMORTAL THOR...and the hour of his greatest trial.

STAR WARS: THE MANDALORIAN SEASON 2 4
Marvel
THE SEIGE! THE MANDALORIAN rejoins old allies for a new mission. Featuring the DARK TROOPERS!

ULTIMATE INVASION 4
Marvel
THE END...OR THE BEGINNING? War breaks out as timelines and universes collide! Iron Man must choose between the lesser of two evils - the Maker or Kang. But what secret does Iron Man know about the men behind the masks? And at the end of it all, the world outside your window will be forever changed! Don't miss this giant-sized, action-packed conclusion - or is it only the beginning...?

DC:


BATMAN CATWOMAN THE GOTHAM WAR RED HOOD #1 (OF 2)
DC Comics
(W) Matthew Rosenberg (A) Nikola Cizmesija (CA) Carmine Di Giandomenico
The Gotham War has fractured the Bat-Family in dramatic ways--none more intensely than with Jason Todd. This stunning event will forever alter the destiny of the man who wears the Red Hood!

BATMAN THE BRAVE AND THE BOLD #5
DC Comics
(W) Tom King, Ed Brisson, Rob Williams (A) Various (CA) Simone Di Meo
Art by Mitch Gerads, Jeff Spokes, Stefano Landini, Jorge Fornes The shocking finale to the horrific, groundbreaking first encounter between Batman and The Joker will leave you gasping for breath. The origin of the greatest duel in the history of comics is finally told! Stormwatch is on the trail of an old god who's been slumming his way across Europe, leaving a mess of jilted lovers and bloody bodies in his wake. The god is protecting a powerful weapon that the team needs to defeat one of their greatest adversaries--a weapon he's sworn to protect with his life Emilia Harcourt is back from the dead thanks to...Amanda Waller?! A shocking tale that will have huge ramifications for the Dawn of DC by Rob Williams and Stefano Landini! Ed Brisson and Jorge Fornes bring an epic story to the pages of Batman Black & White!

DETECTIVE COMICS #1074
DC Comics
(W) Ram V., Dan Watters (A) Stefano Raffaele (CA) Evan Cagle
DETECTIVE VS. DEMON! An Azmer demon is tethered to Batman! Now it's up to Bruce's inner demons to save him from this very real one...but what about the Barbatos entity that's been lurking beside them? Is it the real Barbatos or simply a figment of Batman's internal struggles, and more importantly...whose side is it on?

FLASH #1
DC Comics
(W) Si Spurrier (A) Mike Deodato Jr. (CA) Mike Deodato Jr, Trish Mulvihill
WALLY WEST RACES TOWARD THE FUTURE WITH ALL-STAR NEW CREATIVE TEAM SI SPURRIER AND MIKE DEODATO JR.! Wally West has never been quicker, more fulfilled, more heroic. His loving family is around him. And yet something is off. Very off. His evolving understanding of his powers has opened Wally to new avenues of sci-fi adventure and attuned his senses to strange new ideas. Something whispers from the dark vibrations beyond the Speed Force, and as Wally experiments with creative new approaches to his powers he encounters new realms, mysterious allies, and mind-shattering terrors. A new era for the Scarlet Speedster begins now from the team of Si Spurrier (Coda, Damn Them All) and Mike Deodato Jr. (Avengers).

INDEPENDENTS:


GODZILLA: THE WAR FOR HUMANITY #2
IDW Publishing
The menace of Zoospora spreads! The new monster on the block is going after Anguirus and the only hope against either is a robot called MOGUERA! The only hope, that is, unless Drs. Honda and Wiggum can find out any information about this new threat from…the Voice! And where is Godzilla?!

STAR TREK #12
IDW Publishing
The crossover event between Star Trek and Star Trek: Defiant comes to a thrilling conclusion in part five of DAY OF BLOOD! Using powers bestowed upon him by the Prophets, emissary Benjamin Sisko withstands the god-killing weapon for now, but forces of the Orb of Destruction wear on him with each passing moment. Meanwhile, Worf agonizes over a fatal wound of his own that he can never hope to heal. What will become of our heroes? What will become of the universe? Can the crews of the Theseus and Defiant stop the godkiller once and for all?

__________________________________________________________________________

In store September 20, 2023:


MARVEL:


AMAZING SPIDER-MAN 34
Marvel
SPIDER-MAN'S HUNT CONTINUES! Who is Peter's next victim? The penultimate chapter of a story you'll never forget!

CAPTAIN AMERICA 1
Marvel
WHAT FUTURE AWAITS THE MAN OUT OF TIME? Decades ago, Steve Rogers changed the world forever. Now powerful and insidious forces are assembling to ensure he never does it again. Past, present and future collide as the man out of time reckons with an existential threat determined to set the world on a darker path at any cost… Esteemed creators J. Michael Straczynski (THOR, THE AMAZING SPIDER-MAN) and Jesús Saiz (PUNISHER, DOCTOR STRANGE) embark on an exhilarating new journey for CAPTAIN AMERICA!

PREDATOR VS. WOLVERINE 1
Marvel
THE THRILL IS THE KILL! The bloodthirsty saga you've been waiting for! Wolverine has lived one of the longest and most storied lives in Marvel Comics history. Now witness the untold greatest battles of Logan's life - against a Predator! One Yautja seeks the greatest prey in existence - and finds it in Weapon X. From the blood-ridden snows of the Canadian wilderness to the sword-slinging streets of Madripor, Wolverine and a Predator break everything in their paths on their way to the ultimate victory…or glorious death. Superstar writer Benjamin Percy brings the bloodiest hunters in all pop culture to their knees!

WOLVERINE 37 [FALL]
Marvel
HULK AND WOLVERINE - TOGETHER AGAIN in LAST MUTANT STANDING Part 1! LOGAN's grand tour of the Marvel Universe begins here in the only way it could - face-to-face once more with the INCREDIBLE HULK! But will they meet as friends or enemies? And WOLVERINE hunts down his remaining THREE CLONES from BEAST's WEAPONS OF X, for in the end, there can be only one Logan! The perfect jumping on point as Wolverine's new status quo in the FALL OF X kicks into high gear!

X-MEN ANNUAL 1 [CHAOS]
Marvel
CAPTAIN MARVEL VS. CYCLOPS! Drawn to the Alaskan wilderness by magics neither of them understand, Captain Marvel and Cyclops duke it out! Agatha Harkness' plan for the Darkhold is slowly taking shape…but will it come at the expense of two of the world's greatest heroes?! And what can an energy-blasting mutant do against a woman who can absorb the energy of the sun?!

DC:


GREEN LANTERN WAR JOURNAL #1
DC Comics
(W) Phillip Kennedy Johnson (A) Montos (CA) Taj Tenfold
JOHN STEWART RETURNS IN AN EPIC NEW SERIES FROM THE PAGES OF GREEN LANTERN! John Stewart's time as a Green Lantern has come to an end...or so he thinks. A family tragedy calls him back home, and as John begins to reclaim the career he once left behind, he tries to embrace a peaceful post-superhero life. But when a terrifying and contagious force with a mysterious connection to Oa appears on Earth, the last Green Lantern of another Universe comes seeking the only warrior to face this threat and win: the immortal Guardian and Builder, John Stewart himself! Can this brilliant but brash young Lantern help John discover the qualities that made him one of the greatest Lanterns of the entire Multiverse? Featuring the first appearance of an iconic and terrifying new villain!

BATMAN SUPERMAN WORLDS FINEST #19
DC Comics
(W) Mark Waid (A) Travis Moore (CA) Dan Mora
THE ORIGIN OF THE WORLD'S FINEST TEAM CONCLUDES! What, of all things, could tie the Riddler and the Phantom Zone together--and what secrets will the Dark Knight and the Man of Steel learn about one another that will define their friendship? All this, and a lead-in to an upcoming event set in the present day!

BATMAN WHITE KNIGHT PRESENTS GENERATION JOKER #5 (OF 6)
DC Comics
(W) Sean Murphy (A) Katana Collins, Clay McCormack (CA) Sean Murphy
LOVE NEVER DIES! Now captured by the FBI, Harley Quinn has left Bryce and Jackie in the grasp of Joker's other maniacal ex-girlfriend...Riot. And she's ready to do whatever it takes to save her one true love, including unearth a deadly secret from Jack Napier's past. Will Harley break out in time to resue her kids? Or will a dark knight rise from the shadows to save them all?

WONDER WOMAN #1
DC Comics
(W) Tom King (A/CA) Daniel Sampere
THE AMAZON WARRIOR IS NOW A WANTED OUTLAW! A NEW ERA FOR THE AMAZON WARRIOR BEGINS, FROM THE SUPERSTAR TEAM OF TOM KING AND DANIEL SAMPERE! After a mysterious Amazonian is accused of mass murder, Congress passes the Amazon Safety Act, barring all Amazons from U.S. soil. To carry out their plans, the government starts a task force, the Amazon Extradition Entity (A.X.E.), to remove those who don't comply, by any means necessary. Now, in her search for the truth behind the killing, Wonder Woman finds herself an outlaw in the world she once swore to protect! Writer Tom King (Batman, Mister Miracle, Supergirl: Woman of Tomorrow) and superstar artist in the making Daniel Sampere (Dark Crisis, Action Comics) join forces for this action-packed relaunch and the beginning of what will undoubtedly become a groundbreaking run on the character.

INDEPENDENTS:


TEENAGE MUTANT NINJA TURTLES #143
IDW Publishing
Dr. Barlow holds a member of the Claw Clan hostage! Alopex has run out of options, and she can't take on Barlow alone. Forced to seek the aid of the TMNT—whose friendship she renounced after they forged an alliance with the Shredder—Alopex forms an uneasy truce with the Turtles, one that is put to the test when they must work together to bring Barlow to justice. Meanwhile, Leatherhead gets a new perspective on the consequences of his work enforcing Barlow's plans.


______________________________________________________________________________________

In store September 13, 2023:


Marvel:


ALLIGATOR LOKI 1
Marvel
ALLIGATOR LOKI MAKES A SPLASH IN HIS PRINT COMIC DEBUT! Bow down to the reptile in a helm who has enraptured the Ten Realms…with his cuteness! First Alligator Loki chomped down on Mjolnir, and then he chomped his way into our hearts. Now, the beloved Alligator of Mischief finds - and makes - trouble all across the Marvel Universe in his very own comic! Collecting the hit Infinity Comics series from the Marvel Unlimited app, this one-shot includes a never-before-seen adventure in the life of everyone's favorite swamp-dwelling scamp!

AVENGERS INC. 1
Marvel
ACTION! MYSTERY! ADVENTURE! Her name is Janet Van Dyne. She's a hero. She's a celebrity. She's hunting a killer. His name is Victor Shade. He's a villain. He's an enigma. He just got killed. And together, they're out to solve every mystery in the Marvel Universe...starting with their own. AL EWING and LEONARD KIRK bring you a whole new style of Avenging - from a whole new style of Avengers...

INCREDIBLE HULK 4
Marvel
THE GREEN GIANTS THROW DOWN! HULK VS. MAN-THING! Trouble awaits in the foggy bogs when a sultry seductress of the swamp lures unsuspecting victims into her trap! What is this mysterious creature's connection to the Swamp Walker himself? It's rage versus empathy as these two green goliaths come to blows - and even the Hulk isn't immune to Man-Thing's deadly acid! Guest artist Travel Foreman joins Phillip Kennedy Johnson for a twisted two-part tale!


STAR WARS: DARTH VADER 38 [DD]
Marvel
THE SCOURGE COMES FOR THE EXECUTOR! - A DARK DROIDS TIE-IN! As DARTH VADER'S Super Star Destroyer flagship faces its deadliest threat ever, the DARK LORD fights the war on two fronts - against a horde of SCOURGED DROIDS...and against the forces of THE EMPIRE itself! Featuring a rare glimpse into the true character of ADMIRAL PIETT!

STAR WARS: OBI-WAN KENOBI 1
Marvel
THE HIT DISNEY+ SERIES OBI-WAN KENOBI HAS ARRIVED! When agents of the Empire pose a new threat, OBI-WAN KENOBI emerges after years of hiding. Taking place after the events of Star Wars: Episode III Revenge of the Sith, Obi-Wan Kenobi is tasked with keeping both of the SKYWALKER children safe from a distance…until young LEIA ORGANA finds herself held in a ransom plot. Introducing REVA, THE THIRD SISTER OF THE INQUISITORS!

X-MEN RED 15 [FALL]
Marvel
SINS OF THE PAST! Under siege in Port Prometheus, Storm readies to hold the line against the ultimate bioweapon. Meanwhile, the Fisher King finds himself tormented by his strange new abilities…and the secrets in his memory might turn the tide of the Genesis War.

DC:


BATMAN #1 FACSIMILE EDITION
DC Comics
(W) Bill Finger (A) Bob Kane, Jerry Robinson, Sheldon Moldoff (CA) Bob Kane, Jerry Robinson
In this classic issue, the Caped Crusader and Boy Wonder have their first encounters with the Clown Prince of Crime--The Joker--and a cruise-ship cat burglar known as the Cat--who would later be known as Catwoman! Plus, Hugo Strange returns with an army of mindless henchmen at his command. Will the Dark Knight triumph over Strange's giants? Find out in this thrilling facsimile edition of Batman #1, featuring all the original stories, backup features, and ads from 1940!

BATMAN GARGOYLE OF GOTHAM #1 (OF 4)
DC Comics
(W/A/CA) Rafael Grampa
EISNER AWARD-WINNING STORYTELLER RAFAEL GRAMPA'S TWISTED VISION OF THE DARK KNIGHT! When you chase your own shadow...it leads you into the abyss. In a Gotham City where every day feels darker and more irredeemable than the last, Batman makes a definitive choice--to kill off the Bruce Wayne identity for good and embrace the cowl full-time. But though he knows the streets of Gotham, Batman will soon come to find that he hardly knows himself. A serial killer is on the loose, and while the murder victims seem random at first, every clue draws Batman closer to the terrifying truth--that they are all connected, not just to each other...but to him... When an all-new rogues gallery of utterly depraved villains begins to emerge from the depths of the city, Batman will have to contend with the very nature of evil--including that which lurks inside in the darkest corners of his own heart--to face what's coming for his city. Batman: Gargoyle of Gotham brings Rafael Grampa's twisted vision of both the Dark Knight and the city of Gotham to life in a DC writing debut that will reach its icy black tendrils into the deepest and darkest corners of human nature and leave you gasping for breath--and for more!

BATMAN AND ROBIN #1
DC Comics
(W) Joshua Williamson (A/CA) Simone Di Meo
Father and son. Bruce and Damian. Batman and Robin. From Batman vs. Robin to Knight Terrors, a lot has happened to the Dynamic Duo, but now they are back together and ready to fight crime in Gotham--just in time for Batman's most monstrous rogues to team up to turn the city into an urban jungle! A new villain watches from the shadows, intent on revenge, with a plot to turn one of Batman's greatest assets against him! Can Damian help his father solve the case before it's too late? A brand-new fun and exciting father-and-son adventure begins, from DC Comics architect Joshua Williamson and superstar artist Simone Di Meo!

SUPERMAN LOST #6 (OF 10)
DC Comics
(W) Christopher Priest (A/CA) Carlo Pagulayan, Jason Paz
Leaving for a mission in deep space with the Justice League, Superman's apparent PTSD threatens to compromise their mission. He is haunted by the memory of time running out before the sun of his second adopted world turns red and ultimately goes supernova, all while discovering the elites of the planet have been secretly developing an escape plan that will not include the impoverished underclass.

INDEPENDENTS:


STAR TREK: THE MOTION PICTURE--ECHOES #5
IDW Publishing
Peace hangs in the balance with Akris and the Romulans' plans to test the devastating Nightbringer weapon on an innocent population and with the Enterprise crew's actions treading the line of the Federation-Romulan peace treaty. Meanwhile, Nyota has gone rogue after finding the crew's actions too passive for her liking. Can Nyota and Kirk set aside their differences to ensure a peaceful resolution and avoid sparking the next intergalactic war? Find out in the finale of Star Trek: The Motion Picture—Echoes!

STAR TREK: PICARD'S ACADEMY #1
IDW PUBLISHING
From New York Times best-selling author Sam Maggs (Star Wars Jedi: Battle Scars and Marvel Action: Captain Marvel) comes a new ongoing series unveiling the past of one of Starfleet's most celebrated officers: Captain Jean-Luc Picard!
Before becoming the Federation's finest, Jean-Luc was an ordinary student at Starfleet Academy with sights on the stars. His path forward was charted: blow his classmates out of the water on the infamous Evasive Maneuvers exam and graduate early. But there's a detail Cadet Picard hadn't factored into his plan: the exam was a group project and he'd need to make friends with, ugh, people if he stood a chance at passing. Federation starships aren't run by a party of one, after all.


_______________________________________________________________________

In store September 06, 2023:


MARVEL:


AMAZING SPIDER-MAN 33
Marvel
SPIDER-MAN'S FIRST HUNT! The hunter is now the prey. Can Kraven survive?

GHOST RIDER/WOLVERINE: WEAPONS OF VENGEANCE OMEGA 1
Marvel
LOGAN AND JOHNNY VERSUS THE "STITCHER"! All bad things must come to an end…but will WOLVERINE and GHOST RIDER meet their untimely demise at the hands of the demonic force known as "STITCHER"?! And who is the mysterious FATHER PIKE? The secret behind the demon's birth is revealed as the fate of our heroes, and the boy who started it all, are sealed! Benjamin Percy (Wolverine, Ghost Rider) and Geoff Shaw (Thanos, Guardians of the Galaxy) bring the hellfire in this fiery crossover finale you can't afford to miss!

IMMORTAL X-MEN 15 [FALL]
Marvel
After the Gala, we wondered - did anyone survive the experience? Now we discover the real question: How long can anyone survive this?

STAR WARS: DARK DROIDS 2 [DD]
Marvel
The horror continues as THE SCOURGE begins to execute its grand plan, orchestrating its droid minions across the galaxy. It learns more with every passing moment, grows stronger...and is selecting the next targets on its path to total dominion over all mechanical intelligence! Standing in its way, only the warrior-priest droid AJAX SIGMA and the sentient droids of the SECOND REVELATION.

X-MEN 26 [FALL]
Marvel
"WE'RE NOT LOSING AN X-MAN… WE'RE GAINING AN AVENGER!" The moment we swore would never happen-heck, the moment EMMA FROST swore would never happen-is here at last! As the Frost/Stark knot is tied in INVINCIBLE IRON MAN #10, Emma's mutant family reacts to this surprise news!

DC:


BATMAN #137
DC Comics
(W) Chip Zdarsky (A/CA) Jorge Jimenez
BATMAN/CATWOMAN: THE GOTHAM WAR PART 2! Batman descends on Gotham City, full of rage and force, more driven than ever to save his home. But the new landscape has turned friends into foes. Can anyone stop his reign of terror? Should they? The Gotham War continues in this second chapter!

BIRDS OF PREY #1
DC Comics
(W) Kelly Thompson (A/CA) Leonardo Romero
BREAKING HEARTS AND FACES--THE BIRDS OF PREY ARE BACK! Every mission matters. Every life saved is a miracle. But this time, it's personal. Dinah Lance is one of the DCU's most elite fighters, and combined with her sonic scream, she's a fearsome foe in any scenario...but sometimes even the Black Canary needs help. Faced with a personal mission brought to her by a mysterious new ally, and up against near-impossible odds, she re-forms the Birds of Prey with an unrivaled group of badasses--Cassandra Cain, Big Barda, Zealot, and Harley Quinn--and only one goal: extraction without bloodshed. What could possibly go wrong? Kelly Thompson (Captain Marvel, Black Widow) makes her long-awaited DC Universe writing debut, and is joined by her Hawkeye partners-in-crime Leonardo Romero (Batman) and Jordie Bellaire (Wonder Woman) to debut an all-new, all-deadly Birds of Prey series...still breaking hearts and faces after all these years!

JOKER THE MAN WHO STOPPED LAUGHING #10
DC Comics
(W) Matthew Rosenberg (A) Carmine Di Giandomenico, Francesco Francavilla (CA) Carmine Di Giandomenico
What are dark, red, and not safe for anyone? The streets of Gotham as the battle of The Jokers begins. The good news for the people of Gotham is that someone is going to finally put an end to The Joker's reign of terror. The bad news is that person will also be The Joker!

INDEPENDENTS:


Godzilla: Best of Mechagodzilla
IDW Publishing
As King of the Monsters, Godzilla has an awesome might few natural beings can withstand. But sometimes, a manufactured warrior arises to stand in its way…Mechagodzilla! Godzilla's robotic counterpart stands against the fearsome lizard as a mechanical reflection! Experience the best of the metal monster in stories from Godzilla: Rulers of Earth, Godzilla: History's Greatest Monster, Godzilla: The Half-Century War, and Godzilla: Kingdom of Monsters!

GODZILLA: HERE THERE BE DRAGONS #3
IDW Publishing
Back in the pirate days, the scoundrels and villains that sailed the seas learned of dangers and rewards through shared knowledge, but few dared speak of the existence of a mysterious island full of monsters and hidden treasure. And the sailors under Sir Francis Drake and the British Navy are starting to wonder why. Have Drake and the Queen been conspiring to keep the treasure for themselves the whole time? Or is the "dragon" just too frightful to dare make a go for it? Learn more about how Captain Cortez Blanco initially ended up sailing far beyond the boundaries of the known world, starting off this whole race toward glory in the first place, and what perils lie between civilization and the home of the one and only Godzilla! (Hint: It's super scary giant sea turtles!)


STAR TREK: DEFIANT #7
IDW Publishing
Part four of DAY OF BLOOD begins here!
Thousands of years ago, Kahless the Unforgettable led his people to glory and raised an empire of honor. But his clone, Kahless II, has gone too far, murdering innocents in cold blood and hungering for power that can no longer be sated by Qo'noS and the Klingon people.
He now stands alongside Alexander in front of Worf and Sisko, pitting father and son against each other and making a mockery of the Bajoran Prophets and their emissary.
Meanwhile, the power of the Orb of Destruction surges from his ship above. Can Kahless be stopped, or will he once again prove to be the greatest warrior of them all?

___________________________________________________________________________

In store August 30, 2023:


Marvel:


INCREDIBLE HULK 3
Marvel
Hulk faces undead horror as "The Age of Monsters" continues! Hulk investigates the creature being worshipped in an abandoned mining town…and finds a primordial horror as large as the mine itself awaiting him, using the town's residents as human shields. From the darkest corners of the minds of Phillip Kennedy Johnson and Nic Klein, the first chapter of "The Age of Monsters" culminates in a battle between the Hulk and a monster unlike any he has faced before - but that's only the tip of the iceberg!

STAR WARS: BOUNTY HUNTERS 37 [DD]
Marvel
THE HAUNTING SECRET MISSION OF JANGO FETT! A DARK DROIDS TIE-IN! The BOUNTY HUNTERS must contend with the looming shadow of the sins of BOBA FETT'S father! What is the secret that lurks on the mysterious droid outpost, THE HAVEN? Who is TARR KLIGSON and what is his connection to Jango Fett?

STAR WARS: THE MANDALORIAN SEASON 2 3
Marvel
"THE HEIRESS"! THE MANDALORIAN braves high seas and meets unexpected allies. Introducing BO-KATAN KRYZE, KOSKA REEVES and AXE WOVES!


ULTIMATE INVASION 3
Marvel
After KANG descends upon the City of Tomorrow, the Illuminati must regroup! IRON MAN has a heart-to-heart with Tony Stark! DOCTOR DOOM - the anti-Maker - prepares his own plans to deal with this evil Reed Richards… …and the Ultimate Universe that the Maker thought he had rebuilt frays at the edges as they prepare for cosmic war!

WOLVERINE 36 [FALL]
Marvel
GHOST RIDER/WOLVERINE: WEAPONS OF VENGEANCE PART THREE! LOGAN and BLAZE'S battle has taken a serious turn. Enter: The HELLVERINE!

DC:


ACTION COMICS PRESENTS DOOMSDAY SPECIAL #1 (ONE SHOT)
DC Comics
(W) Dan Watters (A) Eddy Barrows (CA) Bjorn Barends
DOOMSDAY RULES...IN HELL! It is a creature beyond reason--and the only force in the universe strong enough to kill Superman. It's Doomsday, the living embodiment of death, destruction, and evolution! In the wake of Dark Crisis and Lazarus Planet, King Doomsday now sits on a throne of skulls across a river of blood, holding court over the demons that swarm in the depths of Hell...and he may have just found a way back to the land of the living. It's now up to Supergirl and Martian Manhunter to drive the beast back and see that he never again returns to our earthly plane--even if they must die to do it! Plus: the return of Bloodwynd, the debut of the Doomhounds, and a clue to the next big Superman event!

BATMAN CATWOMAN THE GOTHAM WAR BATTLE LINES #1 (ONE SHOT)
DC Comics
(W) Chip Zdarsky, Tini Howard (A) Mike Hawthorne, Adriano Di Benedetto (CA) Jorge Jimenez
THE BAT/CAT WAR STARTS HERE! Crime is down in Gotham City... Could that be a bad thing? A coordinated effort in Gotham has led to a reduction in violent crime, but at what cost? Villains scatter as their lives begin to crumble under a new regime. And as Batman recovers from his epic battle through the Multiverse and the horrors of Knight Terrors, one name runs through his mind. One name at the heart of this new, safer Gotham...Catwoman. A conflict that's been brewing for well over a year finally hits the streets, and it will fracture the Bat-Family as war erupts! From bestselling writers Chip Zdarsky and Tini Howard and artists Mike Hawthorne and Adriano Di Benedetto comes the opening shot in the Gotham War!

KNIGHT TERRORS NIGHTS END #1 (ONE SHOT)
DC Comics
(W) Joshua Williamson (A/CA) Howard Porter
THE TERRIFYING EVENT CONCLUDES IN THIS THRILLING OVERSIZE ONE-SHOT! Batman, Superman, and Wonder Woman, along with the DCU's other heroes, have escaped the Nightmare Realm only to find the Nightmare League has followed them home! The entire world has become engulfed in horror, and the last person standing to take down Insomnia is Deadman. But does he want to? And don't miss the exciting ending that continues the Dawn of DC mystery and introduces Dr. Hate! Wait...who is Dr. Hate? Knight Terrors' thrills and chills are brought to the DC Universe by DC architect and superstar writer Joshua Williamson with horrific art by comics legend Howard Porter!

RIDDLER YEAR ONE #6 (OF 6)
DC Comics
(W) Paul Dano (A) Stevan Subic (CA) Bill Sienkiewicz
EDWARD BECOMES THE RIDDLER IN THIS FINAL ISSUE WRITTEN BY PAUL DANO! The time has come. Edward Nashton's long, painful psychological journey and downward spiral have finally brought him to the point where he is ready to take direct action against the corrupt of Gotham. Embittered and abandoned and believing the world is aligned against him, he's reached the time to lash out. His extensive research and clandestine operations have left him with a deeper knowledge of the city's web of criminality than anyone in Gotham. And now he knows exactly which targets to strike and when. As Edward finally dons the mask of the Riddler, the series ends right before the start of his first murderous attack, shown in the opening scene of Matt Reeves's film The Batman. Actor Paul Dano brought this character to life onscreen, and now he completes Edward's arc with this groundbreaking prequel. Together with renowned European artist Stevan Subic, Dano has crafted a disturbing and emotional tale, filling out the backstory of one of the most unique and terrifying villains faced by any version of the Dark Knight.

INDEPENDENTS:


GODZILLA RIVALS: VS. SPACEGODZILLA
IDW Publishing
Some time ago, mysterious crystals fell to an alien planet, becoming the subject of a planetwide religion existing at odds with the planet's government. After years of conflict, the leader of what has become a powerful cult uses the crystals to summon his "god" and unleash it on his world. Little does he know he has only summoned the terrifying SPACEGODZILLA!
…And SpaceGodzilla hears no prayers.
Don't miss this all-new one-shot by superstar Godzilla artist Matthew Frank!


TEENAGE MUTANT NINJA TURTLES VS. STREET FIGHTER #3
IDW Publishing
The gloves are off as the Turtles and Street Fighters team up in an all-out brawl against a squad of mysterious mercenaries… But the bout is cut short when key members of both crews are taken captive! Can the remaining TMNT and Street Fighters come together to take down the sinister forces behind the abductions? Or will the plot go unchecked?

IDW and Capcom bring the heat once again in this thrilling issue of TMNT Vs. Street Fighter!

___________________________________________________________________________________

In store August 23, 2023:


MARVEL:


AMAZING SPIDER-MAN 32 [G.O.D.S.]
Marvel
Two of Spider-Man's villains are forming the deadliest team-up he's ever had to face. But are they after Spidey? Or is he just in the way of something bigger? Patrick Gleason rejoins the AMAZING SPIDER-MAN crew for the darkest arc of ASM yet!

AMAZING SPIDER-MAN 300 FACSIMILE EDITION
Marvel
One of the fiercest rivalries of all is born in battle as Spider-Man meets his deadliest foe…a terrifying entity with all his powers, twice the muscle and two reasons to hate the wall-crawler! Because the symbiote costume that Peter Parker rejected has bonded with disgraced reporter Eddie Brock, who blames Spidey for ruining his career! Together, they…are…Venom! They've already terrorized Mary Jane, and now they seek revenge on their mutual nemesis! Can Peter summon all his strength and will and somehow find a weakness to exploit in Venom? Or will the bell toll for Spider-Man? From the fan-favorite creative team of David Michelinie and Todd McFarlane, it's one of the all-time great Marvel comic books, boldly re-presented in its original form, ads and all!


FANTASTIC FOUR ANNUAL #1
MARVEL
(W) Zac Gorman, Stephanie Phillips (A) Duarte, Alberto Foche (CA) Francesco Manna
GHOST RIDER VS. THE HUMAN TORCH! The Fantastic Four is drawn into the mayhem when the Human Torch is pitted against Johnny Blaze, the Ghost Rider! It's flame versus hellfire when the two heroes face off - but who will emerge victorious?! Plus: More of Agatha Harkness's plan is revealed - along with those determined to stop her!

IMMORTAL THOR #1
MARVEL
(W) Al Ewing (A) Martin Coccolo (CA) Bryan Hitch
AL EWING, MARTIN COCCOLO & ALEX ROSS GIVE THE GOD OF THUNDER THE "IMMORTAL" TREATMENT!
In Norse myths, they called him Thunderer. Vuer has he been called, and Hloriddi. The Gods know him as Asgard's King, keeper of Mjolnir, hero of the tales. When injustice grips the Earth and ancient powers bring down the sky, he fights for those who cannot - and when the tale is done, we will know what that cost him. This is the story of THE IMMORTAL THOR. PLUS: A bonus page written by Jonathan Hickman - WHO ARE THE G.O.D.S.?

DC:


BATMAN THE ADVENTURES CONTINUE SEASON THREE #7 (OF 8)
DC Comics
(W) Alan Burnett, Paul Dini (A) Ty Templeton (CA) Juan Ferreyra
The Court of Owls are back, and they've conscripted Man-Bat to join their fight against Batman! And while Batman faces off against the attacks of the Court, Bruce Wayne continues to be roped into Ra's al Ghul's mysterious scheme. Batman is besieged on all sides in this penultimate chapter!


DARK KNIGHTS OF STEEL #12 (OF 12)
DC Comics
(W) Tom Taylor (A) Yasmine Putri (CA) Dan Mora
The cataclysmic conclusion to the bestselling series is here. The Three Kingdoms are united for the first time in a generation against a common threat--but can even their combined might prevail? Will a traitor in their midst turn the tide of the final battle? The shocking finale...but is this truly the end?

KNIGHT TERRORS #4 (OF 4)
DC Comics
(W) Joshua Williamson (A) Giuseppe Camuncoli, Stefano Nesi, Caspar Wijngaard (CA) Ivan Reis,Danny Miki
LEARN WHY INSOMNIA HATES OUR HEROES! Insomnia searches the nightmares of all the heroes for his precious Nightmare Stone and keeps on coming up empty-clawed! Wesley Dodds, Batman, and I must return to the haunted Arkham Tower to confront Insomnia, but...now I know why Insomnia hates the heroes. And I gotta be honest: I'm having a hard time not relating. Maybe Insomnia is owed his revenge.

KNIGHT TERRORS ACTION COMICS #2 (OF 2)
DC Comics
(W) Leah Williams, Phillip Kennedy Johnson (A) Vasco Georgiev, Mico Suayan (CA) Rafa Sandoval
HUNTED BY CYBORG SUPERMAN! Reality bites! With her perfect nightmare world slowly showing its cracks, Power Girl searches for answers, hoping to find a villain to punch and a way out. Little does she know a threat from her past is here to control her future. Plus, in the Nightmare Realm, a hideously transformed Cyborg Superman is consuming the Super-Family one by one! Who will be the final El? And can the powerless Super-Twins find a way to fight back before Cyborg Superman claims them all?!

KNIGHT TERRORS DETECTIVE COMICS #2 (OF 2)
DC Comics
(W) Dan Watters (A/CA) Riccardo Federici
WAKE UP, JIM GORDON! After seeing diamonds violently pour out of a woman's mouth and the metal of his old Batman robo-suit soldered onto someone's flesh to wear around Gotham...Jim Gordon slowly realizes that the good people of Gotham being represented by monstrous ideations of power, wealth, and knowledge...aren't very good people at all. Jim's investigation leads him to a mysterious clock, and he goes to Oracle for help to trace who or what is causing this nightmare...but whether he is able to wake up from it at all will be up to more than just himself.


PENGUIN #1
DC Comics
(W) Tom King (A) Rafael De Latorre (CA) Scorpio Steele,Stefano Gaudiano
TOM KING AND RAFAEL DE LATORRE'S ALL-NEW STORY OF THE ICONIC VILLAIN! REVENGE IS FOR THE BIRDS. After retiring to Metropolis following his death, Oswald Cobblepot finds himself forced back into the unpredictable and violent Gotham City underworld as a pawn of the United States intelligence community! Gotham's criminal element has been evolving since he was last in the city, with his bastard twin children ruling the Iceberg Lounge. And what of the man he framed for his death--Batman? Is the Penguin walking into a death sentence? From award-winning and bestselling writer Tom King (Batman, The Human Target) and artist Rafael de Latorre (Daredevil) comes a bloody, hard-boiled tale of redemption and revenge!


INDEPENDENTS:


STAR TREK: STRANGE NEW WORLDS--THE SCORPIUS RUN #1
IDW Publishing
Come back to Strange New Worlds for IDW's new mini-series by Star Trek comics veterans Mike Johnson, Ryan Parrott, and Angel Hernandez (with story consultant Kirsten Beyer) exploring a never-before-seen adventure of the hit Paramount+ show!
Set course with Captain Pike and the crew of the U.S.S. Enterprise to the Scorpius constellation! As they venture into the unknown, the Enterprise crew learn what it truly means to traverse through the strange and unfamiliar when they lose contact with Starfleet and find themselves trapped in unexplored space!

STAR TREK #11
IDW Publishing
The crossover event between Star Trek and Star Trek: Defiant continues here in part three of DAY OF BLOOD!
Only emissary Sisko and his crew of Starfleet's finest and disgraced ambassador Worf and his band of insurgents can save the universe. But they are divided in every sense of the word…
In space, Lieutenants Paris and Torres fight over control of the Defiant while Spock and Scotty do everything they can to keep the Theseus from being cleaved in two. On the ground, Ro and Sela have given up hope, and siblings Data and Lore can't see eye to eye—all while their captains resist the urge to tear each other apart.
Can they defeat Kahless and his Red Path when they cannot overcome their own differences?

___________________________________________________________________

In store August 16, 2023:


MARVEL:


ALIEN 5
Marvel
ONE LAST CHANCE TO ESCAPE THE THAW! With secrets revealed, loved ones lost and Xenomorphs engulfing the base - for a moment, Zasha thought all hope was gone. However, when a familiar face arrives in the form of a savior, the two set off for one last-ditch effort to escape the moon. The foes they will face - human and alien - might be their end, but just because the moon's ice has thawed to reveal the horrors beneath doesn't mean Zasha will let herself sink without a fight!

DARK X-MEN 1 [FALL]
Marvel
WELCOME TO THE DARK X-MEN… HOPE THE WORLD SURVIVES THE EXPERIENCE! Following the explosive events of the Hellfire Gala, MADELYNE PRYOR realizes the world needs the X-Men now more than ever. HAVOK and GAMBIT have served on the team before…but never one that looks like this! And how does GIMMICK, breakout star of MARVEL'S VOICES: PRIDE, fall under the Goblin Queen's sway? Find out in the most horrific installment of the X-Men saga yet!


IRON MAN ANNUAL 1 [CHAOS]
Marvel
IRON MAN VS. STORM! When the forces of chaos move upon our heroes, the past, present and future come crashing in on them - and only one can emerge victorious! The might of human ingenuity versus the power of the natural universe: IRON MAN battling STORM is a clash of titans you won't want to miss!

STAR WARS: DARTH VADER 37 [DD]
Marvel
CURSE OF THE JEDI - A DARK DROIDS TIE-IN! KILLER DROIDS have taken over DARTH VADER'S flagship Super Star Destroyer, the EXECUTOR! Will the lessons of JEDI MASTERS QUI-GON and OBI-WAN save him from the SCOURGE - or make him a tool for its galactic conquest?

UNCANNY AVENGERS 1 [G.O.D.S., FALL]
Marvel
The FALL OF X calls for the return of the Avengers' Unity Squad! Innocent people and world leaders are dead after simultaneous attacks on the U.S. and Krakoan governments, and that means one thing: It's time for a new squad of Avengers. False-flag attacks meant to whip up anti-mutant hysteria are unfolding, and hey, some of Steve Rogers' best friends are mutants. Your new unity squad is: Captain America, Rogue, Deadpool, Quicksilver, Psylocke and Monet. They must solve the mystery of who the new, murderous Captain Krakoa is - and stop his team of killers from igniting the fires of a new world war. PLUS: A bonus page written by Jonathan Hickman - WHO ARE THE G.O.D.S.?

X-MEN RED 14 [FALL]
Marvel
AFTER THE FALL! As the Brotherhood reels from the cataclysmic events of the Hellfire Gala, Genesis takes advantage of the chaos - and declares war! Two vast mutant armies clash, and Arakko's idols fall…but this is only the beginning of a conflict that will remake the Red Planet. And whatever happened to Isca the Unbeaten?

DC:


BATMAN WHITE KNIGHT PRESENTS GENERATION JOKER #4 (OF 6)
DC Comics
(W) Sean Murphy (A) Katana Collins, Clay Mccormack (CA) Sean Murphy
THE LATEST CHAPTER IN THE WHITE KNIGHT SAGA! Revenge is a dish best served cold! With the FBI hot on their tail and nowhere to go, Bryce and Jackie return to where it all began...Arkham Asylum. There, with the help of a reformed Victor Fries, they hope to save their fading father. Will science prevail or will Mr. Freeze take the opportunity to end The Joker's reign in Gotham for good?

BATMAN SUPERMAN WORLDS FINEST #18
DC Comics
(W) Mark Waid (A) Travis Moore (CA) Dan Mora
THE UNTOLD TALE OF HOW THE DARK KNIGHT AND THE MAN OF STEEL FIRST MET! Think you know how Superman and Batman met and became friends? Think again! Read the untold tale of how their worlds first collided--and the stunning, secret loss that nearly destroyed their partnership before it even began!

PENGUIN #0
DC Comics
(W) Chip Zdarsky (A/CA) Belén Ortega
COLLECTS THE BATMAN STORIES BY THE RED-HOT CREATIVE TEAM OF CHIP ZDARSKY AND BELEN ORTEGA! Following the Penguin's death in the landmark Batman #125, the mysterious Executor has enlisted Catwoman to carry out the departed's last wishes and track down his next of kin. But when the Penguin's heirs start getting murdered, Catwoman will have to find the killer and discover what truly became of Oswald Cobblepot. Collects the Batman #125-127 backup stories by the red-hot creative team of Chip Zdarsky and Belen Ortega!

INDEPENDENTS:


Godzilla: The War for Humanity #1
IDW Publishing
"Godzilla saved us that day." When Dr. Yuko Honda was young, she was chased by Hedorah, the smog monster, and thought it was all over…until Godzilla saved her! Now a respected professor and writer, she's dedicated her life to showing that while Godzilla may be a monster, that doesn't mean it and the other kaiju are enemies. Unfortunately, when a strange new monster emerges, her belief in the good of Godzilla will be put to the test. If Godzilla doesn't defend them, what can humanity do against the might of ZOOSPORA?! Find out in this titanic tale written by Andrew MacLean (Head Lopper) with art by Jake Smith (Blood Force Trauma)!

TEENAGE MUTANT NINJA TURTLES: SPLINTERED FATE
IDW Publishing
When Splinter is kidnapped, the Teenage Mutant Ninja Turtles search for clues across NYC to try to find their master. With all signs pointing to the nefarious Foot Clan, April and Metalhead analyze artifacts recovered by the brothers to help zero in on where Splinter is being held. However, as the gang gets ever closer to Splinter's location, they start to uncover an even greater threat working from the shadows!

__________________________________________________________________________________

In store August 9, 2023:

MARVEL:


AVENGERS 4
Marvel
Battle is joined as the Avengers race to combat the Ashen Combine. But with Lord Ennui, the Citysmith, Idol Alabaster, the Dead and Meridian Diadem scattered across the planet, each with their own city for prey, have the Avengers spread themselves too thin? United, the Avengers stand. But divided...?

CHILDREN OF THE VAULT 1 [FALL]
Marvel
TO SAVE THE FUTURE! The Children of the Vault are back, and they are determined to be humanity's salvation! But not everything is as it seems, and every utopia has its costs. What is the motivation behind these highly evolved beings gifting the world with their advanced technology? And how do Bishop and a now-Orchis-captured Cable figure into their plans? Find out in rising stars Deniz Camp and Luca Maresca's miniseries!


GHOST RIDER/WOLVERINE: WEAPONS OF VENGEANCE ALPHA 1
Marvel
LOGAN & BLAZE - THE WEAPONS OF VENGEANCE! LOGAN's the best there is at what he does - and what he does as the deadly WOLVERINE isn't very nice. When innocent blood is spilled, JOHNNY BLAZE becomes the GHOST RIDER, equipped to deal punishment with the power of hellfire! A demonic serial killer is murdering innocent mutants. But what is it about this deadly new villain that forces our two heroes to team up? And what buried secret does he share with Wolverine and Ghost Rider's never-before-seen very first meeting in the past? Get ready for claws, chains and violence as only Benjamin Percy (WOLVERINE, GHOST RIDER) and Geoff Shaw (THANOS, GUARDIANS OF THE GALAXY) can bring in this four-part epic!

IMMORTAL X-MEN 14 [FALL]
Marvel
TO ME, MY NO ONE. Xavier had a dream. Now he has nothing. This is the Fall of X. He fell. He fell furthest.

SPIDER-MAN ANNUAL 1 [CHAOS]
Marvel
THE CONTEST OF CHAOS BEGINS! SPIDER-MAN VS. WOLVERINE! Agatha Harkness is building a new Darkhold - and she's pitting Earth's Mightiest Heroes against each other to do it! First on her list is Spider-Man, whose regular day is turned upside down when he involuntarily walks through a portal to a remote, magical city…and is attacked by Wolverine!

DC:


KNIGHT TERRORS #3 (OF 4)
DC Comics
(W) Joshua Williamson (A) Giuseppe Camuncoli, Stefano Nesi, Caspar Wijngaard (CA) Ivan Reis,Danny Miki
DEADMAN VS. DAMIAN! Welcome back, ghouls and ghosts! Deadman here--Boston Brand, again! My horror adventure continues as the Sleepless Knights attack us. But now I have a new problem: Batman's son Damian is furious and keeps trying to fight me! My only safe haven is...the House of Horror.

BATMAN & SCOOBY-DOO MYSTERIES #11
DC Comics
(W) Sholly Fisch (A/CA) Erich Owen
With Batgirl transforming herself into the online hero Oracle, the Bat-Family has gained a valuable new ally in the battle against crime. But who or what is behind the villainous presence that's taken over the internet? Batman, Scooby, and the gang will have to plunge into a world of virtual reality to solve the mystery of...the Ghost in the Machine!

SUPERMAN 2023 ANNUAL #1 (ONE SHOT)
DC Comics
(W) Joshua Williamson (A) Various (CA) Mahmud Asrar
METROPOLIS'S SECRETS ARE REVEALED! Art by Mahmud Asrar, Max Raynor, Jack Herbert, and Caitlin Yarsky Lois Lane is now editor-in-chief of the Daily Planet, but at heart she'll always be an investigative reporter. And lately Metropolis has had a whole new set of secrets she must uncover. Even if it means investigating her own husband...Superman! Featuring Livewire, Parasite, and Mercy, this special issue is your next big puzzle piece leading to a massive Superman crossover in 2024! Don't miss out!

INDEPENDENTS:


GODZILLA: HERE THERE BE DRAGONS #2
Rated T
IDW Publishing
Sir Francis Drake and his crew have reached the edge of the world…and Godzilla lives there! Rather than fear this monstrous "dragon," however, the expedition's resident scoundrel Henry Hull sees opportunity. He believes that the pirate who was last in possession of a great treasure passed by the desert island that Godzilla seemingly protects, and what better place to hide a fortune than one guarded by a creature most would be too cowardly to go near.
But Hull doesn't have time to plot his own expedition to liberate the treasure before the Spanish Armada arrives! Legends meet in this fantastical, historical tale from writer Frank Tieri (Absolute Carnage vs. Deadpool) and Inaki Miranda (We Live), the creative team behind Old Lady Harley!

_________________________________________________________________________________

In store August 2, 2023:


MARVEL:


AMAZING SPIDER-MAN ANNUAL #1
MARVEL PRH
(W) Celeste Bronfman, Erica Schultz (A) David Lopez, Shaw, Julian (CA) Corin Howell
HALLOWS' EVE RETURNS! HALLOWS' EVE's big play to break Chasm out of jail! You don't want to miss this! PLUS, find out what the HELLFIRE GALA means to the Spider-World THIS year! It is INTENSE!

ASTONISHING ICEMAN 1 [FALL]
Marvel
THE OMEGA-LEVEL MUTANT AS YOU'VE NEVER SEEN HIM BEFORE! After the events of this year's can't-miss HELLFIRE GALA, BOBBY DRAKE, A.K.A. ICEMAN, sets his sights on heroic deeds like never before. But as a new situation develops that links Iceman to his Antarctic ice palace, he'll have to be slicker than ever to accomplish his mission before ORCHIS knows what hit them! An all-new adventure that'll push Iceman to the limits of his powers…and beyond!

FANTASTIC FOUR 10 [G.O.D.S.]
Marvel
Thousands of years ago, a desperate alien race built a colossal sleeper ship - an ark - to escape their dying sun, setting a course toward a new and distant world. A single volunteer was to be awakened from stasis every hundred years to serve as their protector and caretaker, before finally training the next one. But something has gone horribly wrong. The ship's engines have failed, and the ark is trapped in a dark void - infinite, silent and deadly - where even the light of stars can't enter. The newest caretaker awakens to an empty ship. His predecessor's body lies decaying against a bulkhead, beneath monstrous images of impossible beings drawn in blood. And the horrifying vision of an alien on fire hovers outside the ship, as the bang of rocky fists on the hull echoes throughout darkened hallways... PLUS: A bonus page written by Jonathan Hickman - WHO ARE THE G.O.D.S.?

MAGNETO 1
Marvel
MAGNETO WAS RIGHT! MAGNETO burst onto the scene as the most diabolical of "Evil Mutants"! But when PROFESSOR XAVIER must leave the planet for life-saving treatment, Magneto inherits a new title: TEACHER! With the NEW MUTANTS under his tutelage, how will these young and powerful mutants learn to take orders from…a super villain?! And one who tried to KILL them and their predecessors?! There are two sides to every story, and J.M. DeMatteis and Todd Nauck weave a tale that will show how Magneto Was Right…from a certain point of view. In fact, one mutant, known as IRAE, in her FIRST EVER APPEARANCE, has taken Magneto's lessons to heart in a way that will upend even the Master of Magnetism's best strategies! Get ready for an all-new saga set during Magneto's tenure as Headmaster of the NEW MUTANTS, and learn how the once die-hard villain emerged as a conflicted figure in the saga of the X-MEN!

WHAT IF...? DARK: VENOM 1
Marvel
WHAT IF…BEN GRIMM BECAME VENOM? When BEN GRIMM returns to Earth after his exploration of space post-SECRET WARS, he finds that the FANTASTIC FOUR has trapped a helpless Klyntar symbiote in Reed's lab! But is that symbiote really helpless? Or is it truly one of the most dangerous symbiotes in the galaxy? Witness the birth of a brand-new VENOM!


X-MEN 25 [FALL]
Marvel
THE FALL. She's been known as Kitty, Sprite, Ariel, Red Queen and Captain Kate. Now, as a new X-Men team finds their way through their darkest hour…SHADOWKAT emerges!

DC:


KNIGHT TERRORS BATMAN #2 (OF 2)
DC Comics
(W) Joshua Williamson (A) Guillem March, Trevor Hairsine (CA) Guillem March
THE MOST TERRIFYING DARK KNIGHT YOU'VE EVER SEEN! Bruce is trapped inside the Nightmare Realm, haunted by the dark shadows that he's created. To escape, he must regain control of his body. But that means going deeper into his own mind than he's ever gone before. Can Batman make himself scarier than he's ever been to survive? Also, what nightmares have Arsenal and Black Canary confronted in the Nightmare Realm?


JUSTICE SOCIETY OF AMERICA #5 (OF 12)
DC Comics
(W) Geoff Johns (A/CA) Mikel Janin
Huntress's journey through time comes to a head as the person chasing her through the timeline has finally caught up to her. Is the end of the line for Helena Wayne?

KNIGHT TERRORS JOKER #2 (OF 2)
DC Comics
(W) Matthew Rosenberg (A/CA) Stefano Raffaele
A COMIC SO SCARY EVEN THE JOKER IS AFRAID! The Joker's nightmares have been terrifying and horrific...but what does the Clown Prince of Crime have locked away that might be the most disturbing reveal of the year?!

INDEPENDENTS:


STAR TREK: DEFIANT #6
IDW Publishing
The crossover event between Star Trek and Star Trek: Defiant continues here in part two of DAY OF BLOOD!
Worf and Sisko begin their trek to Kahless' spire to stop the false prophet's siege of Qo'noS with each other being the last man either wants to rely on. Meanwhile, Spock takes the bridge of the Theseus, reuniting with his old friend Captain Montgomery Scott and desperately attempting to keep the Red Path's Bloodwings at bay.

STAR TREK: DEEP SPACE NINE--THE DOG OF WAR #5
IDW Publishing
With stolen Starfleet data on its way to the Dominion, Captain Sisko dons the mysterious Borg headset in an attempt to stop the transmission! Meanwhile, Major Kira and Lieutenant Commander Dax race to keep their new crewmember and prized corgi off the black market.

TEENAGE MUTANT NINJA TURTLES: THE LAST RONIN--LOST YEARS #5
IDW Publishing
In the past: A wake of death and destruction stretches behind Michelangelo, trailing across years and continents, but at long last, fate has brought him face-to-face with the one who stands between him and vengeance: the one called DEATH WORM. Meanwhile, in the present (a.k.a. our future!): Chaos has taken hold of New York City, forcing Casey Marie Jones and her young Turtle pupils to make a choice: stand and fight or watch the world burn…Writers Kevin Eastman and Tom Waltz, alongside artists Ben Bishop (TMNT: The Last Ronin) and SL Gallant (G.I. Joe: A Real American Hero), conclude this tantalizing tale of the beginnings of the Last Ronin. But this is just the beginning of an all-new adventure. Don't miss it!

____________________________________________________________________________________

In store July 26, 2023:


MARVEL:


AMAZING SPIDER-MAN 30
Marvel
Spidey goes one last round with the new and improved Doc Ock. Can his newest ally help turn the tide?

AVENGERS 3
Marvel
The first Tribulation Event strikes the Earth! The Avengers fly into action as the Ashen Combine - a collection of the Multiverse's greatest monsters - descends from the Impossible City to follow their respective appetites. Cityslayers all, pursuing the assassination of metropolitan areas for sport!

INCREDIBLE HULK 2
Marvel
The Mother of Horrors demands her freedom! And in order to make it happen, her most dutiful servant - a terrifying monstrosity who calls herself the Eldest - seeks to reclaim that wayward son of monsters: the Hulk himself. Now every eldritch horror and primordial being has its eyes set on the Jade Giant! Meanwhile, on their path to peace and isolation, Banner and his new friend Charlie find themselves forced to pass through an abandoned coal mining town…but when night falls, the term "ghost town" takes on a terrifying new meaning.


STAR WARS: DARTH VADER - BLACK, WHITE & RED 4
Marvel
TRAPPED ON THE FROZEN PLANET HOTH! FRANK TIERI sends VADER to HOTH. STEVE ORLANDO goes cerebral with THE CORRUPTION OF DARTH VADER'S MIND! PLUS: The Final Chapter of JASON AARON & LEONARD KIRK's dark tales!

ULTIMATE INVASION 2
Marvel
The Maker plans to make sure Earth's Mightiest Heroes never become heroes at all. And then he can reshape the universe into exactly what he wants it to be…

DC:


KNIGHT TERRORS ACTION COMICS #1 (OF 2)
DC Comics
(W) Leah Williams, Phillip Kennedy Johnson (A) Vasco Georgiev, Mico Suayan (CA) Rafa Sandoval
Slipping into the world of nightmares is only the beginning as Power Girl faces off with the scariest dream of all...herself! Paige may have narrowly escaped the grasp of the devious Johnny Sorrow, but all of that was just a warm-up for the real villain inside. Meanwhile, the Super-Twins are lost in a terrifying dreamscape and being hunted by a nightmare version of their own adopted father, the murderous Cyborg Superman. Can Superboy, Kong Kenan, and the Steel family find the twins in time to save them, or will they join his bloody list of victims?


KNIGHT TERRORS #2 (OF 4)
DC Comics
(W) Joshua Williamson (A) Giuseppe Camuncoli, Caspar Wijngaard (CA) Ivan Reis, Danny Miki
THE DEBUT OF INSOMNIA'S ARMY, THE SLEEPLESS KNIGHTS! Oh dang--I gotta do another one of these this month? Batman and I are joined by...Wesley Dodds, the Sandman?! What the heck? I thought I was the only dead person allowed in this story. I guess not! We uncover one of Wesley's oldest cases, which haunted him until the day he died--and it points us in the direction of the Nightmare Stone. But Insomnia has unleashed his own army to hunt us down...the Sleepless Knights. And this issue is their first appearance, kids! Get scared!


KNIGHT TERRORS DETECTIVE COMICS #1 (OF 2)
DC Comics
(W) Dan Watters (A/CA) Riccardo Federici
BATMAN TRAPPED IN THE NIGHTMARE REALM! Jim Gordon stumbles upon a sacred ritual held by three disciples chanting around an enchanted clock...and one of them is wearing the robotic Batsuit that he donned many years ago as Batman...except this metal suit seems to have have soldered directly into the flesh of the wearer! What do these creatures want with Gotham, and why are they targeting Jim's daughter, Babs, too? This has to be a dream, right? Or perhaps it's a nightmare, but if you die in it, you can die in real life as well...


SUPERMAN THE LAST DAYS OF LEX LUTHOR #1 (OF 3)
DC Comics
(W) Mark Waid (A/CA) Bryan Hitch
Mark Waid and Bryan Hitch reunite to tell a tale centered on their favorite superhero. Superman learns Lex Luthor is dying, and he wants the Man of Steel to help him find the cure for whatever is causing his rapid decline. While the world wants to say good riddance to Luthor, Superman will go to the ends of the universe, through different dimensions, and across time to save his foe. But just why does he want to save the person who's spent his life trying to destroy him? And will he even be able to find the solution?

INDEPENDENTS:


GODZILLA: MONSTERS & PROTECTORS--SUMMER SMASH
IDW Publishing
Ahh, summer vacation. Cedric's ready for sunny beaches, cool drinks, and NOT being at school! Nothing could go wrong…short of a Xilien invasion! Between alien attacks, maybe-evil robots, and the return of the scariest monster Cedric's ever had to face, it's going to take him, his friends, and all Earth's protectors to fight back! If only they could find Godzilla…
An extra-length one-shot completing the Godzilla: Monsters & Protectors story started in the critically acclaimed Rise Up and All Hail the King! series. Reuniting Erik Burnham, Dan Schoening, and Luis Antonio Delgado in the perfect Godzilla adventure for middle graders!

In store July 19, 2023:


MARVEL:


ALIEN 4
Marvel
HOW FAR WOULD YOU SINK, TO SURVIVE? All hell has broken loose on base. As Xenomorphs swarm the rig - massacring any Weyland-Yutani personnel in sight - Batya makes a plan for an escape. With her research and family at risk, Batya must take a gamble and pursue her last option for salvation.

BLADE 1
Marvel
Marvel's slickest vampire hunter returns in a brand new ongoing by Bryan Hill (KILLMONGER) and Elena Casagrande (BLACK WIDOW)! True evil is patient. And a dark, ancient power has been simmering quietly for centuries…and when Blade himself is the one to unknowingly unleash it, Marvel's entire supernatural underworld will come out of hiding to demand he handle it. Or pay a pound of flesh for his mistakes. Bloodbaths, blackmail and Blade - you won't want to miss the explosive first issue of this new volume!

STAR WARS: RETURN OF THE JEDI - THE REBELLION 1
Marvel
MON MOTHMA MUST DIE! ADMIRAL ACKBAR is the only one with the knowledge of THE EMPIRE's plans to kill Mon Mothma. Enter POE DAMERON's parents, SHARA BEY and KES DAMERON, to thwart the threat! But do they have what it takes to take down the unknown assassin in time?

X-MEN RED 13
Marvel
SHE'S BACK! Genesis once again walks the island she ruled for millennia - with the Annihilation Staff in her hand. But what is in her heart? Is the return of the Mother of Arakko to be celebrated - or feared? As the Fall of X closes in, the Great Ring must decide...or risk their own fall from grace.

DC:


BATMAN SUPERMAN WORLDS FINEST #17
DC Comics
(W) Mark Waid (A/CA) Dan Mora
World War A.I. hits its climax, guest-starring dozens of DC heroes in a war against Newmazo and his machines that will determine the fate of humanity--and lay threads for a menace that will soon pop up in the pages of Shazam!


BATMAN WHITE KNIGHT PRESENTS GENERATION JOKER #3 (OF 6)
DC Comics
(W) Katana Collins, Clay Mccormack (A) Mirka Andolfo (CA) Sean Murphy
THE JOKERZ RETURN! Inspired by the exploits of the Clown Prince of Crime, this street gang is ready to take Neo Gotham by storm. But first they need some new blood...the children of the Joker! Will Jackie and Bryce take their rightful place in the criminal underworld? Not if their mother, Harley Quinn, and her new ally, Neo-Joker, have anything to say about it!

KNIGHT TERRORS SUPERMAN #1 (OF 2)
DC Comics
(W) Joshua Williamson (A) Tom Reilly (CA) Gleb Melnikov
SUPERMAN VS. SUPER-REAPER! What does the Man of Steel have nightmares about? Clark Kent knows why he's been pulled into the Nightmare Realm and goes in search of his family and friends, but that journey takes him to the haunted Nightly Planet, where he is confronted by the Super-Reaper! In the waking world, Superman was midflight when he was hit by the nightmare wave. Where he crash-lands will surprise you!

KNIGHT TERRORS WONDER WOMAN #1 (OF 2)
DC Comics
(W) Josie Campbell, Stephanie Williams (A) Juan Ferreyra, Meghan Hetrick (CA) Jae Lee
THE JUSTICE LEAGUE DARK AGAINST NIGHTMARES COME TO LIFE! After investigating an alarming intrusion at the now-defunct Hall of Justice, Wonder Woman and her unexpected new ally, Detective Chimp, suddenly find themselves in a world where their worst nightmares come to life. Who could possibly defeat these things that go bump in the night? The Justice League Dark! The Amazon Princess reunites with her old team to save the world from a sweet dream turned into a beautiful nightmare! Plus, Queen Nubia finds herself trapped in the Well of Souls!

TALES OF THE TITANS #1 (OF 4)
DC Comics
(W) Shannon Hale, Dean Hale (A) Javier Rodríguez (CA) Nicola Scott
The Titans have stepped up to become the DCU's premier superhero team, and all eyes are on them! Who are Starfire, Raven, Donna Troy, and Beast Boy? Where do they come from, and what do they stand for? All will be revealed in Tales of the Titans, an all-new series of spotlight issues in the spirit of the beloved 1980s classic Tales of the New Teen Titans! First up is alien princess and warrior Starfire, whose huge heart, huger hair, and fiery fists have made her a fan-favorite member of the team! When a spaceship bearing Tamaranean markings crash-lands on Earth, Starfire goes on a solo mission to uncover its origins. But what awaits her on that journey will bring her back to the earliest days of her youth, to memories of two sisters eternally at war...and perhaps the chance to keep history from repeating itself.

INDEPENDENTS:


STAR TREK: DAY OF BLOOD #1
IDW Publishing
DAY OF BLOOD STARTS HERE! As emperor of the Klingon Empire, Kahless II has consolidated power, raided ancient tombs and secret bunkers, taken the power of gods for himself, stolen the Bajoran Orb of Destruction, and has begun a slaughter across the stars.
But this genocide of gods was just the beginning. For with the power he has stolen, Kahless is about to declare war on all those who do not follow the Red Path. To prevent genocide unlike any since the ancient days of Qo'noS, the crew of icons led by the emissary known as Benjamin Sisko (Star Trek) and the renegades who follow a desperate and violent Worf (Star Trek: Defiant) must unite for a common cause.
Only they can hope to stop the DAY OF BLOOD.
From the creative minds behind the hit comics series Star Trek and Star Trek: Defiant, Jackson Lanzing & Collin Kelly (Captain America, and Guardians of the Galaxy), Christopher Cantwell (Namor, and Star Wars: Obi-Wan), and Ramon Rosanas (Star Trek, Marvel's Star Wars, and The Astonishing Ant-Man), comes IDW's bold new crossover event!

TEENAGE MUTANT NINJA TURTLES VS. STREET FIGHTER #2
IDW Publishing
Brought to you from IDW and Capcom, an event series teaming up two of the greatest martial arts groups in all of pop culture! The World Fighting Festival is serving up heaping helpings of disappointment for both the Teenage Mutant Ninja Turtles and the Street Fighters.After a devastating loss—on a technicality, no less—a raging Raphael challenges Guile to an unsanctioned rematch in the streets of Atlantic City!!! Doesn't he know Guile is an actual STREET FIGHTER?!As the Turtles and Street Fighters clash wills and skill on and off the tournament floor, enemies in the shadows conspire against them both!

______________________________________________________________________________________

In store July 12, 2023:


MARVEL:


AMAZING SPIDER-MAN 29
Marvel
Beaten and bloody, with his back against the wall, has Spider-Man finally met his match?

FALLEN FRIEND 1
Marvel
THE HEART OF THE MARVEL UNIVERSE HAS STOPPED BEATING. Kamala Khan died a hero's death in AMAZING SPIDER-MAN #26, saving our entire universe. Come join the other heroes of the Marvel Universe, the creators of Ms. Marvel, and comic fans everywhere in honoring and remembering one of Marvel's brightest stars!

IMMORTAL X-MEN 13
Marvel
LISTEN CLOSELY. Time is running out. Fall is here. Doug Ramsey is the voice of Krakoa. It's time for Krakoa to speak.

PLANET OF THE APES 4
Marvel
THE DIE HAS BEEN THROWN! Juliana must guide the apes on an 865-mile trek from New York City to the CDC in Atlanta, Georgia. The road will be long and treacherous with the Exercitus Viri not far behind, blinded by bloodthirsty rage. Will Juliana be able to get all the apes to safety and potentially usher in humanity's salvation? Or will the path to hope lead to a dead end strewn with blood and death?


X-MEN: DAYS OF FUTURE PAST - DOOMSDAY 1
Marvel
THE CATACLYSM THAT LEADS TO THE X-MEN'S DYSTOPIC FUTURE! Return to the future in a tale that reveals the events leading up to the timeless original DAYS OF FUTURE PAST story that's inspired spin-offs, films and more! In a world where mutants are more than simply hated and feared, but not yet SLAIN and APPREHENDED, the assassination of Senator Kelly comes to pass, bringing with it the Mutant Control Act and SENTINELS on every corner. But with mutantkind on the back foot, what lengths will KATE PRYDE, WOLVERINE, COLOSSUS, STORM, BANSHEE, ANGEL, CYCLOPS, PROFESSOR X and the rest of the X-MEN go to in order to find some way to survive? And what scheme of MAGNETO will bring about their ultimate DOOMSDAY? Witness the thirty-year descent into the dystopic future, replete with the previously untold deaths of key mutant characters, as we flesh out one of the most celebrated X-MEN timelines in its own series for the first time!

DC:


BATMAN & SCOOBY-DOO MYSTERIES #10
DC Comics
(W) Ivan Cohen (A/CA) Dario Brizuela
All aboard the Mega-Mystery Cruise! Amateur detectives attend a new convention held on the high seas--part escape room, part dinner theater, there's a mystery to solve in every room. In the buffet, the mystery is How many shrimp can Scooby-Doo eat?! But when an actual pirate tries to take the ship, he'll find more trouble than he anticipated!

KNIGHT TERRORS #1 (OF 4)
DC Comics
(W) Joshua Williamson (A) Giuseppe Camuncoli, Caspar Wijngaard (CA) Ivan Reis, Danny Miki
WHO IS INSOMNIA? Hello, ghouls and ghosts! This is Boston Brand, a.k.a. Deadman, and I'll be your supernatural tour guide across the Knight Terrors stories! After that fancy special oversize issue you have to read first, the whole world is trapped inside their nightmares, and Batman and I are trying to figure out who Insomnia really is...and why he wants revenge on the heroes of the DC Universe!

KNIGHT TERRORS GREEN LANTERN #1 (OF 2)
DC Comics
(W) Jeremy Adams, Alex Segura (A) Eduardo Pansica, Julio Ferreira, Mario Fox Foccillo (CA) Lucio Parrillo
Back in space to face his greatest fear! Something is wrong in Sector 2814, and Hal Jordan, Kilowog, and a few other Lanterns must find the mysterious disturbance, despite a ban on any of Earth's Green Lanterns leaving their world. What they discover is a planet controlled by a familiar face--the face of Hal's greatest fear! And in a backup story, Sinestro finds himself thrust into a new reality that drags him into the darkest corners of his past...and perhaps his future.

SUPERMAN LOST #5 (OF 10)
DC Comics
(W) Christopher Priest (A/CA) Carlo Pagulayan, Jason Paz
At a loss to close the widening gap between herself and Superman, Lois turns to Wonder Woman for help. Clark Kent, attempting to reenter his life at the Daily Planet, is haunted by the dire consequences of his attempts to defend his second adopted planet from invasion.

INDEPENDENTS


STAR TREK #10
IDW Publishing
Don't miss out on this lead up to the highly anticipated DAY OF BLOOD crossover event between the Star Trek ongoing series and Defiant!
Lieutenant Shaxs receives visions from the Bajoran Prophets. He sees his past and his future, and he sees the trial of Benjamin Sisko. The crew of the Theseus must fight their way back together after being separated across Cardassian space before their Captain's fate is set in stone and Kahless can carry out his promise of more bloodshed…


STAR TREK: THE MOTION PICTURE--ECHOES #3
IDW Publishing
Akris—a maniacal doppelganger of Chekov from a parallel universe—has begun working with the Romulans on a superweapon with a promise to reduce the Federation and its allies to ash. But with half the bridge crew in Romulan custody, it's up to Spock and McCoy to hold down the ship and devise a plan to get their captain and crewmates out of enemy hands!


TEENAGE MUTANT NINJA TURTLES #141
IDW Publishing
The continuation of Sophie Campbell's epic run! With the Armageddon Game over, new groups compete to fill NYC's power vacuum from new ninja clans to the police, and even old threats like Dr. Barlow. After the Armageddon Game, the Hamato brothers are so divided, they can't even agree on what the biggest threat is. With the city vulnerable, it may have to look elsewhere for help as the TMNT might not even be able to help themselves, let alone New York.

____________________________________________________________________

In store July 05, 2023:


MARVEL:


CAPTAIN AMERICA 750
Marvel
SPECIAL ISSUE #750! THE CAPTAINS AMERICA MOURN THEIR FALLEN! After the harrowing events of CAPTAIN AMERICA: COLD WAR, the Captains America return home to mourn their fallen - and strive to honor the power of legacy. Plus: The secret origin of Sam Wilson's new shield revealed, and a bold new direction for Sharon Carter! In honor of 750 issues of CAPTAIN AMERICA, a team of fan-favorite guest writers join forces with superstar artists to spin timeless tales celebrating the epic history of the star-spangled hero! Don't miss this jam-packed oversized issue!

EDGE OF SPIDER-VERSE 4
Marvel
DREAM-SPIDER RETURNS! The new spider-character from the hit DEADLY NEIGHBORHOOD SPIDER-MAN miniseries returns in her first solo adventure! ALSO: What if that radioactive spider we all know and love bit…J. JONAH JAMESON?!

MARVEL ZERO
Marvel
A deluxe edition collecting Marvel's GOLD 2023 FREE COMIC BOOK DAY titles! This giant-sized issue is jam packed with entry points into the biggest comic storylines of the year and bursting with never-before-seen bonus material including preview art, design sketches, and more! Spidey faces a new villain as a classic villain returns in a story that sets the stage for the next explosive year of AMAZING SPIDER-MAN! A shocking story reveals how Venom fits into the history of the Marvel Universe and leads into the next huge epic coming to VENOM! FALL OF X looms over this year's HELLFIRE GALA! A new threat to mutantkind emerges-one with a very familiar visage! And with the world in disarray, the moment calls for a new alliance between the X-Men and Aveners-the all-new UNCANNY AVENGERS! PLUS! Preview JONATHAN HICKMAN'S two new Marvel projects, ULTIMATE INVASION with Bryan Hitch and GODS with Valerio Schiti!


SPIDER-MAN 10
Marvel
SPIDER-MAN VS. ELECTRO - NO HOLDS BARRED! The web-slinger and the Emperor of Electricity have both leveled up since they last faced each other, and one really wants to kill the other. Plus, Norman Osborn does something that may end his new amicable relationship with Spider-Man.


THOR ANNUAL 1
Marvel
Enter…MYTHOS! When M.O.D.O.K. - fueled by revenge and a refusal to ever again be someone else's pawn - seizes control of all of the Ten Realms but Asgard, Thor the All-Father must step in and regain control of the Ten Realms and the World Tree. But M.O.D.O.K.'s new, cosmic power proves to be a greater threat than Thor could imagine, and he'll need the inspiration of some beloved friends from Midgard to reclaim his realms and his awesome power.

X-MEN: BEFORE THE FALL - SINISTER FOUR 1
Marvel
FALL OF X IS COMING! As the nineteenth century drew to a close, the dying Nathaniel Essex unleashed four clones of himself into the world. They've been haunting it ever since, while lurking in the shadows. We know what Sinister has been up to. What about the others? In this issue, we delve into their past...and discover their latest atrocity. When they start to...date?

DC:


KNIGHT TERRORS FIRST BLOOD #1 (ONE SHOT)
KNIGHT TERRORS STARTS HERE! When Batman, Superman, and Wonder Woman find the body of one of their earliest enemies inside the Hall of Justice, their investigation takes them past the land of the living, beyond the land of the dead, and directly to a new villain called Insomnia...who uses his powers to engulf every single hero and villain in their own dark and twisted nightmares. The only way to save the world is to call for the help of an unlikely hero--Deadman! The thrills and chills of Knight Terrors are brought to the DC Universe by DC architect and superstar writer Joshua Williamson with horrific art by comics legend Howard Porter!

KNIGHT TERRORS BATMAN #1 (OF 2)
DC Comics
(W) Joshua Williamson (A) Guillem March, David Lafuente (CA) Guillem March
BATMAN TRAPPED IN THE NIGHTMARE REALM! Ever since becoming Batman, Bruce Wayne has been a creature of the night. He transformed himself into a symbol that gave the criminals of Gotham nightmares. But now, trapped in the Nightmare Realm, Bruce is stalked by the horror he's created! Can he escape before his own nightmares pull him deeper into the darkness?

KNIGHT TERRORS JOKER #1 (OF 2)
DC Comics
(W) Matthew Rosenberg (A/CA) Stefano Raffaele
The Joker's worst nightmare becomes a reality: he's got a day job! How will he handle meetings that could have been emails?! Why did management cancel bring your child to work day?! Who will want to make small talk at the coffee machine?! What is Alexis going to pick for lunch?! And who is the masked madman terrorizing Gotham at night?!


INDEPENDENTS:


STAR TREK: DEFIANT #5
IDW Publishing
Captain Worf struggles to maintain order among the Defiant's crew with the addition of two new reluctant recruits causing all kinds of friction on board the stolen vessel. And with Klingon adrenaline surging through the Red Path's veins, the need to find—and stop—Kahless has never seemed so dire.

STAR TREK: DEEP SPACE NINE--THE DOG OF WAR #4
Captain Benjamin Sisko leads a stealth mission to recover the station's beloved puppy, Latinum, and the missing Borg interface. But what he and his crew discover aboard the enemy craft has the potential to arm the Dominion with an alarming amount of power over the Federation in an already costly war.

In store June 28, 2023:


MARVEL:


ALIEN 3
Marvel
SOMETHING WICKED IS COMING THEIR WAY... The USCSS Boreas has been infiltrated! A chest-burster is wreaking havoc on base, leaving a trail of gore and eviscerated bodies in its wake. With their numbers dwindling, will the Weyland-Yutani security team be able to track the alien down before it becomes something even more deadly? And even if they do, how will they manage the horrors lurking just outside their walls beyond the ice?

AMAZING SPIDER-MAN 122 FACSIMILE EDITION
Marvel
The Goblin's last stand! Devastated by the tragic death of Gwen Stacy, a fighting-mad Spider-Man swears deadly revenge on his greatest enemy: Norman Osborn, the Green Goblin! What follows is an action-packed showdown between two of the greatest adversaries in all of fiction. As a volatile Peter Parker tracks his hated foe to one of Osborn's warehouses, the stage is set for an unforgettable battle. Will Spider-Man give in to his rage and take the life of the man who killed the woman he loves? Or even at his most grief-stricken, can he hold himself back from becoming a murderer? And whatever Peter's choice, what difference will it make to the Green Goblin's fate? It's one of the all-time great Marvel comic books, boldly re-presented in its original form, ads and all! Reprinting AMAZING SPIDER-MAN (1963) #122.

AMAZING SPIDER-MAN 28
Marvel
The new-and-improved Doctor Octopus takes his upgraded tentacles for a rampage through Oscorp! Can the deadliest Doc Ock ever be stopped?

STAR WARS: DARTH VADER - BLACK, WHITE & RED 3
Marvel
LIFE LIKE NEVER BEFORE! MARC BERNARDIN brings us along with Vader on a mission you won't soon forget! PLUS: The penultimate chapter of JASON AARON & LEONARD KIRK's Vader deconstruction!

X-MEN: BEFORE THE FALL - HERALDS OF APOCALYPSE 1
Marvel
THE ORIGIN OF ARAKKO! In ancient days, Genesis turned back the hordes of Amenth. In ancient days, Genesis forced Annihilationin to a parley. What words were spoken in her mind? Now, finally, Apocalypse will know…and the echoes of those words might destroy him…and Arakko with him.

DC:


ACTION COMICS #1056
DC Comics
(W) Various (A) Various (CA) Steve Beach
Written by Phillip Kennedy Johnson, Dan Jurgens, and Dorado Quick Art by Rafa Sandoval, Lee Weeks, and Yasmin Flores Montanez A shocking new character makes their debut as the thrill-packed Speeding Bullets concludes! Superman and Metallo must reluctantly join forces to stop the Cyborg Superman. With Tracy Corben's life (or at least her humanity) hanging in the balance, the Super-Family fights to keep Metropolis standing. Meanwhile, Lois and the staff of the Daily Planet set out to uncover the mysterious leader--and shocking origin--of Blue Earth!

BATMAN THE BRAVE AND THE BOLD #2
DC Comics
(W) Various (A) Various (CA) Simone Di Meo
Written by Tom King, Ed Brisson, Christopher Cantwell, and Joelle Jones Art by Mitch Gerads, Jeff Spokes, Javier Rodriguez, and Joelle Jones Tick, tick, tick goes the clock as Gotham City prepares for another shocking murder at the hands of The Joker! The brutal and terrifying tale of The Joker and Batman's first meeting continues as Tom King and Mitch Gerads once again deliver a shocking, bloody blockbuster tale! Stormwatch race to find an ancient sword that has long been buried in the darkest depths of the ocean. A sword of unspeakable horrors, capable of wiping out entire civilizations. But they may already be too late: a group of exiled Xebels have found the blade and are hell-bent on bringing humanity to its knees. For one member of Stormwatch, this may be the end. All-star creator Joëlle Jones (Catwoman, Wonder Girl) gives readers a Batman Black & White tale exploring Batman's scars, both literal and psychological, revisiting the Dark Knight's toughest fights and deepest wounds. In part two of Order of the Black Lamp from writer Christopher Cantwell (Briar, Iron Man) and artist Javier Rodriguez (Defenders, Daredevil), Superman uses a mysterious decoder ring to uncover a location with a shocking tie to his past!

DETECTIVE COMICS #1073
DC Comics
(W) Ram V - Dan Watters (A) Stefano Raffaele (CA) Evan Cagle
Where there's a will, there's a way. And for Bruce, that will is Batman...because myths don't bleed, right? Well, Batman, with the last ounce of strength he has, will have to test that theory out with the Orghams as he fights through Prince Arzen's three powerful protectors to find out. Hope is not all lost, though, as Jim Gordon and Sorrow rush their way through Gotham to help Batman before it's too late and an Azmer demon is placed inside him...

RIDDLER YEAR ONE #5 (OF 6)
DC Comics
(W) Paul Dano (A) Stevan Subic (CA) Bill Sienkiewicz
The penultimate issue of this hit miniseries features an unusual break in format, as we will see Edward Nashton constructing his master plan for taking down the corrupt officials and criminals of Gotham City in the pages of his journal. As his mind spirals deeper and deeper, so too does his writing become more unhinged. How can he continue to labor at his accounting job by day while also become more enraged by what he's uncovered? As shown in The Batman movie, Edward fills thousands of pages with his rantings. Here we get a glimpse into something that was never meant to be seen and a mind equally brilliant and unhinged. By the end, a turning point will be reached and Gotham's greatest menace will come one step closer to being unleashed. Actor Paul Dano (The Batman) and artist Stevan Subic continue the origin of the Riddler, leading up to his appearance in Matt Reeves's epic film.

INDEPENDENTS:


Godzilla: Best of Rodan
IDW Publishing
​​Keep an eye to the sky where Rodan reigns supreme! The winged giant straddles the line between monster and protector in this collection of soaring Rodan stories by beloved Godzilla creators! It's fight and flight with the Best of Rodan!
Collects Godzilla: Legends #2, Godzilla: History's Greatest Monster #4, Godzilla: Rulers of Earth #5, and more!

TEENAGE MUTANT NINJA TURTLES: THE LAST RONIN—LOST YEARS #4
IDW Publishing
In the past: Michelangelo's journey toward vengeance takes a detour when he's captured, imprisoned, and forced to take part in a gladiatorial competition with fighters from all over the world. Though new friendships are formed with would-be foes, one thing is certain: the only way to attain his freedom is to fight. It will take all Michelangelo's skill to defeat those who stand between him and vengeance.Meanwhile, in the present (a.k.a. our future!): Casey Marie Jones and her young Turtle pupils grapple with the lessons left by their late sensei Michelangelo as the situation in NYC worsens.

___________________________________________________________________________________

In store June 21, 2023:


Marvel:


AVENGERS 2
Marvel
The Avengers find themselves with a rare gift - foreknowledge of the dangers coming their way in the form of the deadly TRIBULATION EVENTS. But can this information be trusted? And can even Earth's Mightiest Heroes triumph in the face of cascading disaster?


EDGE OF SPIDER-VERSE 3
Marvel
SPIDER-SMASHER RETURNS! After her hit debut in MILES MORALES: SPIDER-MAN, Miles' sister Billie Morales's alter ego is still needed in the Empire of the Spider! Plus, the origin of the secret Spider-Character who debuted in SPIDER-MAN #7 is told here!

INCREDIBLE HULK 1
Marvel
THE AGE OF MONSTERS HAS BEGUN! As an enraged Hulk tries to take control of Bruce Banner's body permanently, a mysterious immortal turns every monster in the Marvel Universe against Banner in an attempt to free their creator, the primordial Mother of Horrors. With the help of an unlikely new friend, Banner and Hulk must try to stop the world from getting plunged into darkness in this terrifying new series!

STAR WARS: THE MANDALORIAN SEASON 2 1
Marvel
SEASON 2 OF THE HIT DISNEY+ SERIES IS HERE! GROGU AND DIN DJARIN return in CHAPTER 9: THE MARSHAL! The Mandalorian is drawn to the Outer Rim in search of others of his kind. Following rumors of another Mandalorian, he instead comes face-to-face with MARSHAL COBB VANTH wearing a very familiar armor! Mando and Grogu have stepped into a situation bigger than they realize! Following the tradition of season one, RODNEY BARNES & GEORGES JEANTY reunite to bring season two to life once more!

ULTIMATE INVASION 1
Marvel
THE TRANSFORMATION OF THE MARVEL UNIVERSE BEGINS! Superstar creators Jonathan Hickman and Bryan Hitch team up! The Illuminati must form once again to stop the Maker from his plans to destroy - or perhaps rebuild - the universe, with Miles Morales at the center of it all! Bryan's work on THE ULTIMATES helped redefine super hero comics for the 2000s - wait until you see what he and Jonathan have in store for this decade! Including new data pages by Jonathan Hickman - plus exclusive behind-the-scenes material on the world-building that has gone into this project!


DC:


BATMAN WHITE KNIGHT PRESENTS GENERATION JOKER #2 (OF 6)
DC Comics
(W) Sean Murphy (A) Katana Collins - Clay McCormack (CA) Sean Murphy
The children of The Joker and Harley Quinn run straight into terrible danger! The innocent Joker family road trip has taken a turn for the worse. While visiting the place where their parents' love story began, Bryce and Jackie find themselves trapped...by the daughter of the Ventriloquist! Will they be able to escape this puppet show from hell? Or does the Napier-Quinn line end here?

BATMAN SUPERMAN WORLDS FINEST #16
DC Comics
(W) Mark Waid (A/CA) Dan Mora
Batman and Superman versus machines! A.I. villains and heroes--Shaggy Man, G.I. Robot, Red Tornado, and Chemo among them--have launched a global cyberattack alongside Newmazo's soldiers. Batman, Superman, Robin, and Metamorpho, the Element Man, are unprepared for the onslaught. With millions of lives on the line, the World's Finest team must find a way to pull the plug before it's too late!

SUPERMAN #5
DC Comics
(W) Joshua Williamson (A/CA) Jamal Campbell
Silver Banshee is back--and more dangerous than ever! Given a massive power upgrade by Lex Luthor's archenemies, Silver Banshee's scream rocks Metropolis, and Superman must stop her from destroying his city while also saving her life. Be ready for the shock ending that stabs this series in its heart!

WONDER WOMAN #800
DC Comics
(W) Various (A) Various (CA) Yanick Paquette
Written by Becky Cloonan, Michael W. Conrad, and Tom King Art by Joelle Jones, Todd Nauck, Daniel Sampere, and others Whatever Happened to the Warrior of Truth? concludes in a landmark 800th issue! Diana's visions become more vivid as she finds herself trapped in the dreams of those around her! As she struggles to escape, her life as Wonder Woman hangs in the balance. When the dust settles, will she still be the Amazons' greatest champion? Find out in this extra-special celebration!

INDEPENDENTS:


GODZILLA: HERE THERE BE DRAGONS #1
IDW Publishing
In the 1500s, before humanity had successfully traveled the entire globe, it was believed that monsters ruled the oceans just beyond the horizon. "Here there be dragons…" was written on maps to denote the areas people dared not go.That is, until Sir Francis Drake circumnavigated the seas, visiting foreign lands and collecting treasure. That's what history tells us, at least, but history does not have the full tale. Monsters did lurk yonder, living

_______________________________________________________________________________________

In store June 14, 2023:


MARVEL:


AMAZING SPIDER-MAN 27
Marvel
Grief looms over Peter after last issue's shocking death! Spider-Man's villains are more than happy to keep him distracted… Your eyes don't deceive you, DOCTOR OCTOPUS IS BACK!

CAPTAIN AMERICA: COLD WAR OMEGA 1
Marvel
"COLD WAR" FINALE! White Wolf has unleashed an army of Dimension Z monsters upon our world as a declaration of global war, and Team Cap's only hope to stop it is to take him down for good. Meanwhile, Bucky Barnes deploys his final chess piece - Ian Rogers himself - to turn the situation in his favor. Lifelong friends battle alongside mortal enemies - and change the trajectory of their lives - in this stunning conclusion!

SON OF ORIGINS OF MARVEL COMICS: MARVEL TALES 1
Marvel
Relive the debut appearances of even more pop-culture icons as we celebrate the legacy of the House of Ideas with MARVEL TALES! In INCREDIBLE HULK (1962) #1, Stan Lee and Jack Kirby unveil perhaps their most tragic hero of all. Is the Hulk man, is he monster…or is he both? In JOURNEY INTO MYSTERY (1952) #83, Larry Lieber joins Lee and Kirby to bring the mighty Thor from Norse myth to the Marvel Universe! In TALES OF SUSPENSE (1959) #39, Lee, Lieber and artist Don Heck introduce Tony Stark - and show how, to save his own life, he must build the invincible armor of Iron Man! In STRANGE TALES (1951) #110-111, Lee and Steve Ditko present the psychedelic world of Doctor Strange, Master of the Mystic Arts! And in DAREDEVIL (1964) #1, Bill Everett teams with Lee to show how blind youth Matt Murdock becomes the fearless adventurer known as Daredevil!

WOLVERINE 34
Marvel
WOLVERINE VS. WEAPONS OF X! He's been used. He's been manipulated. He's been mind-controlled. He's even been killed. Now WOLVERINE takes the fight back to BEAST and his WEAPONS OF X program. How will one mutant fare versus an ARMY OF CLONES and a giant multistory, mobile FORTRESS/BATTLE SUIT? Good thing he's the best there is at what he does!

DC:


BATMAN & SCOOBY-DOO MYSTERIES #9
DC Comics
(W) Matthew Cody (A/CA) Scott Jeralds
Crystal Cove is proud of their tenacious teens and wants to be able to call upon Mystery Inc. at a moment's notice--you never know when a real estate developer in a mask will cause trouble. Inspired by Gotham's most famous method of communication, they invite Commissioner Gordon and Batman to the unveiling of the town's new Scooby Signal!

GREEN LANTERN #2
DC Comics
(W) Jeremy Adams - Phillip Kennedy Johnson (A) Xermanico - Montos (CA) Xermanico
Hal Jordan's homecoming is off to a rocky start! Carol Ferris is this close to firing him from the job he's only just begged his way into, his power ring isn't exactly working right, and off in the shadows, Sinestro, the architect of Hal's current crisis, is waiting for the perfect moment to strike. Plus, the hard-hitting John Stewart: War Journal backup series from writer Phillip Kennedy Johnson and artist Montos heats up as the Guardian John Stewart and his team, the Watchtower, fall under siege from a mysterious new threat!

SUPERMAN LOST #4 (OF 10)
DC Comics
(W) Christopher Priest (A/CA) Carlo Pagulayan - Jason Paz
Can even Superman withstand being pushed past the point of emotional and psychological endurance? Marooned on a comet in uncharted space, the Man of Steel reflects on his humble Smallville origins as crushing emotional fatigue threatens to end his journey back--trauma which results in Lois's struggle to reconnect with the virtual stranger in her own home.

INDEPENDENTS:


STAR TREK #9
IDW Publishing
After a surprise encounter with the adrenaline-jacked Red Path during their infiltration of the hidden Cardassian facility, the Theseus' crew must recover the Orb of Destruction—and make it out alive—if they're to put a stop to Kahless' bloody reign. But with Captain Sisko standing trial on Cardassia Prime with Lieutenant Data by his side, can the crew succeed when they are divided?


STAR TREK: THE MOTION PICTURE--ECHOES #2
IDW Publishing
With the fugitive criminal Akris having escaped into Romulan space, Nyota and the crew of the U.S.S. Enterprise must quickly devise a plan if they're to prevent an allyship between the agent of chaos from a parallel universe and one of the Federation's most dangerous enemies.

TEENAGE MUTANT NINJA TURTLES #140
IDW Publishing
A shamed mayor. A fallen wall. A new borough and broken trust among a found family. Left reeling from the events of Armageddon Game, the Teenage Mutant Ninja Turtles grapple to hold it all together as the rest of New York City struggles to find equilibrium.The city's new dynamic means a new slate of challenges and opportunities. And while a dark threat lurks in the shadows of Mutant Town, several of the Turtles' closest allies separate themselves from the brothers.

______________________________________________________________

In store June 07, 2023:


MARVEL:


FANTASTIC FOUR 8
Marvel
The Fantastic Four are finally settling into their new normal...but something very ABNORMAL is happening outside their farmhouse. Sue and Alicia get to spend some quality time together in town, but when they return, everything is not how they left it... ...and a very different Fantastic Four are left in their place! It's Sue and Alicia versus the world - and the start of a special two-part story!


IMMORTAL X-MEN 12
Marvel
A COLOSSAL MISTAKE… The Quiet Council gather to fill the empty seat. It's the last chance to make a smart, kind decision to prevent the fall. Luckily, the deciding vote is in the hands of trusty old Colossus. Let's hope he hasn't got plans to ruin everything. That would be terrible.

SPIDER-MAN 9
Marvel
Spider-Man's Spider-Sense is on overdrive. It's driving him insane. And Electro has always been one to listen when opportunity knocks…

X-MEN 23
Marvel
THE SENTINELS GET AN UPGRADE! Anti-mutant fantasist Feilong has taken control of Tony Stark's businesses and devoted Iron Man's technology toward the next generation of Sentinels! These Stark Sentinels are as hard to beat as old Shell-head himself and are fully devoted to crushing the X-Men!

X-MEN: BEFORE THE FALL - MUTANT FIRST STRIKE 1
Marvel
KRAKOA STRIKES?! Ever since mutants declared themselves humanity's new gods, certain circles have been waiting for the other shoe to drop - the wrath. When a small New England town is hit by a devastating mutant attack, it seems the wrath is here. But all isn't as it appears. And Krakoa doesn't hesitate to save lives - so it's time for BISHOP to lead Krakoa's biggest rescue effort yet!

DC:


BATMAN #136
DC Comics
(W) Chip Zdarsky (A) Belen Ortega (CA) Jorge Jimenez
Failsafe and Red Mask have forever changed Batman, and Gotham isn't as welcoming as it once was. Can Batman remind them who he is? Can he remind...Catwoman? The future of the Bat-books starts here, and everyone's world is about to explode!

FLASH #800
DC Comics
(W) Various (A) Various (CA) Taurin Clarke
Written by Jeremy Adams, Mark Waid, Joshua Williamson, Geoff Johns, and Simon Spurrier Art by Fernando Pasarin & Oclair Albert, Todd Nauck, Carmine Di Giandomenico, Scott Kolins, and Mike Deodato Jr. An oversize anniversary issue concludes writer Jeremy Adams's acclaimed tenure, with special guests Mark Waid, Joshua Williamson, and Geoff Johns joining the celebration! As the Adams run races to the finish line, get a prelude to the new Dawn of DC chapter of the Fastest Man Alive's adventures from the dream team of Simon Spurrier (Coda, Detective Comics) and Mike Deodato Jr. (Avengers)!


JOKER UNCOVERED #1 (ONE SHOT)
DC Comics
(A) Various (CA) Lee Bermejo
Lowlifes, creeps, and scoundrels, it's your Uncle Joker here. You know art can come from many places. And most great art is about truly despicable people, like me. In that spirit, you should buy The Joker: Uncovered to see a murderer's row of the world's greatest comic book artists commit my beautiful image to dozens of wonderful variant covers, all collected in one place for the very first time. Expand your mind a little bit, and take in some good art.

JOKER THE MAN WHO STOPPED LAUGHING #9
DC Comics
(W) Matthew Rosenberg (A) Carmine Di Giandomenico - Francesco Francavilla (CA) Carmine Di Giandomenico
What's big and scary and lives in the sewers? In Gotham City, a lot of things. But the Joker is going to war with the biggest scariest of them all--Killer Croc! Plus, Red Hood is being set up to take a fall at Blackgate Prison...and his only hope of survival may just be someone from his past.

STEELWORKS #1 (OF 6)
DC Comics
(W) Michael Dorn (A) Sami Basri (CA) Clay Mann
FORGING THE FUTURE! The Metropolis of the future is here today, but can it survive a terrorist who's out for revenge against its builder--John Henry Irons, a.k.a. Steel--and his company, Steelworks...and who possesses secrets that could undo everything John has worked so hard to build? While John's professional life is firing on all cylinders, his personal life is even better, as his on-again, off-again relationship with Lana Lang might be back on, permanently. Now he must decide whether it's time to give up being Steel once and for all. But does John even know who he would be without his superhero identity? How does the other Steel--John's niece, Natasha Irons--feel about his momentous decision? And does any of that matter if Steelworks crumbles around him when he lacks the superpowers to fight back? Writer Michael Dorn (the voice of Steel in Superman: The Animated Series) teams up with artist Sami Basri (Harley Quinn, Catwoman) to bring you the next chapter of Steel's saga in this not-to-be missed six-issue miniseries!

INDEPENDENTS:


Star Trek: Defiant #4
IDW Publishing
With Kahless and the Red Path's mission to conquer the universe looming over their heads, the Defiant crew must overcome their differences if they're to prevent another massacre, and it's the most unlikely of diplomats to convince them of as much…


__________________________________________________________________________________