FACEBOOK: Time Out For Comics!

Follow us on: Instagram

Email: timeoutforcomics@myfairpoint.net

Phone: 1-207-360-1034

TAKE TIME OUT FOR COMICS! WHERE WE TAKE TIME OUT FOR YOU!!

BECOME A TIME OUT FOR COMICS! MEMBER

On September 1 2021, Time Out For Comics! celebrates 28 years in business!! A big thank you to all for 28 years of friendship, great conversations and memories. Here is to another great year and many more to follow!!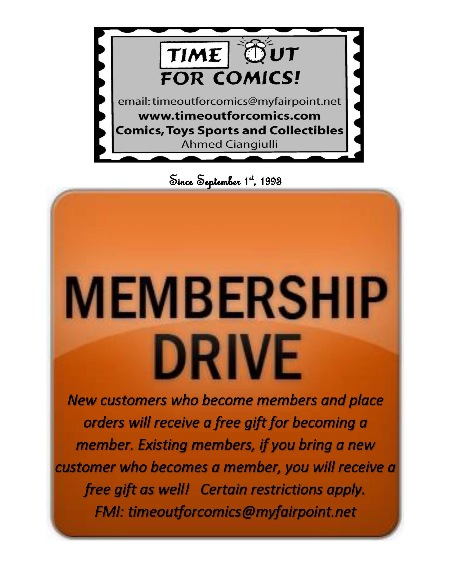 New customers who become members and place orders will receive a free gift for becoming a member. Existing members, if you bring a new customer who becomes a member, you will receive a free gift as well!
Certain restrictions apply.


Sign our guestbook

BACK ISSUE INVENTORY SALE! ALL BACK ISSUES ARE FIFTY CENTS (.050 )+ SHIPPING. CHECK OUT OR BACK ISSUE PAGE. BACK ISSUES- FIFTY CENTS (.050) EACH, PLUS SHIPPING. CLASSIC DAREDEVIL AND ULTIMATE SIGNED EDITION EXEMPT FROM SALE
SEND US YOUR WANT LIST!


____________________________________________________________________________________

RESERVE YOUR COPY NOW OF THESE UPCOMING RELEASES!!

Order your titles through us. Shipping and Handling fees may apply.

____________________________________________________________________________

DECEMBER HIGHLIGHTS:

SPAWN SCORCHED #1
IMAGE COMICS
(W) Sean Lewis (A) Stephen Segovia, Paulo Siqueira (CA) Greg Capullo
The first ALL-NEW issue of TODD McFARLANE's superhero team book!
There's a threat so big that no single hero can stop it, and the formation of this new supergroup is the only thing standing in its way. Members will include SPAWN, REDEEMER, GUNSLINGER, MEDIEVAL SPAWN, and SHE-SPAWN, with many more heroes waiting in the wings!
Join the battle in this FIRST ISSUE extravaganza as the forces of heaven, hell, and earth collide!
REGISTER PITCH: An Avengers-esque ensemble of superheroes and the latest entry in SPAWN'S UNIVERSE. Hook readers of KING SPAWN and GUNSLINGER SPAWN, as well as longtime SPAWN fans.

WASTELANDERS BLACK WIDOW #1
MARVEL PRH
(W) Steven S. DeKnight (A) Well-Bee (CA) Josemaria Casanovas
WHO IS THE BLACK WIDOW?
The LIZARD KING has grown monstrous and deadlier than ever as the lord of his southern domain. But when rumor breaks that critical information is believed to be stored in his impenetrable fortress, only the greatest spy of all is up to the infiltration: the deadly BLACK WIDOW! But who is she, and how has she survived this many decades in the Wastelands undetected? Witness her first appearance in the Old Man
Universe!
PARENTAL ADVISORY

JANUARY HIGHLIGHTS

JUSTICE LEAGUE VS THE LEGION OF SUPER-HEROES #1 (OF 6)
DC Comics
(W) Brian Michael Bendis (A/CA) Scott Godlewski
One thousand years in the future, a Legion of Super-Heroes comes together to dedicate their lives to recapturing the great age of heroes of the 21st century. When the heroes discover that reality is falling to a great darkness in both times simultaneously, the Justice League and the Legion of Super-Heroes must team up to stop it all. But what is the connection between the secrets of the new Gold Lanterns and the coming of the Great Darkness? A monumental DC epic event miniseries!

BATMAN THE KNIGHT #1 (OF 10)
DC Comics
(W) Chips Zdarsky (A/CA) Carmine Di Giandomenico
The origin of Batman and his never-ending fight against crime in Gotham City is modern mythology, but what of the story in between? How did an angry, damaged young man grow into the most accomplished detective and crime-fighter the world has ever known? How did the Dark Knight…begin? Superstar writer Chip Zdarsky (Daredevil) and acclaimed artist Carmine Di Giandomenico (The Flash) will take Bruce Wayne on a fraught journey, making allies and enemies, on his training to become Batman in this definitive new series!

BATMAN CATWOMAN SPECIAL #1 (ONE SHOT)
DC Comics
(W) Various (A) Various (CA) John Paul Leon
Written by Tom King and others Art by John Paul Leon, Tommy Lee Edwards, Bernard Chang, Mitch Gerads and others Some great romances are destined to be. The Batman/Catwoman series shows readers the romance between Bruce Wayne and Selina Kyle as it changed over their lives, but what about their connections from before they became costumed adventurers? This special, meticulously illustrated one-off issue by John Paul Leon (Batman: Creature of the Night) traces the life of Selina Kyle from its earliest days to her entry into the criminal underworld, and reveals that Bruce was actually a presence in her life all along. Whether fate or coincidence, this story gives even more reasons why Selina and Bruce's connection is one of the most enduring love affairs in comics. Now expanded to celebrate the legacy of iconic artist John Paul Leon, whose untimely passing after a long battle with cancer shocked the comics world, this special will feature his work completed for the original story and tributes created in his name by some of his closest friends and admirers.

SUPERMAN & ROBIN SPECIAL #1 (ONE SHOT)
DC Comics
(W) Peter J. Tomasi (A/CA) Viktor Bogdanovic
As the Super Sons, Jon Kent and Damian Wayne put evil to bed…past its bedtime. But a new day has dawned, and Jon Kent is now the Superman of Metropolis—all grown up and fighting for truth, justice, and the kinds of grown-up things that Superboy was only beginning to understand as a child. Now a ghost from Jon's past has reared its head, and to battle this evil, he'll need to reunite with Robin for one last mission into the heart of darkness. This time they'll be battling not as Super Sons, but as Superman and Robin! This thrilling adventure is written by acclaimed Super Sons scribe Peter J. Tomasi!


X LIVES OF WOLVERINE 1
Marvel
THE BIGGEST WOLVERINE STORY OF ALL TIME BEGINS HERE! WEEK 1 - Logan. James Howlett. Weapon X. The mutant best known as WOLVERINE has lived many lives under many identities and in many places, but never before has the fate of the future been so entwined with the past! Fan-favorite eras of Wolverine's saga are explored anew, along with never-before-seen episodes as Logan must travel to various points in time to prevent the death of a key figure in mutant history. But these LIVES are only one side of the story… Be here for the start of the time-shredding saga across all of Wolverine's history and future yet to come

SHE-HULK 1
Marvel
The best character ever is back in her own series and about to glam up the whole Marvel Universe! Jennifer Walters, A.K.A. the Sensational She-Hulk, is no longer savage and needs to put her life back together. She's got a career to rebuild, friends to reconnect with (and maybe represent in a court of law) and enemies to…well, she may not want to connect with them, but they are DEFINITELY going to connect with her. And the last page of this first issue is going to send Jen down a road she's never traveled and that will shake up her life and possibly the whole Marvel Universe

X DEATHS OF WOLVERINE 1
Marvel
DEATH IS NOT THE END. DEATH IS THE OMEGA. WEEK 2 - If WOLVERINE's future lies in the past, what does that mean for the present? The reciprocal series to X LIVES OF WOLVERINE, X DEATHS OF WOLVERINE is can't-miss reading, chock-full of revelations for the best there is as well as the fate of mutantkind


X LIVES OF WOLVERINE 2
Marvel
TARGET: XAVIER! WEEK 3 - WOLVERINE navigates the timestream, revisiting moments in his life. But how does XAVIER unite them all

FEBRUARY HIGHLIGHTS:

FANTASTIC FOUR: RECKONING WAR ALPHA 1
Marvel
FIFTEEN YEARS IN THE MAKING - AND IT ALL KICKS OFF HERE! In a time before the Kree, Skrull or Shi'ar Empires. Before the emergence of Galactus. Before the birth of Asgard. There was the First War. The greatest war to ever rage across the Multiverse. Today, it is reignited. This is the Day of Reckoning. And all that stands between all of reality and revenge from the dawn of time are the heroes of Earth, the Fantastic Four and the mind of Mister Fantastic. Starring the FF, She-Hulk, Jack of Hearts, the Unseen, the Silver Surfer and everyone in the whole damn Marvel Universe

SABRETOOTH 1
Marvel
DOWN IN A HOLE! Sabretooth went into the Pit, sentenced to an eternity of torment. Sure, that sounds like hell, but maybe that's where he feels most at home. What's he been doing down there? What secret deal has changed his fate forever? And what if he's not alone? Award-winning novelist Victor LaValle teams up with amazing artist Leonard Kirk to bring us the story of what lies beneath Krakoa

SAVAGE SPIDER-MAN 1
Marvel
SPIDER-MAN LIKE YOU'VE NEVER SEEN HIM BEFORE! Peter Parker finds himself at the middle of the biggest, most wide-ranging adventure he's ever had and out of the gate it has turned him into a SAVAGE BEAST! Forget everything you know about Spider-Man. All rules and regulations are out the door and Peter Parker may never be the same!

AESTRO: WORLD WAR M 1
Marvel
THE FINAL CHAPTER OF PETER DAVID'S MAESTRO TRILOGY BEGINS! A.I.M., the Pantheon and even Doctor Doom have all fallen before the might of the Maestro! Finally, he may now reign over his kingdom with a firm green fist. Except he didn't count on the Abomination rising from the dead and forming an alliance with Namor and Doom! And this dangerous new alliance is ready for war - WORLD WAR M!

_____________________________________________________________________

Sign our guestbook

____________________________________________________________________________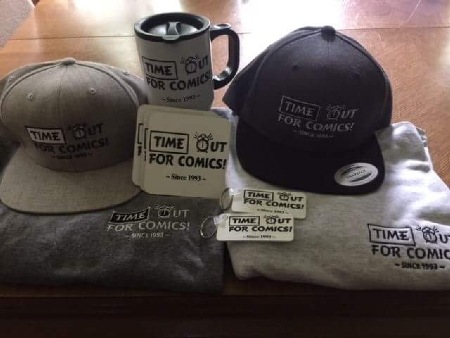 We offer Time Out For Comics! t-shirts, hats, travel mugs, and coasters. Order yours!!


More than a comic store. COLLECTORS ORDER YOUR DC DIRECTS, MARVEL SELECTS AND OTHER STATUES AND BUSTS THROUGH US!

We carry a full line of: MARVEL, DC, DARK HORSE, IMAGE, BOOM, IDW titles. We also carry comic, sports, and card supplies for all your collecting interests.

______________________________________________________________________________________

Whether you have been collecting for years, just starting out, or looking for something to read, with 28 years in the industry Time Out's goal is to meet your individual collecting needs. Missing a book? E-mail us- we can put together a selection of titles to meet your specific reading needs, or find the book you are looking for. Orders from Previews accepted.

You can stay in the comfort of your home and have your collection delivered to you. Read all the exciting issues of the best stories offered by Marvel, DC, or the Independents.

We ship out of state- email us for shipping information.

Your books come bagged.

WEDNESDAY NEW RELEASE DAY

Be sure to click on the Pick of the Week page every Wednesday for hot items! All merchandise is while supplies last.

Check out our monthly newsletter page.

Take Time Out For Comics! Where we take Time Out for YOU!! If you have any questions or wish to place an order you can email us: timeoutforcomicsmyfairpoint.net
Sign our guest book before you leave OR if you wish to leave a comment , need information, or need us to contact you, go to the contact or comment page. Hope to hear from you!

________________________________________________________________________________

THE $1 CARD PACK SALE: EACH PACK IS $1 EACH ! IF YOU ARE CURRENTLY RECEIVING ORDERS FROM TIME OUT THEN PACKS WILL BE INCLUDED IN YOUR NEXT SHIPMENT. IF YOU ARE NOT THEN CONTACT US FOR SHIPPING INFO. QUANTITIES ARE LIMITED SO ACT NOW!!!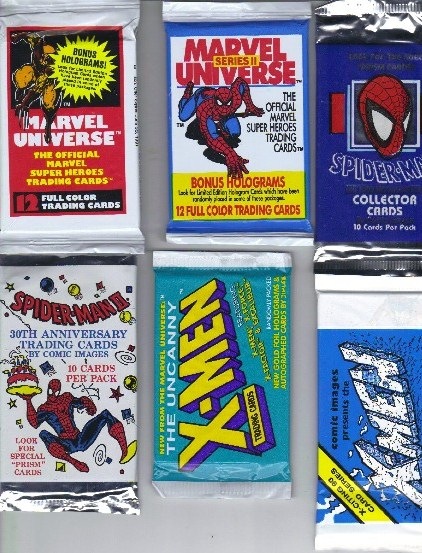 SPIDERMAN COLLECTOR'S CARDS

SPIDERMAN II 3OTH ANNIVERSARY

UNCANNY X-MEN

X-MEN

MARVEL UNIVERSE SERIES I

MARVEL UNIVERSE SERIES II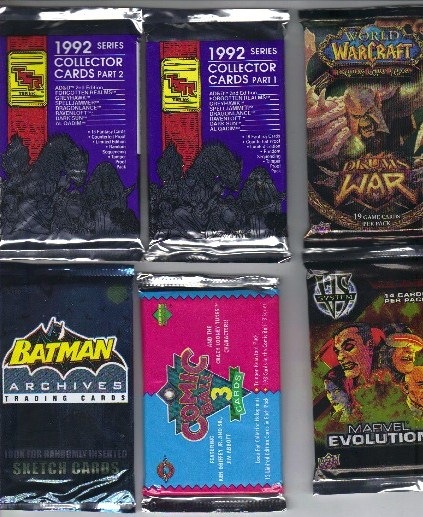 1992 DUNGEONS AND DRAGONS COLLECTORS CARDS PART 1

1992 DUNGEONS AND DRAGONS COLLECTORS CARDS PART 2

BATMAN ARCHIVES

WORLD OF WARCRAFT DRUMS OF WAR

COMIC BALL 3

MARVEL EVOLUTION (SOLD OUT)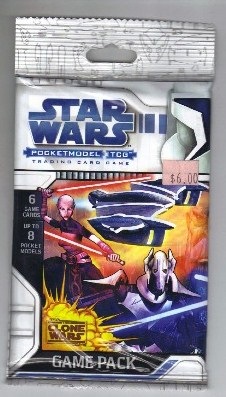 STAR WARS POCKET MODEL TCG CLONE WARS GAME PACK

Special sale on back issues email us your list.

Check out some pictures through the years