FACEBOOK: Time Out For Comics!

Follow us on: Instagram

Email: timeoutforcomics@myfairpoint.net

Phone: 1-207-360-1034

TAKE TIME OUT FOR COMICS! WHERE WE TAKE TIME OUT FOR YOU!!

BECOME A TIME OUT FOR COMICS! MEMBER

On September 1 2022, Time Out For Comics! celebrates 29 years in business!!
A big thank you to all for 29 years of friendship, great conversations and memories. Here is to another great year and many more to follow!!!
Time Out For Comics will be celebrating 30 years in business on September 1, 2023!!!!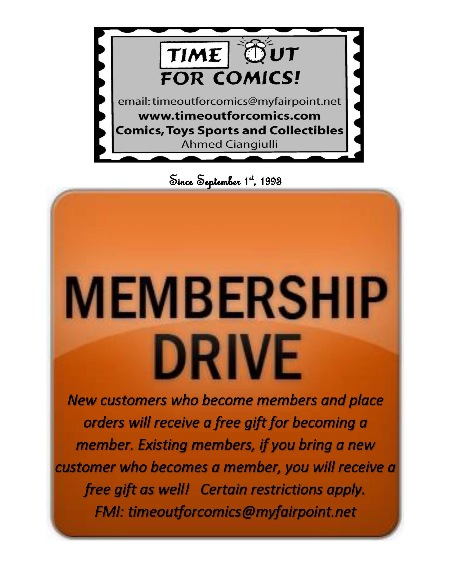 New customers who become members and place orders will receive a free gift for becoming a member. Existing members, if you bring a new customer who becomes a member, you will receive a free gift as well!
Certain restrictions apply.


Sign our guestbook

BACK ISSUE INVENTORY SALE! FROM JUNE 1ST UNTIL SEPTEMBER 30TH ALL BACK ISSUES ARE TWENTY CENTS each (.029 )+ SHIPPING.

SEND US YOUR WANT LIST!

____________________________________________________________________________________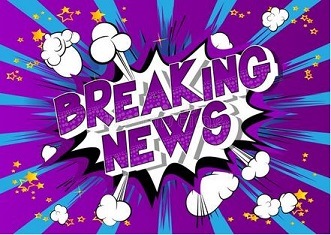 RESERVE YOUR COPY NOW OF THESE UPCOMING RELEASES!!
Order your titles through us.
Shipping and Handling fees may apply.

_________________________________________________________________________________________

APRIL HIGHLIGHTS:

KONG GREAT WAR #1
DYNAMITE
(W) Alex Cox (A) Tommaso Bianchi (CA) Bryan Hitch
The World at War! While men of all nations fight on foreign shores, an Imperial German U-Boat is lost at sea! The crew now faces terror beyond imagination! Monsters from creation's dawn! Gruesome, blood-stained death from above and below! Impossible beasts, reigning by fear and violence in the South Pacific! And looming over all, the gargantuan ape-god that knows no master! These brave men have faced death before, but now they must contend with...Kong!

MAY HIGHLIGHTS:


STAR TREK: THE MOTION PICTURE--ECHOES #1
IDW Publishing
From critically acclaimed screenwriter, producer, and comics writer Marc Guggenheim (Arrow; DC's Legends of Tomorrow; Star Wars: Han Solo and Chewbacca) comes a brand-new miniseries detailing a never-before-seen adventure from Captain Kirk and the crew of the U.S.S. Enterprise!
When a space anomaly thrusts a bounty hunter and her target—a criminal mastermind—into their universe, it's up to Kirk and his crew to stop them from unintentionally starting a war with the Romulans and unleashing a superweapon of foreign tech onto the system. But the strangers from another universe are more familiar than they assume…for underneath their helmets are their doppelgängers—from an alternate reality!

AVENGERS 1
Marvel
ABOUT
JED MACKAY AND STORMBREAKER C.F. VILLA TAKE THE REINS OF EARTH'S MIGHTIEST HEROES! The Star. The Icon. The Witch. The Construct. The God. The Engineer. The King. The world is ever in peril, and a new team of Avengers mobilizes to meet any dangers that dare threaten the planet. But when TERMINUS attacks, a new and insidious danger rears its head: one that the Avengers know all too well, and one that comes to them in the most dangerous of guises - that of a friend.

JUNE HIGHLIGHTS:


LOKI 1
Marvel
LOKI SAVES THE MARVEL UNIVERSE? He may be the "benevolent" God of Stories now, but Loki's past as the God of Lies returns to haunt him when ancient, powerful weapons he once built end up scattered across the Ten Realms! Loki must track down these weapons before they fall into the wrong hands and bring about Ragnarok! Surprising guest stars, exciting new characters and startling twists await in this all-new miniseries by rising stars Dan Watters (Sword of Azrael) and Germán Peralta (BLACK PANTHER)!

JOKER UNCOVERED #1 (ONE SHOT)
DC Comics
(A) Various (CA) Lee Bermejo
Lowlifes, creeps, and scoundrels, it's your Uncle Joker here. You know art can come from many places. And most great art is about truly despicable people, like me. In that spirit, you should buy The Joker: Uncovered to see a murderer's row of the world's greatest comic book artists commit my beautiful image to dozens of wonderful variant covers, all collected in one place for the very first time. Expand your mind a little bit, and take in some good art.

FLASH #800
DC Comics
(W) Various (A) Various (CA) Taurin Clarke
Written by Jeremy Adams, Mark Waid, Joshua Williamson, Geoff Johns, and Simon Spurrier Art by Fernando Pasarin & Oclair Albert, Todd Nauck, Carmine Di Giandomenico, Scott Kolins, and Mike Deodato Jr. An oversize anniversary issue concludes writer Jeremy Adams's acclaimed tenure, with special guests Mark Waid, Joshua Williamson, and Geoff Johns joining the celebration! As the Adams run races to the finish line, get a prelude to the new Dawn of DC chapter of the Fastest Man Alive's adventures from the dream team of Simon Spurrier (Coda, Detective Comics) and Mike Deodato Jr. (Avengers)!

PENGUIN #0
DC Comics
(W) Chip Zdarsky (A/CA) Belen Ortega
Following the Penguin's death in the landmark Batman #125, the mysterious Executor has enlisted Catwoman to carry out the departed's last wishes and track down his next of kin. But when the Penguin's heirs start getting murdered, Catwoman will have to find the killer and discover what truly became of Oswald Cobblepot. Collects the Batman #125-127 backup stories by the red-hot creative team of Chip Zdarsky and Belen Ortega!

ULTIMATE INVASION #1
Marvel
THE TRANSFORMATION OF THE MARVEL UNIVERSE BEGINS! Superstar creators Jonathan Hickman and Bryan Hitch team up! The Illuminati must form once again to stop the Maker from his plans to destroy - or perhaps rebuild - the universe, with Miles Morales at the center of it all! Bryan's work on THE ULTIMATES helped redefine super hero comics for the 2000s - wait until you see what he and Jonathan have in store for this decade! Including new data pages by Jonathan Hickman - plus exclusive behind-the-scenes material on the world-building that has gone into this project!

WONDER WOMAN #800
DC Comics
(W) Various (A) Various (CA) Yanick Paquette
Written by Becky Cloonan, Michael W. Conrad, and Tom King Art by Joelle Jones, Todd Nauck, Daniel Sampere, and others Whatever Happened to the Warrior of Truth? concludes in a landmark 800th issue! Diana's visions become more vivid as she finds herself trapped in the dreams of those around her! As she struggles to escape, her life as Wonder Woman hangs in the balance. When the dust settles, will she still be the Amazons' greatest champion? Find out in this extra-special celebration!


INCREDIBLE HULK 1
Marvel
THE AGE OF MONSTERS HAS BEGUN! As an enraged Hulk tries to take control of Bruce Banner's body permanently, a mysterious immortal turns every monster in the Marvel Universe against Banner in an attempt to free their creator, the primordial Mother of Horrors. With the help of an unlikely new friend, Banner and Hulk must try to stop the world from getting plunged into darkness in this terrifying new series!

Sign our guestbook

____________________________________________________________________________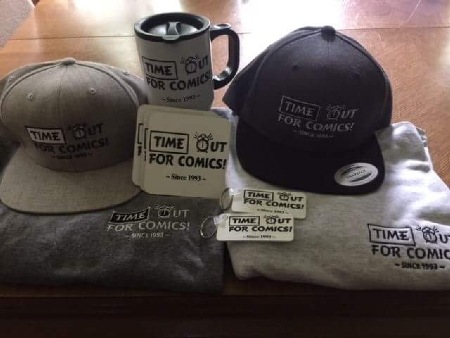 We offer Time Out For Comics! t-shirts, hats, travel mugs, and coasters. Order yours!!


We carry a full line of: MARVEL, DC, DARK HORSE, IMAGE, BOOM, IDW titles. We also carry comic, sports, and card supplies for all your collecting interests.

______________________________________________________________________________________

Whether you have been collecting for years, just starting out, or looking for something to read, with 30 years in the industry Time Out's goal is to meet your individual collecting needs. Missing a book? E-mail us- we can put together a selection of titles to meet your specific reading needs, or find the book you are looking for. Orders from Previews accepted.

You can stay in the comfort of your home and have your collection delivered to you. Read all the exciting issues of the best stories offered by Marvel, DC, or the Independents.

We ship out of state- email us for shipping information.

Your books come bagged.

WEDNESDAY NEW RELEASE DAY

Be sure to click on the Pick of the Week page every Wednesday for hot items! All merchandise is while supplies last.

Check out our monthly newsletter page.

Take Time Out For Comics! Where we take Time Out for YOU!! If you have any questions or wish to place an order you can email us: timeoutforcomicsmyfairpoint.net
Sign our guest book before you leave OR if you wish to leave a comment , need information, or need us to contact you, go to the contact or comment page. Hope to hear from you!

________________________________________________________________________________

THE $1 CARD PACK SALE: EACH PACK IS $1 EACH ! IF YOU ARE CURRENTLY RECEIVING ORDERS FROM TIME OUT THEN PACKS WILL BE INCLUDED IN YOUR NEXT SHIPMENT. IF YOU ARE NOT THEN CONTACT US FOR SHIPPING INFO. QUANTITIES ARE LIMITED SO ACT NOW!!!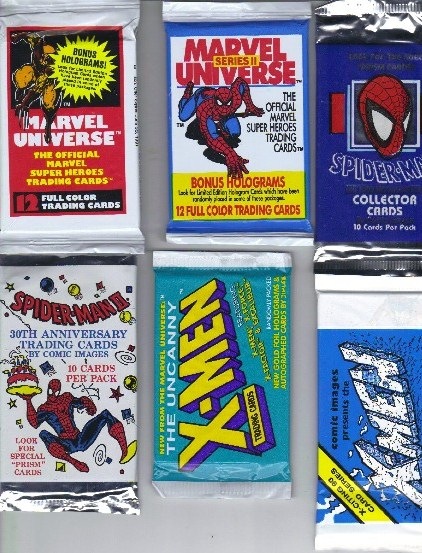 SPIDERMAN COLLECTOR'S CARDS

SPIDERMAN II 3OTH ANNIVERSARY

UNCANNY X-MEN

X-MEN

MARVEL UNIVERSE SERIES I

MARVEL UNIVERSE SERIES II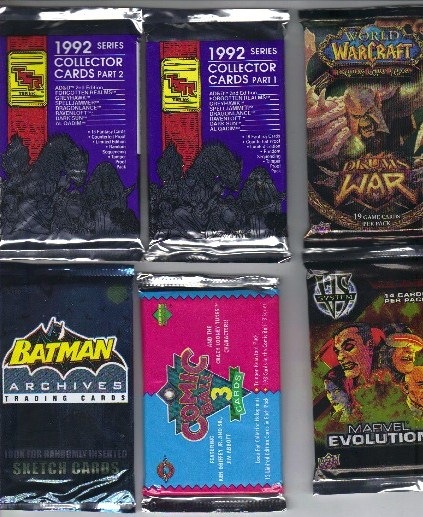 1992 DUNGEONS AND DRAGONS COLLECTORS CARDS PART 1

1992 DUNGEONS AND DRAGONS COLLECTORS CARDS PART 2

BATMAN ARCHIVES

WORLD OF WARCRAFT DRUMS OF WAR

COMIC BALL 3

MARVEL EVOLUTION (SOLD OUT)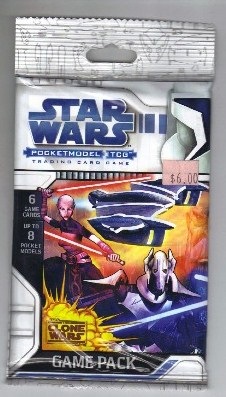 STAR WARS POCKET MODEL TCG CLONE WARS GAME PACK

Special sale on back issues email us your list.

Check out some pictures through the years