FACEBOOK: Time Out For Comics!

Follow us on: Instagram

Email: timeoutforcomics@myfairpoint.net

Phone: 1-207-360-1034

TAKE TIME OUT FOR COMICS! WHERE WE TAKE TIME OUT FOR YOU!!

BECOME A TIME OUT FOR COMICS! MEMBER

On September 1 2022, Time Out For Comics! celebrates 29 years in business!!
A big thank you to all for 29 years of friendship, great conversations and memories. Here is to another great year and many more to follow!!!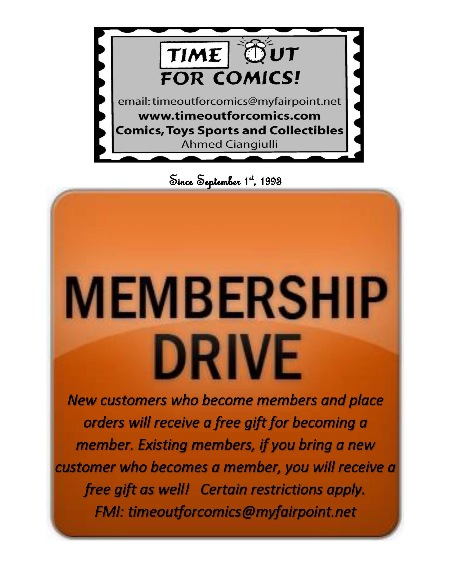 New customers who become members and place orders will receive a free gift for becoming a member. Existing members, if you bring a new customer who becomes a member, you will receive a free gift as well!
Certain restrictions apply.


Sign our guestbook

BACK ISSUE INVENTORY SALE! FROM JUNE 1ST UNTIL SEPTEMBER 30TH ALL BACK ISSUES ARE TWENTY CENTS each (.029 )+ SHIPPING.

SEND US YOUR WANT LIST!

____________________________________________________________________________________

RESERVE YOUR COPY NOW OF THESE UPCOMING RELEASES!!

Order your titles through us. Shipping and Handling fees may apply.

____________________________________________________________________________

OCTOBER HIGHLIGHTS:

JOKER THE MAN WHO STOPPED LAUGHING #1
DC Comics
(W) Matthew Rosenberg (A) Carmine Di Giandomenico, Francesco Francavilla (CA) Carmine Di Giandomenico
The world once again holds its breath as The Joker strikes again! But how far is he willing to go this time? From the twisted minds of Matthew Rosenberg (Task Force Z, What's the Furthest Place from Here?) and Carmine Di Giandomenico (Batman: The Knight) comes a violent, mind-bending new series that picks up from the cataclysmic end of The Joker and follows the mayhem across the United States. With the Clown Prince of Crime setting out on his most bizarre caper yet, will a fan-favorite vigilante be able to prevent certain tragedy? Or is he in on the joke? In the back-up--Joker's got a hot date but he's going to need a mirror to make sure he looks nice. Maybe Mirror Master can help.


AMAZING SPIDER-MAN 1 FACSIMILE EDITION
Marvel
Re-presenting the inaugural issue of Spider-Man's iconic ongoing series, which followed fast after the wall-crawler's blockbuster debut in AMAZING FANTASY #15! Peter Parker has been bitten by the radioactive spider, gained incredible abilities, donned his colorful costume and learned a tragic lesson about power and responsibility - and now it's time for him to swing into action! But can our young hero rescue a crew of astronauts aboard their malfunctioning shuttle? Even if he does, he'll still end up Public Enemy No. 1 as far as journalist J. Jonah Jameson is concerned! Then, Spidey shows off his skills in a bid to join the Fantastic Four - and comes face-to-faces with his very first super villain: the identity-stealing Chameleon! It's one of the all-time great Marvel comic books, boldly re-presented in its original form, ads and all! Reprinting AMAZING SPIDER-MAN (1963) #1.

SPIDER-MAN 1
Marvel
"The End of the Spider-Verse" is here! Morlun is back and he is not alone. Allied with one of the most powerful beings known to the Spider-Verse, the scariest Spider-Villain of all time is making his biggest play and no Spider is safe. Especially not the Chosen Spider himself, Peter Parker. With Peter working for Norman Osborn and using a glider…does he have it coming? Spidey's 60th Anniversary is no joke as two of the most legendary Spider-Creators are working together on Spidey for the first time and you know it's going to be one for the record books!

BATMAN INCORPORATED #1
DC Comics
(W) Ed Brisson (A/CA) John Timms
From the pages of Batman comes an all-new, all-exciting adventure for Ghost-Maker and his Batman Incorporated team! The team's trust issues and detective skills are immediately put to the test when someone from Ghost-Maker and Batman's recent past is brutally murdered... Is this an isolated event, sending a message to the two? Or is this the start of something darker and more sinister? (Hint--it's sinister and dark!) The all-star creative team of Ed Brisson and John Timms chart a new future

NAMOR 1
Marvel
A century into the future, not much land remains on Earth. A combination of a worsening climate and a devastating war with the Kree has left the surface of the planet mostly inhospitable, with an ever-dwindling population of air-breathers and a profound lack of super heroes to protect them. Enter NAMOR, who these many years on is no longer King of Atlantis…but ruler of the entire world.

BATMAN ONE BAD DAY PENGUIN #1 (ONE SHOT)
DC Comics
(W) John Ridley (A/CA) Giuseppe Camuncoli
The Penguin's criminal enterprise and the Iceberg Lounge have been stolen from underneath him by his former associate the Umbrella Man. The Umbrella Man has removed all of the rules for crime in Gotham City that the Penguin put in place, and the city is in chaos. The Penguin is a broken man, and he'll have to travel through the burning streets of Gotham with a gun and a single bullet putting together a new crew to take back what he's built. Will Batman help the devil he knows or face the devil he doesn't in the form of the Umbrella Man? A crime epic from the team behind the critically acclaimed Other History of the DC Universe, John Ridley and Giuseppe Camuncoli--don't miss it!

DEADLY NEIGHBORHOOD SPIDER-MAN 1
Marvel
A revolutionary dark take on Spider-Man begins here! What is reality and what is dream? What is science and what is magic? At the intersection of all of this stands the Deadly Neighborhood Spider-Man. Peter Parker goes to Los Angeles and what he finds there are definitely not angels. The demons waiting for Peter are going to test him like never before. One demon in particular, a very famous one for Marvel and X fans in particular, might just eat Spider-Man alive.

RIDDLER YEAR ONE #1 (OF 6)
DC Comics
(W) Paul Dano (A) Stevan Subic (CA) Bill Sienkiewicz
As depicted in Matt Reeves's hit movie The Batman, the Riddler wasn't simply an amusing eccentric with an affinity for wordplay and baffling clues, but as terrifying a villain as any in the annals of the Dark Knight. Here you can see Edward Nashton evolve into the menace known as the Riddler. How did an unknown forensic accountant uncover the dark secrets of Gotham's underworld and come so close to bringing down the entire city? This six-issue miniseries is an immediate prequel to The Batman—the detailed, disturbing, and at times shocking story of a man with nothing to lose. Artist Stevan Subic makes his American comics debut, including a variant cover that is the first of six interlocking covers. This collaboration with Dano delivers a shadowy and gritty tale of a society's forgotten man who refuses to go unnoticed any longer. Subic's recent Conan the Cimmerian for French publisher Glenat has brought him great acclaim in Europe, and he's about to break out globally with a Batman series unlike any you've seen before.

NOVEMBER HIGHLIGHTS

DC POSTER PORTFOLIO: GEORGE PEREZ
DC Comics
Celebrate the legacy of George Pérez!
George Pérez's art is integral to the DC Universe as we know it today. From Crisis on Infinite Earths to the Teen Titans and Wonder Woman, Pérez's artistry has defined the heroes that we love. In DC Poster Portfolio: George Pérez you'll find a collection of Pérez's incredible takes on some of the most beloved DC characters.

BATMAN & THE JOKER THE DEADLY DUO #1 (OF 7)
DC Comics
(W/A/CA) Marc Silvestri
The Joker will go to any lengths to get Harley Quinn back after she is abducted by a strange culprit. But who? Mysterious, Joker-like monsters are stalking the streets of Gotham, collecting severed heads. But why? Jim Gordon is missing, and after receiving a package containing a bloody piece of Gotham's commissioner, Batman knows he must be willing to do anything to save him. But how? When The Joker proposes an uneasy alliance with Batman, the answers to those questions begin to become clear--and they will shake Gotham City and the Bat-Family to their core. This meticulously crafted tale of the Dark Knight's deadliest team-up will introduce you to a grim and gritty Gotham that only Marc Silvestri could bring you,


SUPERMAN #75 SPECIAL EDITON
DC Comics
(W) Dan Jurgens (A/CA) Dan Jurgens, Brett Breeding
Superman and Doomsday go toe-to-toe in Metropolis and the Man of Steel falls! In 1992, the death of Superman shocked the world and changed the DC Universe forever. Now's your chance to own a piece of comic book history in a special edition featuring the iconic tale and interviews with the original creative team just in time for the 30th anniversary!


SECRET INVASION 1
Marvel
THE SKRULLS ARE BACK... ...in a giant-sized issue kicking off an all-new five-part miniseries! When Maria Hill detects the merest HINT of Skrulls, she acts quickly to put her defensive plans into action. And when Nick Fury is sent to investigate a Skrull sighting in Iowa, he finds the LAST thing he was expecting! Our pale blue dot is in their sights, and this time, Earth's old defenses won't work... Find out who you REALLY trust: The invasion begins NOW.

DEATH OF SUPERMAN 30TH ANNIVERSARY SPECIAL #1 (ONE-SHOT)
DC Comics
(W) Various (A) Various (CA) Dan Jurgens, Brett Breeding
Written by DAN JURGENS, ROGER STERN, LOUISE SIMONSON, and JERRY ORDWAY. Art by DAN JURGENS, BRETT BREEDING, BUTCH GUICE, JON BOGDANOVE, TOM GRUMMETT, and more! 30 years ago, the unthinkable happened. The Man of Steel died. After sacrificing himself to stop the unstoppable global threat, Doomsday, Metropolis and the rest of the DC Universe mourned the loss of their greatest hero. To mark this monumental moment in comics, DC has reunited the complete creative team behind the original event for four brand-new stories. Led by Dan Jurgens and Brett Breeding, the special kicks off with a new Superman story and villain…DOOMBREAKER! Followed by a series of short stories revisiting some of Superman's greatest allies and exclusive pinups done by some of comics' greatest artistic talent including LEE WEEKS, GABRIEL RODRIGUEZ, BILL SIENKIEWICZ, and WALTER SIMONSON.
• "The Life of Superman" by Dan Jurgens (W & A), Brett Breeding (A), Brad Anderson (C), and John Workman (L) - A young Jon Kent finds out in school that his dad had died years earlier, as his parents never told him about that fateful day. In the midst of dealing with this emotional news, Jon and Clark need to team up to fight a new villain connected to Doomsday called DOOMBREAKER.
• "Standing Guard" by Roger Stern (W), Butch Guice (A), Glenn Whitmore (C), and Rob Leigh (L) - The epic battle between Superman and Doomsday from the Guardians' perspective.
• "Time" by Louise Simonson (W), Jon Bogdanove (A), Glenn Whitmore (C), and Rob Leigh (L) - The story of how the death of Superman looked from John Henry Irons's perspective.
• "Above and Beyond" by Jerry Ordway (W), Tom Grummett (P), Doug Hazelwood (I), Glenn Whitmore (C), and Rob Leigh (L) - A powerful story of Ma and Pa Kent watching their son fight Doomsday live on television and going through Clark's photo albums with the feeling that their son always prevails.

DETECTIVE COMICS #38 FACSIMILE EDITION (2022)
DC Comics
(W) Various (A) Various (CA) Bob Kane, Jerry Robinson
Written by Bill Finger, Jerry Siegel, Gardner Fox, and others Art by Bob Kane, Maurice Kashuba, Ken Ernst, and others Discover the sensational character find of 1940 all over again with the debut of Robin, the Boy Wonder! Learn how orphaned acrobat Dick Grayson fell under the care of Bruce Wayne and became Batman's partner in crime-fighting. This period-accurate facsimile edition also includes re-creations of vintage ads from the 1940s and backup features such as Spy, Red Logan, The Crimson Avenger, Slam Bradley, and more!

FANTASTIC FOUR 1
Marvel
"WHATEVER HAPPENED TO THE FANTASTIC FOUR?" It's the start of a new era for the Fantastic Four...and they're already in a ton of trouble. Something has gone terribly wrong in New York, and the Thing and Alicia are traveling across America to escape it! But when they stop in a small town for the night and wake up the morning before they arrived, they find themselves caught in a time loop that's been going on since before they were born... That's been going on since before they were born... That's been going on since before they were born...

BATMAN ONE BAD DAY MR FREEZE #1 (ONE SHOT)
DC Comics
(W) Gerry Duggan (A/CA) Matteo Scalera
Going back to the Dark Knight's early days in Gotham City: Batman and Robin, Dick Grayson, face down the coldest winter Gotham City has ever seen. A winter so cold that Mr. Freeze, Victor Fries, no longer needs his containment suit to survive; he is in an element where he can thrive. Robin empathizes with Mr. Freeze, all Freeze wants to do is save his wife, Nora--but Batman warns Robin not to give his empathy to Victor Fries. He's a man who decided his own fate a long time ago and he deserves none of our warmth. And this winter... he will show his true wickedness and power. The powerhouse creative team of bestselling writer GERRY DUGGAN (X-Men, Deadpool, Arkham Manor) and MATTEO SCALERA (WHITE KNIGHT PRESENTS: HARLEY QUINN, Black Science) brings you Mr. Freeze's most frigid story yet.

STAR WARS: YODA 1
Marvel
ALL-NEW ADVENTURES FOR THE GREATEST JEDI OF ALL TIME! To some, he was a legend. To others, he was a teacher. Now Yoda is all but forgotten, living in exile and haunted by the past. As a strangely familiar voice echoes through the swamps of Dagobah, Yoda must revisit the many lessons he has given over the years, from the days of the High Republic to the chaos of the Clone Wars. In the first of three story arcs, a desperate cry for help reaches the Jedi Council on Coruscant and only Yoda can respond. But how far will he go to protect a community from attack?

PLANET HULK: WORLDBREAKER 1
Marvel
MILLENNIUM! A thousand years from now on the planet Sakaar, a young woman with green skin searches for the legendary Green Scar to help save her brother from a group of apocalyptic cultists. But which Hulk will she find? And after all these years, is he truly the Sakaarson, who will save us all - or the Worldbreaker, who will destroy us? A shocking expansion and culmination of the mythos of Sakaar and the heart of the Hulks from PLANET HULK scribe Greg Pak and visionary DEVIL'S REIGN artist Manuel Garcia.

THANOS: DEATH NOTES 1
Marvel
Spinning out of Donny Cates & Nic Klein's THOR comes an all-new Thanos one-shot featuring art by Andrea Di Vito and Travel Foreman, as well as Ron Lim's return to the Mad Titan! Thanos is missing, presumed dead. But Thor has seen a vision of his return. And it is enough to make even a God fear. To prepare himself, to prepare the universe, Thor desperately searches for answers in Thanos' past…and finds a glimpse of the Marvel Universe's dark future.

_____________________________________________________________________

December Highlights:

DARK CRISIS WAR ZONE #1 (ONE SHOT)
DC Comics
(W) Various (A) Various (CA) Rafael Sarmento
A BOOTS-ON-THE-GROUND VIEW OF DARK CRISIS! Written by Matthew Rosenberg, Delilah S. Dawson, Jeremy Adams, Frank Tieri, and Stephanie Williams Art by George Kambadais, Daniel Bayliss, Fernando Pasarin, Matt Ryan, and Serg Acuña As the Hall of Justice falls, get new perspectives on the various conflicts while the battles across Dark Crisis rage on! With the classic Justice League members gone, see how members of the next generation such as Red Canary and The Flash Family deal with the chaos in this key chapter of the saga leading into Dark Crisis #7.

BATMAN SPAWN #1 (ONE SHOT)
DC Comics
(W) Todd McFarlane (A/CA) Greg Capullo
Two dark heroes, cursed by tragedy, find their paths again crossing...but not by choice! What sinister foe is at work, pitting the Dark Knight against the Hellspawn? From the shadows of Gotham City to New York City, this epic event is the blockbuster you've been waiting almost two decades for!


BATMAN ONE BAD DAY CATWOMAN #1 (ONE SHOT)
DC Comics
(W) G. Willow Wilson (A/CA) Jamie Mckelvie
Selina Kyle, a.k.a. Catwoman, is the greatest thief that Gotham City has ever seen. She's effortlessly stolen countless items of immense value over the years and successfully evaded the GCPD and Batman. But when Catwoman finds out an item from her past is being sold for way more than it used to be worth, it sends Catwoman into a spiral, and she'll do everything in her power to steal it back. Batman tries to stop her before she goes too far, and a mysterious figure known as the Forger will change Catwoman's life forever. The all-star creative team of G. WILLOW WILSON (Poison Ivy, Ms. Marvel) and JAMIE McKELVIE (The Wicked & The Divine, Young Avengers) unite for this epic story!

ACTION COMICS #1050
DC Comics
(W) Phillip Kennedy Johnson, Tom Taylor, Joshua Williamson (A) Mike Perkins, Clayton Henry, Nick Dragotta (CA) Steve Beach
The Dark Crisis is over, and a new dawn shines on the DCU! In the wake of cataclysmic battles with Mongul, Henry Bendix, and Pariah's Dark Army, Kal-El is back on Earth and here to stay. And the people of our planet are ready to look up, up, and away into a brighter tomorrow. Well...most of the people. Clark Kent's reunion with Lois and his son, Jon Kent, proves fleeting when strikes the ultimate attack from Superman's greatest adversary: Lex Luthor. But this time something is different...Luthor has stolen something from Clark's life, something so important that it will change the very planet itself! If you think you've seen the biggest battle between Superman and Lex Luthor--think again! This clash will rock the course of their lives forever...and it's only the beginning. Two years' worth of Superman stories come to a head in this oversize anniversary issue with all-star talent that launches Superman and the DCU into an exciting new era!

TALES FROM EARTH-6 A CELEBRATION OF STAN LEE #1 (ONE SHOT)
DC Comics
(W) Various (A) Various (CA) Jim Cheung
Written by Michael Uslan, Mark Waid, Jerry Ordway, Kenny Porter, Stephanie Williams, Michael W. Conrad, Becky Cloonan, Collin Kelly, Jackson Lanzing, Steve Orlando, Zac Thompson, and Meghan Fitzmartin Art by Lee Weeks, Kevin Maguire, Jerry Ordway, Karl Mostert, Juan Ferreyra, Anthony Marques, Pablo M. Collar, Max Dunbar, and Hayden Sherman Over 20 years ago, Stan Lee reimagined the entire DC Universe. A criminal turned nocturnal warrior for justice, a champion from the Brazilian Amazon, an intergalactic lawman, and more sprang to existence from Stan's mind with the help of Michael Uslan. To celebrate the legendary comic book icon's 100th birthday, dive into 10 new adventures featuring his version of the DC Universe! Batman faces down a villainous new threat, the Choker! Green Lantern digs deep when Nekron arrives to consume the World Tree! The Justice League teams up with a familiar face in order to save the day! Shazam ventures into a top-secret facility to face off against a mind-blowing (and brain-burgling) enemy! The Flash uses her time-bending speed abilities to attempt to reverse the tragedies of her past, but may rob herself of her powers in the process! Chaos ensues when Wonder Woman becomes the editor of the National Exposer!

ORIGINS OF MARVEL COMICS: MARVEL TALES 1
Marvel
Four of the cornerstone issues that ushered in the Marvel Age of Comics in one unbeatable package! In FANTASTIC FOUR (1961) #1, Stan Lee and Jack Kirby changed everything, introducing Reed Richards, Ben Grimm, and Susan and Johnny Storm - and sending them on the ill-fated rocket trip that transformed them into the Fantastic Four! In AMAZING FANTASY (1962) #15, Lee joined another legend, Steve Ditko, to spin a tale of power and responsibility featuring teen wallflower Peter Parker…the icon-in-the-making named Spider-Man! In X-MEN (1963) #1, Lee and Kirby created a new breed of hero _ the X-Men, whose mutant abilities are a gift they're born with…or is that a curse? And in AVENGERS (1963) #1, they united Iron Man, Thor, the Hulk, Ant-Man and the Wasp in battle with Loki…and, lo, the Avengers were formed!

Sign our guestbook

____________________________________________________________________________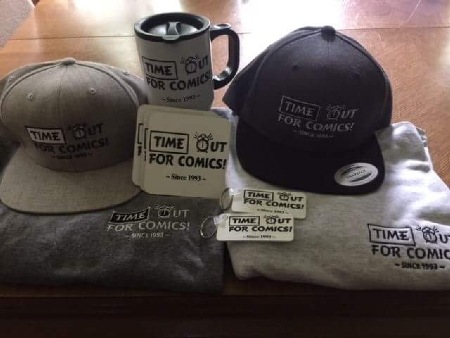 We offer Time Out For Comics! t-shirts, hats, travel mugs, and coasters. Order yours!!


More than a comic store. COLLECTORS ORDER YOUR DC DIRECTS, MARVEL SELECTS AND OTHER STATUES AND BUSTS THROUGH US!

We carry a full line of: MARVEL, DC, DARK HORSE, IMAGE, BOOM, IDW titles. We also carry comic, sports, and card supplies for all your collecting interests.

______________________________________________________________________________________

Whether you have been collecting for years, just starting out, or looking for something to read, with 28 years in the industry Time Out's goal is to meet your individual collecting needs. Missing a book? E-mail us- we can put together a selection of titles to meet your specific reading needs, or find the book you are looking for. Orders from Previews accepted.

You can stay in the comfort of your home and have your collection delivered to you. Read all the exciting issues of the best stories offered by Marvel, DC, or the Independents.

We ship out of state- email us for shipping information.

Your books come bagged.

WEDNESDAY NEW RELEASE DAY

Be sure to click on the Pick of the Week page every Wednesday for hot items! All merchandise is while supplies last.

Check out our monthly newsletter page.

Take Time Out For Comics! Where we take Time Out for YOU!! If you have any questions or wish to place an order you can email us: timeoutforcomicsmyfairpoint.net
Sign our guest book before you leave OR if you wish to leave a comment , need information, or need us to contact you, go to the contact or comment page. Hope to hear from you!

________________________________________________________________________________

THE $1 CARD PACK SALE: EACH PACK IS $1 EACH ! IF YOU ARE CURRENTLY RECEIVING ORDERS FROM TIME OUT THEN PACKS WILL BE INCLUDED IN YOUR NEXT SHIPMENT. IF YOU ARE NOT THEN CONTACT US FOR SHIPPING INFO. QUANTITIES ARE LIMITED SO ACT NOW!!!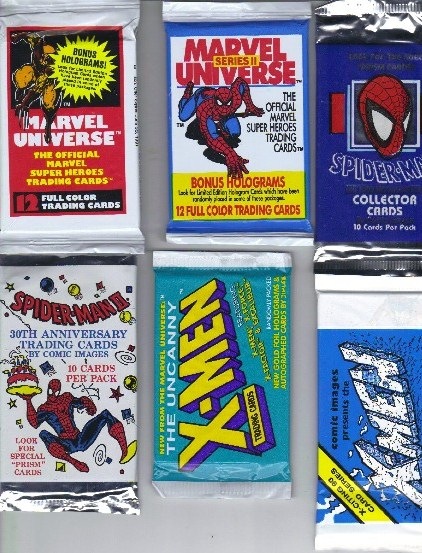 SPIDERMAN COLLECTOR'S CARDS

SPIDERMAN II 3OTH ANNIVERSARY

UNCANNY X-MEN

X-MEN

MARVEL UNIVERSE SERIES I

MARVEL UNIVERSE SERIES II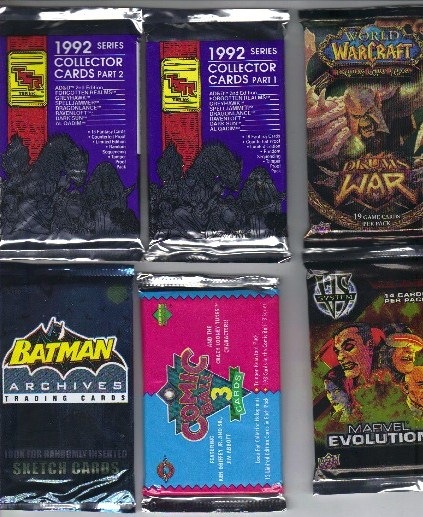 1992 DUNGEONS AND DRAGONS COLLECTORS CARDS PART 1

1992 DUNGEONS AND DRAGONS COLLECTORS CARDS PART 2

BATMAN ARCHIVES

WORLD OF WARCRAFT DRUMS OF WAR

COMIC BALL 3

MARVEL EVOLUTION (SOLD OUT)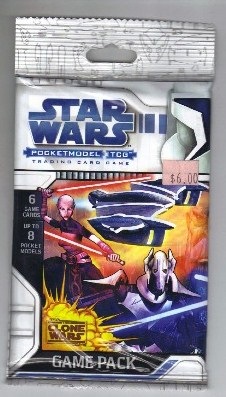 STAR WARS POCKET MODEL TCG CLONE WARS GAME PACK

Special sale on back issues email us your list.

Check out some pictures through the years