FACEBOOK: Time Out For Comics!

Follow us on: Instagram

Email: timeoutforcomics@myfairpoint.net

Phone: 1-207-360-1034

TAKE TIME OUT FOR COMICS! WHERE WE TAKE TIME OUT FOR YOU!!

BECOME A TIME OUT FOR COMICS! MEMBER

On September 1 2022, Time Out For Comics! celebrates 29 years in business!!
A big thank you to all for 29 years of friendship, great conversations and memories. Here is to another great year and many more to follow!!!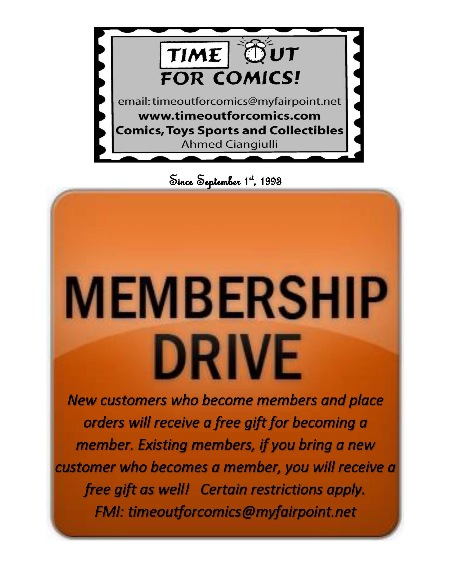 New customers who become members and place orders will receive a free gift for becoming a member. Existing members, if you bring a new customer who becomes a member, you will receive a free gift as well!
Certain restrictions apply.


Sign our guestbook

BACK ISSUE INVENTORY SALE! FROM JUNE 1ST UNTIL SEPTEMBER 30TH ALL BACK ISSUES ARE TWENTY CENTS each (.029 )+ SHIPPING.

SEND US YOUR WANT LIST!

____________________________________________________________________________________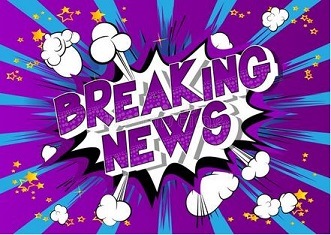 RESERVE YOUR COPY NOW OF THESE UPCOMING RELEASES!!
Order your titles through us.
Shipping and Handling fees may apply.

____________________________________________________________________________

December Highlights:

_______________________________________________________________________

January 2023 highlights

FEBRUARY 2023 HIGHLIGHTS:

RED GOBLIN 1
Marvel
THE NEWEST - AND DEADLIEST - RED GOBLIN! SPINNING OUT OF THE PAGES OF VENOM! Normie Osborn receives his own symbiote at last! As a new Red Goblin, will Normie fulfill his destiny as an Osborn - or will he and his symbiote be able to make a difference for the better?



LAZARUS PLANET NEXT EVOLUTION #1 (ONE SHOT)
DC Comics
(W) Various (A) Various (CA) David Marquez, Alejandro Sanchez
HEROES WILL BE FORGED! Written by Ram V, Brandon T. Snider, Chuck Brown, and Delilah S. Dawson Art by Lalit Kumar, Laura Braga, Alitha Martinez and Mark Morales, and Ro Stein Good and bad, yin and yang...all sides of humanity will be transformed by the Lazarus event...and in the DC Universe one thing's for sure: heroes will always rise. In this special we'll explore some of the amazing new powers gifted to the freedom fighters of the future...and we'll see what perils these villain-vanquishing virtuosos will face. What secret does Flatline seek from the heart of Talia al Ghul's HQ? Can Red Canary bring order to an out-of-control city? What secret does the heroic Dead Eye hold that will haunt him forever? And enter into a brand-new legend with the fantastic debut of Vigil!

TEENAGE MUTANT NINJA TURTLES: THE LAST RONIN--LOST YEARS #2
IDW Publishing
THE TALE OF THE LAST RONIN'S FIRST MISSION CONTINUES! In the past, Michelangelo has mastered his first fighting form and has overcome his first gladiatorial challenge in Japan. With Master Splinter's journal in his hands—and a burning desire for vengeance in his heart—Michelangelo resumes his westward trek across Asia and Europe in order to test his skills against his next deadly opponent. If he's to have any chance of attaining victory in the final battle royal, Michelangelo will have to master an essential new martial skill—or die trying. Only then can he return to New York City to confront the Foot Clan. Thing is, he's not alone. His dead brothers have joined him on his quest…and they won't shut up! Meanwhile, in the present (a.k.a. our future!), Casey Marie Jones also follows the sage teachings found in Splinter's journal as she continues her own journey as master and sensei to the next generation of Teenage Mutant Ninja Turtles! Writers Kevin Eastman and Tom Waltz, alongside artist Ben Bishop (TMNT: The Last Ronin), bring us the next exciting chapter from the Ronin-verse!
This title will be standard trim size, not the oversized format of The Last Ronin series.

AMAZING SPIDER-MAN 129 FACSIMILE EDITION
Marvel
He's different…he's deadly…he's the Punisher! But why does he have Spider-Man in his sights? Find out as Frank Castle makes his mighty Marvel debut in an all-time classic from legendary creators Gerry Conway and Ross Andru! The Punisher's relentless war on crime has enthralled readers for decades - but it all began here, as the lethal vigilante is manipulated by the scheming Jackal into targeting Spidey! Frank only kills those who deserve to die - and he believes the "web-slinging menace" has earned just such a fate! Now, as Spider-Man and the Punisher clash for the first time, a rivalry for the ages is born! It's one of the all-time great Marvel comic books, boldly re-presented in its original form, ads and all!

SUPERMAN #1
DC Comics
(W) Joshua Williamson (A/CA) Jamal Campbell
IT'S THE DAWN OF DC! Superman has returned to Metropolis and his greatest enemy Lex Luthor is finally behind bars. The future of the Superman family has never been brighter! As Clark Kent settles back into his life, iconic and new enemies erupt from the shadows to strike down the Man of Steel! But waiting in the wings to back up Big Blue is...Supercorp?! What secret project has Lex given to Superman?! A hero is only as good as their villains will be put to the test in this brand-new oversize #1 featuring comics' greatest superhero by DC Comics architect Joshua Williamson and award-winning superstar artist Jamal Campbell!

BATMAN ONE BAD DAY CLAYFACE #1 (ONE SHOT)
DC Comics
(W) Collin Kelly, Jackson Lanzing (A) Xermanico (CA) Xermánico
All Basil Karlo ever wanted to be was an actor...no...one of the greatest actors there's ever been. However, his life went off course when he became the shape-shifting monster known as Clayface. After years of doing battle with Batman in Gotham City and distancing himself from his dream, Clayface goes out west to Los Angeles. Creating a new identity, he pursues his dream of acting only to find that Gotham City isn't the only place with an overwhelming sense of dread to it, and that he might not have what it takes to make it in the City of Angels. So he'll reshape the city to fit his needs in a deadly pursuit of stardom. From the rising-star creative team of Collin Kelly and Jackson Lanzing (Batman Beyond: Neo-Year, Captain America: Sentinel of Liberty) and Xermanico (Flashpoint Beyond), this is an epic tragedy not to be missed!

_________________________________________________________________________________________

MARCH 2023 HIGHLIGHTS

KONG GREAT WAR #1
DYNAMITE
(W) Alex Cox (A) Tommaso Bianchi (CA) Bryan Hitch
The World at War! While men of all nations fight on foreign shores, an Imperial German U-Boat is lost at sea! The crew now faces terror beyond imagination! Monsters from creation's dawn! Gruesome, blood-stained death from above and below! Impossible beasts, reigning by fear and violence in the South Pacific! And looming over all, the gargantuan ape-god that knows no master! These brave men have faced death before, but now they must contend with...Kong!


I AM IRON MAN 1
Marvel
Beneath the red and gold armor is a hopeless romantic, a genius inventor, a war hero, a billionaire, an Avenger, a person, TONY STARK. Dynamic Duo Murewa Ayodele and Dotun Akande (MOON KNIGHT: BLACK, WHITE & BLOOD, IRON MAN #25 and AVENGERS UNLIMITED) unite again to journey through the rich history of IRON MAN - telling stories never seen before that are set in iconic eras of ol' Shellhead. No better way to celebrate Iron Man's 60TH ANNIVERSARY than getting to watch him be the Earth's mightiest hero who we love so much. Kaiju battles under the sea, alien invasions in the desert, a rescue mission in outer space, all that and more are to be expected in this new series - ideal for readers new to Iron Man and longstanding fans of the Golden Avenger.

SPIDER-MAN: UNFORGIVEN 1
Marvel
SPIDER-MAN GETS THE FRIGHT - AND FIGHT - OF HIS LIFE! RAIZO KODO and the clanless vampires of the FORGIVEN scour the underworld for the most dangerous ghouls and creatures known to man… But when former Sorceress Supreme SALOMÉ returns with a devastatingly devious plan, these moral monsters might run into more trouble than they bargained for… And mixed up in the middle of it all is the one and only AMAZING SPIDER-MAN!

PREDATOR 1
Marvel
FEAR IS REBORN! On a planet far from Earth, eight strangers find themselves in a deadly game. But this time, the Predators aren't the only ones on the hunt. Someone has the Yautja in their sites - and they've been searching for this game preserve for a long time. Ed Brisson and Netho Diaz kicks off an explosive new series that will turn everything you thought you knew about Predators on its head!

ADVENTURES OF SUPERMAN JON KENT #1 (OF 6)
DC Comics
(W) Tom Taylor (A/CA) Clayton Henry
ANOTHER SUPERMAN HAS FALLEN. Across the Multiverse, Kal-Els are being murdered. Val-Zod, the Superman of Earth-2, believes only one man can help stop the killing—Kal-El's son, Jon Kent! Jon will have to step across dimensions and face the killer of the Kal-Els, the monstrous Ultraman, the man who kidnapped and tortured him for years. And Val-Zod is not acting alone in trying to save the Supermen. Who is the mysterious woman alongside him? And what is her shocking connection to the Super-Family?


BATMAN #357 FACSIMILE EDITION
DC Comics
(W) Gerry Conway (A) Don Newton, Alfredo Alcala (CA) Ed Hannigan, Dick Giordano
Batman meets one of his most peculiar foes of all time when he encounters the gangster known as...the Squid! Plus, a trip to the circus gives Dick Grayson an eerie sense of deja vu when he sees a performance by young acrobat Jason Todd—the boy fated to inherit the mantle of Robin! This facsimile edition reprints the first cameo appearance of Jason Todd and includes all the original ads from the 1983 periodical.

SUPERMAN LOST #1 (OF 10)
DC Comics
(W) Christopher Priest (A/CA) Carlo Pagulayan, Jason Paz
SUPERMAN'S ODYSSEY OF SOLITUDE! After Superman is called away on a routine Justice League mission, Lois Lane awakens to find a complete stranger standing in her living room. The Man of Steel, home much sooner than expected, reveals he has, in fact, been lost in space for 20 years. Nothing and no one seem familiar to him anymore, and the timeless bond between them has been severed...or has it? Can love conquer all? Superman's 85th anniversary celebration continues with this all new blockbuster 10-issue series from the creators of the Eisner-nominated Deathstroke series!

BATMAN ONE BAD DAY RAS AL GHUL #1 (ONE SHOT)
DC Comics
(W) Tom Taylor (A/CA) Ivan Reis, Danny Miki
WHY WON'T BATMAN SAVE THE WORLD?! For centuries Ra's al Ghul has wanted to save the Earth from the worst of humankind, and for centuries he has failed. Recently his greatest obstacle has been the Dark Knight Detective, Batman. Ra's offered Batman a chance to be a part of his new world order, but Batman refused. For years their cold war has raged, but Ra's will have no more. Ra's will remove Batman from the equation and save the world, re-creating it in his image and bringing the peace and prosperity all the good-hearted souls of this Earth deserve. Don't miss this epic tragedy from the all-star creative team of Tom Taylor (Nightwing, Superman: Son of Kal-El, DCeased) and Ivan Reis (Detective Comics, Blackest Night): the last of the One Bad Day specials, and one of the most epic to date.

X-MEN: UNFORGIVEN 1
Marvel
MUTANTS…OR MONSTERS? Beaten, broken and bruised after the destruction of SPIDER-MAN: UNFORGIVEN, the FORGIVEN desperately need a break…but, of course, there ain't no rest for the wicked. Body parts have mysteriously started washing up on the coast of Maine…and these extraneous organs call for help from the extraordinary X-MEN! But with former bloodsucker JUBILEE in tow, the team is risking more than they know…

APRIL HIGHLIGHTS:

STAR TREK: DEEP SPACE NINE--THE DOG OF WAR #1
IDW Publishing
BORK! An extremely rare purebred corgi from Earth makes its way aboard Deep Space 9 when Quark cuts a deal to procure it for a high buyer. After all, a Ferengi without profit is no Ferengi at all!
But Latinum the corgi comes with unexpected cargo that shakes Captain Benjamin Sisko to the core: a Borg component discovered by a crew sent to uncover Cardassian technology after the station's reoccupation.
Don't miss out on this exclusive "lost episode" celebrating the 30th anniversary of the fan-favorite show Star Trek: Deep Space Nine and debut comic series by acclaimed author Mike Chen (Star Wars: Brotherhood, Here and Now and Then) and Star Trek comics artist extraordinaire Angel Hernandez (Star Trek: Picard—Stargazer, Star Trek: Discovery—Adventures in the 32nd Century)!

PLANET OF THE APES 1
Marvel
DAVID F. WALKER & DAVE WACHTER BRING PLANET OF THE APES BACK TO MARVEL COMICS IN SPECTACULAR STYLE! A new era of apes kicks off with part 1 of "Devolution"! The ALZ-113 virus has rampaged across planet Earth, and humanity is crumbling. While well-meaning researchers hunt for a cure, a fanatical group of humans has their own solution: Kill all apes. Peacekeeper Juliana Tobon is one of the few willing to stand against them, but the crisis is spreading, and soon apes will witness the true depths of human cruelty… Eisner-winning writer David F. Walker (Luke Cage, Bitter Root) joins forces with artist Dave Wachter (Iron Fist: Heart of the Dragon, Star Wars: The High Republic – Trail of Shadows) on one of the most beloved sci-fi franchises in history!

CAPTAIN AMERICA: COLD WAR ALPHA 1
Marvel
THE REVOLUTION STARTS HERE: COLD WAR - PART ONE! Bucky Barnes is the Outer Circle's New Revolution, and he has enacted his deadliest move yet — an alliance with Sam Wilson's nemesis, the White Wolf. When Steve Rogers' adopted son, Ian, A.K.A. Nomad, is abducted by someone Steve thought was a friend, he suspects Bucky's hand at work and calls upon the people who know Ian best — Sam Wilson, Sharon Carter and Misty Knight — to help him get to the bottom of the attack. Has Bucky finally gone too far? Why has Nomad been taken, and what does it have to do with a portal to Dimension Z opening over a secret battleground in Alaska? The Symbol of Truth and the Sentinel of Liberty reunite for a pulse-pounding crossover event that will make them question everything they believe in…and each other.

SUPERMAN LOST #2 (OF 10)
DC Comics
(W) Christopher Priest (A) Carlo Pagulayan, Jason Paz (CA) Carlo Pagulayan - Jason Paz
As Superman struggles to re-enter his life on Earth, we begin the story of his epic 20-year journey home with an encounter with spacefaring scavengers who transport the Man of Steel to an unnamed earthlike planet whose properties redefine the limits of his powers, while the world's ecological and political turmoil beckons for his help.

AVENGERS ASSEMBLE OMEGA 1
Marvel
AVENGERS ASSEMBLE: THE FINAL CHAPTER! The grand, oversized finale of the most epic battle in the history of Earth's Mightiest Heroes. Along with being the final issue of Jason Aaron's five-year AVENGERS run, this features an all-star cavalcade of artists, a veritable smorgasbord of Avengers and a few last emotional gut punches in the Mighty Marvel Manner.

CAPTAIN AMERICA: UNFORGIVEN 1
Marvel
CAPTAIN AMERICA…VAMPIRE HUNTER? • The FORGIVEN have lost their way — defeat after defeat has made them bitter and bloodthirsty...and they're starting to like it! • Can CAPTAIN AMERICA bring them back into the light? Or will they give in to their darker natures? • Witness the thrilling conclusion to the UNFORGIVEN saga…if you dare!


ALIEN 1
Marvel
SUPERSTARS DECLAN SHALVEY & Andrea Broccardo TAKE ALIEN TO BONE-CHILLING NEW DEPTHS! Scientist Batya Zahn will do just about anything to get her family off the icy moon where they've been conducting research on water conservation. But there's more than glacial springs to find in this forgotten corner of the galaxy. When they discover an extraordinary organism buried in the ice, it won't take long for tensions to heat up. What is hidden in the snow comes forth in the thaw…and no one will be welcoming this spring. A new era of Alien starts here!

STAR WARS: DARTH VADER - BLACK, WHITE & RED 1
Marvel
THE DARK LORD OF THE SITH LIKE YOU'VE NEVER SEEN HIM BEFORE! • Following the successful black, white and red series produced by Marvel Comics, DARTH VADER now takes the spotlight for tales of terror by some of the industries most talented creators! • PEACH MOMOKO will spin a story only she can bring to life! • PLUS, the return of JASON AARON to the world of STAR WARS with Part One of his Vader tale spanning all four issues!

Sign our guestbook

____________________________________________________________________________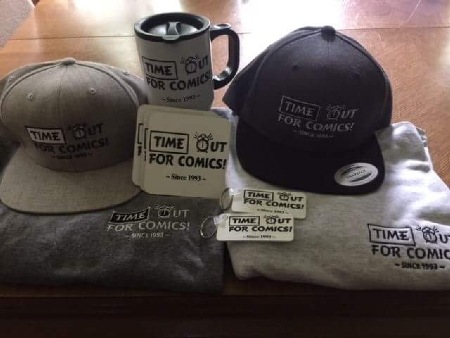 We offer Time Out For Comics! t-shirts, hats, travel mugs, and coasters. Order yours!!


More than a comic store. COLLECTORS ORDER YOUR DC DIRECTS, MARVEL SELECTS AND OTHER STATUES AND BUSTS THROUGH US!

We carry a full line of: MARVEL, DC, DARK HORSE, IMAGE, BOOM, IDW titles. We also carry comic, sports, and card supplies for all your collecting interests.

______________________________________________________________________________________

Whether you have been collecting for years, just starting out, or looking for something to read, with 28 years in the industry Time Out's goal is to meet your individual collecting needs. Missing a book? E-mail us- we can put together a selection of titles to meet your specific reading needs, or find the book you are looking for. Orders from Previews accepted.

You can stay in the comfort of your home and have your collection delivered to you. Read all the exciting issues of the best stories offered by Marvel, DC, or the Independents.

We ship out of state- email us for shipping information.

Your books come bagged.

WEDNESDAY NEW RELEASE DAY

Be sure to click on the Pick of the Week page every Wednesday for hot items! All merchandise is while supplies last.

Check out our monthly newsletter page.

Take Time Out For Comics! Where we take Time Out for YOU!! If you have any questions or wish to place an order you can email us: timeoutforcomicsmyfairpoint.net
Sign our guest book before you leave OR if you wish to leave a comment , need information, or need us to contact you, go to the contact or comment page. Hope to hear from you!

________________________________________________________________________________

THE $1 CARD PACK SALE: EACH PACK IS $1 EACH ! IF YOU ARE CURRENTLY RECEIVING ORDERS FROM TIME OUT THEN PACKS WILL BE INCLUDED IN YOUR NEXT SHIPMENT. IF YOU ARE NOT THEN CONTACT US FOR SHIPPING INFO. QUANTITIES ARE LIMITED SO ACT NOW!!!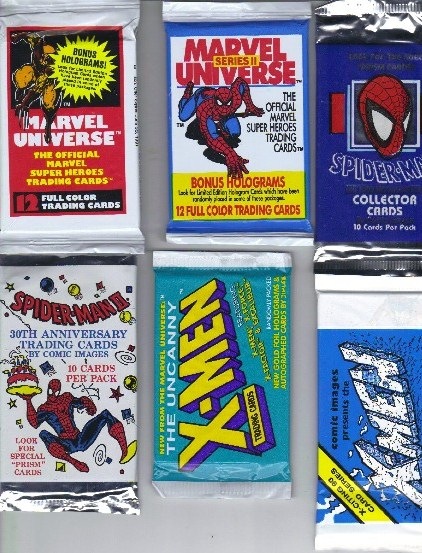 SPIDERMAN COLLECTOR'S CARDS

SPIDERMAN II 3OTH ANNIVERSARY

UNCANNY X-MEN

X-MEN

MARVEL UNIVERSE SERIES I

MARVEL UNIVERSE SERIES II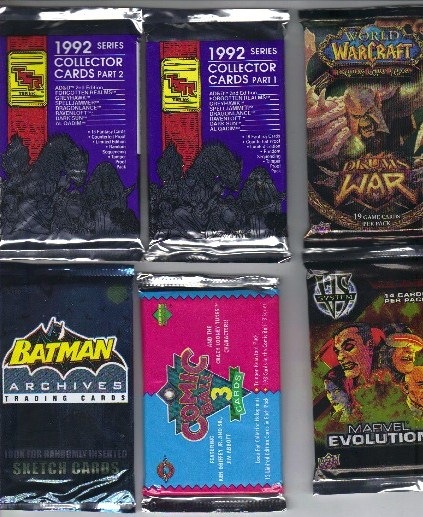 1992 DUNGEONS AND DRAGONS COLLECTORS CARDS PART 1

1992 DUNGEONS AND DRAGONS COLLECTORS CARDS PART 2

BATMAN ARCHIVES

WORLD OF WARCRAFT DRUMS OF WAR

COMIC BALL 3

MARVEL EVOLUTION (SOLD OUT)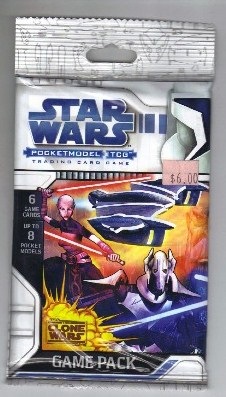 STAR WARS POCKET MODEL TCG CLONE WARS GAME PACK

Special sale on back issues email us your list.

Check out some pictures through the years