FACEBOOK: Time Out For Comics!

Follow us on: Instagram

Email: timeoutforcomics@myfairpoint.net

Phone: 1-207-360-1034

TAKE TIME OUT FOR COMICS! WHERE WE TAKE TIME OUT FOR YOU!!

BECOME A TIME OUT FOR COMICS! MEMBER

On September 1 2022, Time Out For Comics! celebrates 29 years in business!!
A big thank you to all for 29 years of friendship, great conversations and memories. Here is to another great year and many more to follow!!!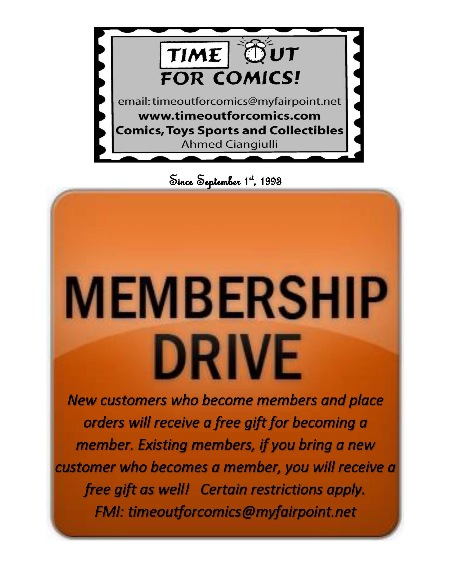 New customers who become members and place orders will receive a free gift for becoming a member. Existing members, if you bring a new customer who becomes a member, you will receive a free gift as well!
Certain restrictions apply.


Sign our guestbook

BACK ISSUE INVENTORY SALE! FROM JUNE 1ST UNTIL SEPTEMBER 30TH ALL BACK ISSUES ARE TWENTY CENTS each (.029 )+ SHIPPING.

SEND US YOUR WANT LIST!

____________________________________________________________________________________

RESERVE YOUR COPY NOW OF THESE UPCOMING RELEASES!!

Order your titles through us. Shipping and Handling fees may apply.

____________________________________________________________________________

December Highlights:

DARK CRISIS WAR ZONE #1 (ONE SHOT)
DC Comics
(W) Various (A) Various (CA) Rafael Sarmento
A BOOTS-ON-THE-GROUND VIEW OF DARK CRISIS! Written by Matthew Rosenberg, Delilah S. Dawson, Jeremy Adams, Frank Tieri, and Stephanie Williams Art by George Kambadais, Daniel Bayliss, Fernando Pasarin, Matt Ryan, and Serg Acuña As the Hall of Justice falls, get new perspectives on the various conflicts while the battles across Dark Crisis rage on! With the classic Justice League members gone, see how members of the next generation such as Red Canary and The Flash Family deal with the chaos in this key chapter of the saga leading into Dark Crisis #7.

BATMAN SPAWN #1 (ONE SHOT)
DC Comics
(W) Todd McFarlane (A/CA) Greg Capullo
Two dark heroes, cursed by tragedy, find their paths again crossing...but not by choice! What sinister foe is at work, pitting the Dark Knight against the Hellspawn? From the shadows of Gotham City to New York City, this epic event is the blockbuster you've been waiting almost two decades for!


BATMAN ONE BAD DAY CATWOMAN #1 (ONE SHOT)
DC Comics
(W) G. Willow Wilson (A/CA) Jamie Mckelvie
Selina Kyle, a.k.a. Catwoman, is the greatest thief that Gotham City has ever seen. She's effortlessly stolen countless items of immense value over the years and successfully evaded the GCPD and Batman. But when Catwoman finds out an item from her past is being sold for way more than it used to be worth, it sends Catwoman into a spiral, and she'll do everything in her power to steal it back. Batman tries to stop her before she goes too far, and a mysterious figure known as the Forger will change Catwoman's life forever. The all-star creative team of G. WILLOW WILSON (Poison Ivy, Ms. Marvel) and JAMIE McKELVIE (The Wicked & The Divine, Young Avengers) unite for this epic story!

ACTION COMICS #1050
DC Comics
(W) Phillip Kennedy Johnson, Tom Taylor, Joshua Williamson (A) Mike Perkins, Clayton Henry, Nick Dragotta (CA) Steve Beach
The Dark Crisis is over, and a new dawn shines on the DCU! In the wake of cataclysmic battles with Mongul, Henry Bendix, and Pariah's Dark Army, Kal-El is back on Earth and here to stay. And the people of our planet are ready to look up, up, and away into a brighter tomorrow. Well...most of the people. Clark Kent's reunion with Lois and his son, Jon Kent, proves fleeting when strikes the ultimate attack from Superman's greatest adversary: Lex Luthor. But this time something is different...Luthor has stolen something from Clark's life, something so important that it will change the very planet itself! If you think you've seen the biggest battle between Superman and Lex Luthor--think again! This clash will rock the course of their lives forever...and it's only the beginning. Two years' worth of Superman stories come to a head in this oversize anniversary issue with all-star talent that launches Superman and the DCU into an exciting new era!

TALES FROM EARTH-6 A CELEBRATION OF STAN LEE #1 (ONE SHOT)
DC Comics
(W) Various (A) Various (CA) Jim Cheung
Written by Michael Uslan, Mark Waid, Jerry Ordway, Kenny Porter, Stephanie Williams, Michael W. Conrad, Becky Cloonan, Collin Kelly, Jackson Lanzing, Steve Orlando, Zac Thompson, and Meghan Fitzmartin Art by Lee Weeks, Kevin Maguire, Jerry Ordway, Karl Mostert, Juan Ferreyra, Anthony Marques, Pablo M. Collar, Max Dunbar, and Hayden Sherman Over 20 years ago, Stan Lee reimagined the entire DC Universe. A criminal turned nocturnal warrior for justice, a champion from the Brazilian Amazon, an intergalactic lawman, and more sprang to existence from Stan's mind with the help of Michael Uslan. To celebrate the legendary comic book icon's 100th birthday, dive into 10 new adventures featuring his version of the DC Universe! Batman faces down a villainous new threat, the Choker! Green Lantern digs deep when Nekron arrives to consume the World Tree! The Justice League teams up with a familiar face in order to save the day! Shazam ventures into a top-secret facility to face off against a mind-blowing (and brain-burgling) enemy! The Flash uses her time-bending speed abilities to attempt to reverse the tragedies of her past, but may rob herself of her powers in the process! Chaos ensues when Wonder Woman becomes the editor of the National Exposer!

ORIGINS OF MARVEL COMICS: MARVEL TALES 1
Marvel
Four of the cornerstone issues that ushered in the Marvel Age of Comics in one unbeatable package! In FANTASTIC FOUR (1961) #1, Stan Lee and Jack Kirby changed everything, introducing Reed Richards, Ben Grimm, and Susan and Johnny Storm - and sending them on the ill-fated rocket trip that transformed them into the Fantastic Four! In AMAZING FANTASY (1962) #15, Lee joined another legend, Steve Ditko, to spin a tale of power and responsibility featuring teen wallflower Peter Parker…the icon-in-the-making named Spider-Man! In X-MEN (1963) #1, Lee and Kirby created a new breed of hero _ the X-Men, whose mutant abilities are a gift they're born with…or is that a curse? And in AVENGERS (1963) #1, they united Iron Man, Thor, the Hulk, Ant-Man and the Wasp in battle with Loki…and, lo, the Avengers were formed!

_______________________________________________________________________

January 2023 highlights

JOE FIXIT 1 Marvel PETER DAVID RETURNS TO JOE FIXIT! Peter David's tour de force through some of his greatest Hulk hits continues with a return to JOE FIXIT! Gone are the ripped-up shorts of the Hulk of yore - this enforcer prefers the slick suave of a striped suit, and the Hulk has traded in "monster" for "mobster" as he lends his strength to the Las Vegas casino scene. Of course, the Kingpin has his own ideas about who the toughest guy in town is, and it's up to Spider-Man to keep the two of them from destroying Sin City!

AVENGERS: WAR ACROSS TIME 1
Marvel
Thor! Iron Man! Captain America! Giant-Man & the Wasp! The classic Avengers against the Hulk on the streets of New York! It is the beginning of a showdown with Kang the Conqueror that will span the centuries! Eisner Hall of Famer Paul Levitz makes his Marvel debut (unless you count a letter in AMAZING ADVENTURES #5) teamed with acclaimed artist Alan Davis!

BATMAN URBAN LEGENDS #23
DC Comics (W) Various (A) Various (CA) FINAL ISSUE Written by Jamal Campbell, Joey Esposito, Dennis Culver, and Kenny Porter Art by Jamal Campbell, Vasco Georgiev, Hayden Sherman, and Simone Di Meo the final issue of the landmark anthology series is here! Jamal Campbell's epic Nightwing two-parter draws to a close. Batman must defeat the Time Commander to get the Waynes back to their time. The first graduating class of Arkham Academy decides their fate and future course! And in a flashback story to the beginning of Dick Grayson's tenure as Robin, he must save Batman's life.

LAZARUS PLANET ALPHA #1 (ONE SHOT)
DC Comics
(W) Mark Waid, Gene Luen Yang (A) Riccardo Federici, Billy Tan, Various (CA) David Marquez - Alejandro Sanchez
CHANGE THE WORLD. Following the explosive (literally) events of Batman vs. Robin #4, the Lazarus Volcano has erupted, spewing dangerous and transformative chemicals into Earth's atmosphere! As these Lazarus clouds rain down upon the planet, people across the globe begin to develop strange new abilities, watch their already-extraordinary abilities change, and witness a whole host of chaos unlike anything the DCU has experienced before! It's up to Damian Wayne to put out the distress call for whoever can still hear it: come to the ruins of the Hall of Justice and help save the world! Poison Ivy, Power Girl, Cyborg, Batman, and more answer the call...but why could the fate of all life as we know it rest in the hands of...Monkey Prince?



BATMAN ONE BAD DAY BANE #1 (ONE SHOT)
DC Comics
(W) Joshua Williamson (A/CA) Howard Porter
A PAST, PRESENT, AND FUTURE DESTROYED BY VENOM! Bane broke the Bat--he's one of the only villains to ever truly vanquish the Dark Knight--but is that all he's ever accomplished? Decades from now, Bane is a washed-up wrestler reliving his glory days in the ring, defeating someone dressed like Batman every day. But when he discovers that there's a new source of Venom in the world, he'll do everything he can to shut down the facility it's coming from for good and make sure that no one takes the poison that ruined his life. An epic saga set throughout Bane's life, expanding on the hopes, dreams, regrets, and failures of one of DC's most legendary villains, brought to you by the iconic creative team of Joshua Williamson (Dark Crisis on Infinite Earths, The Flash) and Howard Porter (The Flash, Justice League).


SINS OF SINISTER 1
Marvel
POWERS OF ESSEX! It is the end of the world as we know it, and at least Sinister feels fine. For now. Can that last? Especially when we discover that he really is his own worst enemy... The universe-melting X-event begins here, in a horror timeline that makes Age of Apocalypse look like the X-Men Swimsuit Special. Join Kieron Gillen (IMMORTAL X-MEN, AXE: JUDGMENT DAY) as he kicks off the X-Men crossover Sinister has been planning since the beginning…and is going to have to see through to the bitter end.


TEENAGE MUTANT NINJA TURTLES: THE LAST RONIN--THE LOST YEARS #1
IDW Publishing
RETURN TO THE RONIN-VERSE! In the smash-hit miniseries TMNT: The Last Ronin, readers were taken on a pulse-pounding trek through time—past, present, future—to witness the final gut-wrenching days of the Heroes in a Half Shell. For Michelangelo in particular, the march to his heartbreaking last battle was long and dangerous, taking him from New York City, to Japan, across Asia and Europe, and then back home again to administer final justice against those guilty of killing his family. But what happened during those fateful years when he had only the need for vengeance and Master Splinter's journal to guide him? What battles did he fight? What hard lessons did he learn? The time has come to find out as original miniseries writers Kevin Eastman and Tom Waltz join artist Ben Bishop (TMNT: The Last Ronin) and SL Gallant (G.I. Joe: A Real American Hero) to finally reveal what adventures the Last Ronin experienced during his vengeful journey. While in the present, a new master, Casey Marie Jones, prepares her young terrapin students to be the next generation of…Teenage Mutant Ninja Turtles!


FEBRUARY 2023 HIGHLIGHTS:

RED GOBLIN 1
Marvel
THE NEWEST - AND DEADLIEST - RED GOBLIN! SPINNING OUT OF THE PAGES OF VENOM! Normie Osborn receives his own symbiote at last! As a new Red Goblin, will Normie fulfill his destiny as an Osborn - or will he and his symbiote be able to make a difference for the better?



LAZARUS PLANET NEXT EVOLUTION #1 (ONE SHOT)
DC Comics
(W) Various (A) Various (CA) David Marquez, Alejandro Sanchez
HEROES WILL BE FORGED! Written by Ram V, Brandon T. Snider, Chuck Brown, and Delilah S. Dawson Art by Lalit Kumar, Laura Braga, Alitha Martinez and Mark Morales, and Ro Stein Good and bad, yin and yang...all sides of humanity will be transformed by the Lazarus event...and in the DC Universe one thing's for sure: heroes will always rise. In this special we'll explore some of the amazing new powers gifted to the freedom fighters of the future...and we'll see what perils these villain-vanquishing virtuosos will face. What secret does Flatline seek from the heart of Talia al Ghul's HQ? Can Red Canary bring order to an out-of-control city? What secret does the heroic Dead Eye hold that will haunt him forever? And enter into a brand-new legend with the fantastic debut of Vigil!

TEENAGE MUTANT NINJA TURTLES: THE LAST RONIN--LOST YEARS #2
IDW Publishing
THE TALE OF THE LAST RONIN'S FIRST MISSION CONTINUES! In the past, Michelangelo has mastered his first fighting form and has overcome his first gladiatorial challenge in Japan. With Master Splinter's journal in his hands—and a burning desire for vengeance in his heart—Michelangelo resumes his westward trek across Asia and Europe in order to test his skills against his next deadly opponent. If he's to have any chance of attaining victory in the final battle royal, Michelangelo will have to master an essential new martial skill—or die trying. Only then can he return to New York City to confront the Foot Clan. Thing is, he's not alone. His dead brothers have joined him on his quest…and they won't shut up! Meanwhile, in the present (a.k.a. our future!), Casey Marie Jones also follows the sage teachings found in Splinter's journal as she continues her own journey as master and sensei to the next generation of Teenage Mutant Ninja Turtles! Writers Kevin Eastman and Tom Waltz, alongside artist Ben Bishop (TMNT: The Last Ronin), bring us the next exciting chapter from the Ronin-verse!
This title will be standard trim size, not the oversized format of The Last Ronin series.

AMAZING SPIDER-MAN 129 FACSIMILE EDITION
Marvel
He's different…he's deadly…he's the Punisher! But why does he have Spider-Man in his sights? Find out as Frank Castle makes his mighty Marvel debut in an all-time classic from legendary creators Gerry Conway and Ross Andru! The Punisher's relentless war on crime has enthralled readers for decades - but it all began here, as the lethal vigilante is manipulated by the scheming Jackal into targeting Spidey! Frank only kills those who deserve to die - and he believes the "web-slinging menace" has earned just such a fate! Now, as Spider-Man and the Punisher clash for the first time, a rivalry for the ages is born! It's one of the all-time great Marvel comic books, boldly re-presented in its original form, ads and all!

SUPERMAN #1
DC Comics
(W) Joshua Williamson (A/CA) Jamal Campbell
IT'S THE DAWN OF DC! Superman has returned to Metropolis and his greatest enemy Lex Luthor is finally behind bars. The future of the Superman family has never been brighter! As Clark Kent settles back into his life, iconic and new enemies erupt from the shadows to strike down the Man of Steel! But waiting in the wings to back up Big Blue is...Supercorp?! What secret project has Lex given to Superman?! A hero is only as good as their villains will be put to the test in this brand-new oversize #1 featuring comics' greatest superhero by DC Comics architect Joshua Williamson and award-winning superstar artist Jamal Campbell!

BATMAN ONE BAD DAY CLAYFACE #1 (ONE SHOT)
DC Comics
(W) Collin Kelly, Jackson Lanzing (A) Xermanico (CA) Xermánico
All Basil Karlo ever wanted to be was an actor...no...one of the greatest actors there's ever been. However, his life went off course when he became the shape-shifting monster known as Clayface. After years of doing battle with Batman in Gotham City and distancing himself from his dream, Clayface goes out west to Los Angeles. Creating a new identity, he pursues his dream of acting only to find that Gotham City isn't the only place with an overwhelming sense of dread to it, and that he might not have what it takes to make it in the City of Angels. So he'll reshape the city to fit his needs in a deadly pursuit of stardom. From the rising-star creative team of Collin Kelly and Jackson Lanzing (Batman Beyond: Neo-Year, Captain America: Sentinel of Liberty) and Xermanico (Flashpoint Beyond), this is an epic tragedy not to be missed!

_________________________________________________________________________________________

Sign our guestbook

____________________________________________________________________________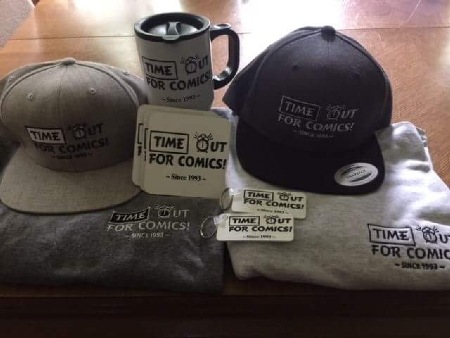 We offer Time Out For Comics! t-shirts, hats, travel mugs, and coasters. Order yours!!


More than a comic store. COLLECTORS ORDER YOUR DC DIRECTS, MARVEL SELECTS AND OTHER STATUES AND BUSTS THROUGH US!

We carry a full line of: MARVEL, DC, DARK HORSE, IMAGE, BOOM, IDW titles. We also carry comic, sports, and card supplies for all your collecting interests.

______________________________________________________________________________________

Whether you have been collecting for years, just starting out, or looking for something to read, with 28 years in the industry Time Out's goal is to meet your individual collecting needs. Missing a book? E-mail us- we can put together a selection of titles to meet your specific reading needs, or find the book you are looking for. Orders from Previews accepted.

You can stay in the comfort of your home and have your collection delivered to you. Read all the exciting issues of the best stories offered by Marvel, DC, or the Independents.

We ship out of state- email us for shipping information.

Your books come bagged.

WEDNESDAY NEW RELEASE DAY

Be sure to click on the Pick of the Week page every Wednesday for hot items! All merchandise is while supplies last.

Check out our monthly newsletter page.

Take Time Out For Comics! Where we take Time Out for YOU!! If you have any questions or wish to place an order you can email us: timeoutforcomicsmyfairpoint.net
Sign our guest book before you leave OR if you wish to leave a comment , need information, or need us to contact you, go to the contact or comment page. Hope to hear from you!

________________________________________________________________________________

THE $1 CARD PACK SALE: EACH PACK IS $1 EACH ! IF YOU ARE CURRENTLY RECEIVING ORDERS FROM TIME OUT THEN PACKS WILL BE INCLUDED IN YOUR NEXT SHIPMENT. IF YOU ARE NOT THEN CONTACT US FOR SHIPPING INFO. QUANTITIES ARE LIMITED SO ACT NOW!!!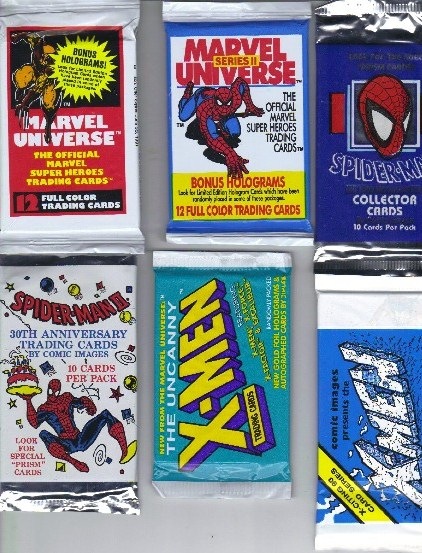 SPIDERMAN COLLECTOR'S CARDS

SPIDERMAN II 3OTH ANNIVERSARY

UNCANNY X-MEN

X-MEN

MARVEL UNIVERSE SERIES I

MARVEL UNIVERSE SERIES II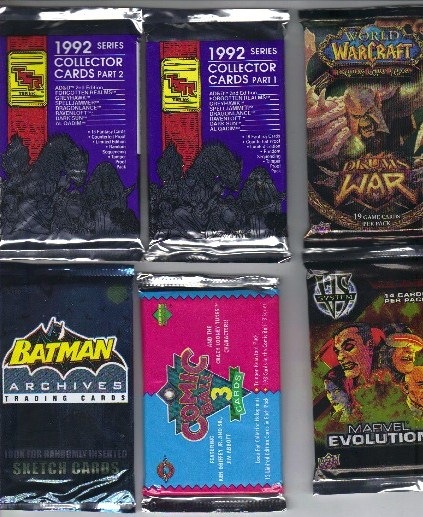 1992 DUNGEONS AND DRAGONS COLLECTORS CARDS PART 1

1992 DUNGEONS AND DRAGONS COLLECTORS CARDS PART 2

BATMAN ARCHIVES

WORLD OF WARCRAFT DRUMS OF WAR

COMIC BALL 3

MARVEL EVOLUTION (SOLD OUT)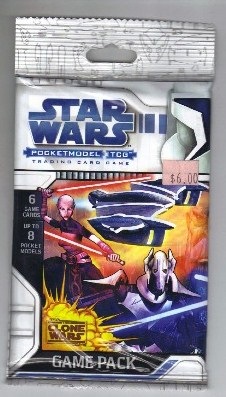 STAR WARS POCKET MODEL TCG CLONE WARS GAME PACK

Special sale on back issues email us your list.

Check out some pictures through the years