FACEBOOK: Time Out For Comics!

Follow us on: Instagram

Email: timeoutforcomics@myfairpoint.net

Phone: 1-207-360-1034

TAKE TIME OUT FOR COMICS! WHERE WE TAKE TIME OUT FOR YOU!!

BECOME A TIME OUT FOR COMICS! MEMBER

On September 1 2022, Time Out For Comics! celebrates 29 years in business!!
A big thank you to all for 29 years of friendship, great conversations and memories. Here is to another great year and many more to follow!!!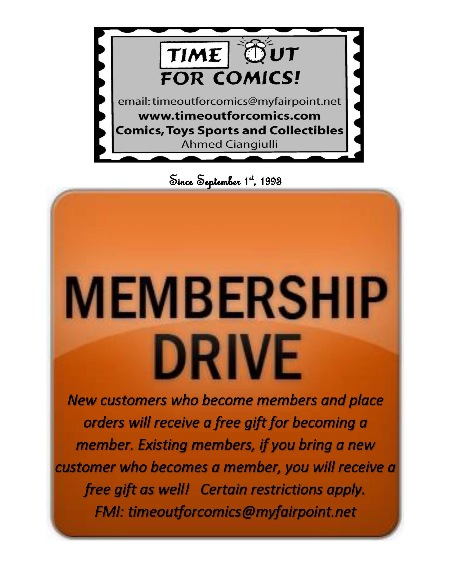 New customers who become members and place orders will receive a free gift for becoming a member. Existing members, if you bring a new customer who becomes a member, you will receive a free gift as well!
Certain restrictions apply.


Sign our guestbook

BACK ISSUE INVENTORY SALE! FROM JUNE 1ST UNTIL SEPTEMBER 30TH ALL BACK ISSUES ARE TWENTY CENTS each (.029 )+ SHIPPING.

SEND US YOUR WANT LIST!

____________________________________________________________________________________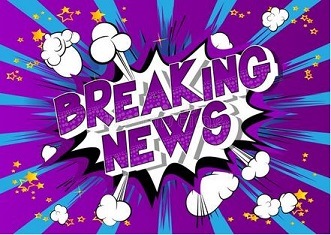 RESERVE YOUR COPY NOW OF THESE UPCOMING RELEASES!!
Order your titles through us.
Shipping and Handling fees may apply.

_________________________________________________________________________________________

MARCH 2023 HIGHLIGHTS

KONG GREAT WAR #1
DYNAMITE
(W) Alex Cox (A) Tommaso Bianchi (CA) Bryan Hitch
The World at War! While men of all nations fight on foreign shores, an Imperial German U-Boat is lost at sea! The crew now faces terror beyond imagination! Monsters from creation's dawn! Gruesome, blood-stained death from above and below! Impossible beasts, reigning by fear and violence in the South Pacific! And looming over all, the gargantuan ape-god that knows no master! These brave men have faced death before, but now they must contend with...Kong!


APRIL HIGHLIGHTS:

KONG GREAT WAR #1
DYNAMITE
(W) Alex Cox (A) Tommaso Bianchi (CA) Bryan Hitch
The World at War! While men of all nations fight on foreign shores, an Imperial German U-Boat is lost at sea! The crew now faces terror beyond imagination! Monsters from creation's dawn! Gruesome, blood-stained death from above and below! Impossible beasts, reigning by fear and violence in the South Pacific! And looming over all, the gargantuan ape-god that knows no master! These brave men have faced death before, but now they must contend with...Kong!

STAR TREK: DEEP SPACE NINE--THE DOG OF WAR #1
IDW Publishing
BORK! An extremely rare purebred corgi from Earth makes its way aboard Deep Space 9 when Quark cuts a deal to procure it for a high buyer. After all, a Ferengi without profit is no Ferengi at all!
But Latinum the corgi comes with unexpected cargo that shakes Captain Benjamin Sisko to the core: a Borg component discovered by a crew sent to uncover Cardassian technology after the station's reoccupation.
Don't miss out on this exclusive "lost episode" celebrating the 30th anniversary of the fan-favorite show Star Trek: Deep Space Nine and debut comic series by acclaimed author Mike Chen (Star Wars: Brotherhood, Here and Now and Then) and Star Trek comics artist extraordinaire Angel Hernandez (Star Trek: Picard—Stargazer, Star Trek: Discovery—Adventures in the 32nd Century)!

PLANET OF THE APES 1
Marvel
DAVID F. WALKER & DAVE WACHTER BRING PLANET OF THE APES BACK TO MARVEL COMICS IN SPECTACULAR STYLE! A new era of apes kicks off with part 1 of "Devolution"! The ALZ-113 virus has rampaged across planet Earth, and humanity is crumbling. While well-meaning researchers hunt for a cure, a fanatical group of humans has their own solution: Kill all apes. Peacekeeper Juliana Tobon is one of the few willing to stand against them, but the crisis is spreading, and soon apes will witness the true depths of human cruelty… Eisner-winning writer David F. Walker (Luke Cage, Bitter Root) joins forces with artist Dave Wachter (Iron Fist: Heart of the Dragon, Star Wars: The High Republic – Trail of Shadows) on one of the most beloved sci-fi franchises in history!

CAPTAIN AMERICA: COLD WAR ALPHA 1
Marvel
THE REVOLUTION STARTS HERE: COLD WAR - PART ONE! Bucky Barnes is the Outer Circle's New Revolution, and he has enacted his deadliest move yet — an alliance with Sam Wilson's nemesis, the White Wolf. When Steve Rogers' adopted son, Ian, A.K.A. Nomad, is abducted by someone Steve thought was a friend, he suspects Bucky's hand at work and calls upon the people who know Ian best — Sam Wilson, Sharon Carter and Misty Knight — to help him get to the bottom of the attack. Has Bucky finally gone too far? Why has Nomad been taken, and what does it have to do with a portal to Dimension Z opening over a secret battleground in Alaska? The Symbol of Truth and the Sentinel of Liberty reunite for a pulse-pounding crossover event that will make them question everything they believe in…and each other.

SUPERMAN LOST #2 (OF 10)
DC Comics
(W) Christopher Priest (A) Carlo Pagulayan, Jason Paz (CA) Carlo Pagulayan - Jason Paz
As Superman struggles to re-enter his life on Earth, we begin the story of his epic 20-year journey home with an encounter with spacefaring scavengers who transport the Man of Steel to an unnamed earthlike planet whose properties redefine the limits of his powers, while the world's ecological and political turmoil beckons for his help.

AVENGERS ASSEMBLE OMEGA 1
Marvel
AVENGERS ASSEMBLE: THE FINAL CHAPTER! The grand, oversized finale of the most epic battle in the history of Earth's Mightiest Heroes. Along with being the final issue of Jason Aaron's five-year AVENGERS run, this features an all-star cavalcade of artists, a veritable smorgasbord of Avengers and a few last emotional gut punches in the Mighty Marvel Manner.

CAPTAIN AMERICA: UNFORGIVEN 1
Marvel
CAPTAIN AMERICA…VAMPIRE HUNTER? • The FORGIVEN have lost their way — defeat after defeat has made them bitter and bloodthirsty...and they're starting to like it! • Can CAPTAIN AMERICA bring them back into the light? Or will they give in to their darker natures? • Witness the thrilling conclusion to the UNFORGIVEN saga…if you dare!


ALIEN 1
Marvel
SUPERSTARS DECLAN SHALVEY & Andrea Broccardo TAKE ALIEN TO BONE-CHILLING NEW DEPTHS! Scientist Batya Zahn will do just about anything to get her family off the icy moon where they've been conducting research on water conservation. But there's more than glacial springs to find in this forgotten corner of the galaxy. When they discover an extraordinary organism buried in the ice, it won't take long for tensions to heat up. What is hidden in the snow comes forth in the thaw…and no one will be welcoming this spring. A new era of Alien starts here!

STAR WARS: DARTH VADER - BLACK, WHITE & RED 1
Marvel
THE DARK LORD OF THE SITH LIKE YOU'VE NEVER SEEN HIM BEFORE! • Following the successful black, white and red series produced by Marvel Comics, DARTH VADER now takes the spotlight for tales of terror by some of the industries most talented creators! • PEACH MOMOKO will spin a story only she can bring to life! • PLUS, the return of JASON AARON to the world of STAR WARS with Part One of his Vader tale spanning all four issues!

MAY HIGHLIGHTS:


BUFFY LAST VAMPIRE SLAYER LOST SUMMER #1
BOOM! STUDIOS
(W) Casey Gilly (A) Lauren Knight (CA) Mirka Andolfo
Spike is determined to keep the last copy of his embarrassing poetry from being discovered, sending Buffy and the Scooby Gang on a faux-supernatural goose chase to New Orleans to cover his tracks.
At an antiques fair, the group is fascinated by The Casquette Girls' clothes on display.
When Dawn utters a wish she most likely should have kept to herself, the gang gains a firsthand account of the sisters' identities... beyond what they could have imagined.
Buffy, The Last Vampire Slayer writer Casey Gilly is joined by Golden Rage artist Lauren Knight, bringing fans a historically fun and frightful one-shot to sink their fangs into!

CARNAGE REIGNS ALPHA 1
Marvel
CARNAGE VS. MILES MORALES! CLETUS KASADY IS BACK and badder than ever. With his soul trapped within the Extrembiote Armor created by Tony Stark during KING IN BLACK, Cletus has the means to level an untold amount of chaos and, well, carnage on New York City and the entire Marvel Universe. But like any good Tony Stark invention, the Extremis coursing through Cletus' symbiotic veins needs POWER, and that means Cletus is HUNGRY. Good thing Brooklyn's very own SPIDER-MAN is there to stand in his way! If he survives their first encounter, that is.

EDGE OF SPIDER-VERSE 1
Marvel
INTO THE OTHER EDGE OF THE SPIDER-VERSE! SPIDER-REX returns and faces the VENOMSAURUS! PLUS - WHO IS THE SPIDER-KILLER?! Zander Cannon introduces the world to the scariest Spider-Character EVER CREATED!!! Bringing your favorite breakout characters back, as well as introducing brand new Spiders who will blow your mind!

SPIDER-MAN 2099: DARK GENESIS 1
Marvel
FROM THE SHADOW OF EXODUS…COMES THE DARK GENESIS! MIGUEL O'HARA, THE FUTURISTIC SPIDER-MAN OF 2099, MUST FACE A SINISTER CARNAGE LIKE NEVER BEFORE! As society begins to crumble, SPIDER-MAN 2099 will need all the help he can get - but does the public even want his help? Or do they all just want to watch this world burn? STEVE ORLANDO (SCARLET WITCH, SPIDER-MAN 2099: EXODUS) continues his journey through the future world of 2099, this time paired with bombastic artist JUSTIN MASON (SPIDER-PUNK) - get ready for the debut of the NEW HEROES and VILLAINS that populate the future!

X-MEN: BEFORE THE FALL - SONS OF X 1
Marvel
A BATTLE OF THE TITANS OF THE X-UNIVERSE! A man of innumerable personalities and powers vs. the most powerful artificial intelligence in this universe: Legion vs. Nimrod! With Nightcrawler in Orchis' clutches, David Haller and his allies will have to confront the mastermind who destroyed Warlock and nearly took Krakoa with him. But Nightcrawler is not himself... and Legion's allies aren't all they seem to be either. Mutant monsters roam the Earth... Banshee, broken once again, dreams of lost vengeance... Mother Righteous, her role in SINS OF SINISTER unrevealed, takes another stab at universal control... Si Spurrier and Phil Noto usher in new status quos for some of your favorite X-Men in this can't-miss one-shot!

GREEN LANTERN #1
DC Comics
Spinning out of the events of Dark Crisis, the Guardians of Oa at the heart of the Green Lantern Corps have quarantined Sector 2814, home of the planet Earth—and its champion along with it! A heartbreaking defeat has sent Hal reeling, returning home to rediscover his roots...and find the man responsible for ruining his life: Sinestro. From the visionary team of Jeremy Adams and Xermanico (who brought you the epic Flashpoint Beyond) comes a tale of redemption, loss, and finding out that maybe...just maybe...you can go home again. At least if you're willing to hot-wire a power ring to do it. Also featuring part one of John Stewart: War Journal from writer Phillip Kennedy Johnson and artist Montos!


STAR TREK: THE MOTION PICTURE--ECHOES #1
IDW Publishing
From critically acclaimed screenwriter, producer, and comics writer Marc Guggenheim (Arrow; DC's Legends of Tomorrow; Star Wars: Han Solo and Chewbacca) comes a brand-new miniseries detailing a never-before-seen adventure from Captain Kirk and the crew of the U.S.S. Enterprise!
When a space anomaly thrusts a bounty hunter and her target—a criminal mastermind—into their universe, it's up to Kirk and his crew to stop them from unintentionally starting a war with the Romulans and unleashing a superweapon of foreign tech onto the system. But the strangers from another universe are more familiar than they assume…for underneath their helmets are their doppelgängers—from an alternate reality!

AVENGERS 1
Marvel
ABOUT
JED MACKAY AND STORMBREAKER C.F. VILLA TAKE THE REINS OF EARTH'S MIGHTIEST HEROES! The Star. The Icon. The Witch. The Construct. The God. The Engineer. The King. The world is ever in peril, and a new team of Avengers mobilizes to meet any dangers that dare threaten the planet. But when TERMINUS attacks, a new and insidious danger rears its head: one that the Avengers know all too well, and one that comes to them in the most dangerous of guises - that of a friend.

JUNE HIGHLIGHTS:


LOKI 1
Marvel
LOKI SAVES THE MARVEL UNIVERSE? He may be the "benevolent" God of Stories now, but Loki's past as the God of Lies returns to haunt him when ancient, powerful weapons he once built end up scattered across the Ten Realms! Loki must track down these weapons before they fall into the wrong hands and bring about Ragnarok! Surprising guest stars, exciting new characters and startling twists await in this all-new miniseries by rising stars Dan Watters (Sword of Azrael) and Germán Peralta (BLACK PANTHER)!

JOKER UNCOVERED #1 (ONE SHOT)
DC Comics
(A) Various (CA) Lee Bermejo
Lowlifes, creeps, and scoundrels, it's your Uncle Joker here. You know art can come from many places. And most great art is about truly despicable people, like me. In that spirit, you should buy The Joker: Uncovered to see a murderer's row of the world's greatest comic book artists commit my beautiful image to dozens of wonderful variant covers, all collected in one place for the very first time. Expand your mind a little bit, and take in some good art.

FLASH #800
DC Comics
(W) Various (A) Various (CA) Taurin Clarke
Written by Jeremy Adams, Mark Waid, Joshua Williamson, Geoff Johns, and Simon Spurrier Art by Fernando Pasarin & Oclair Albert, Todd Nauck, Carmine Di Giandomenico, Scott Kolins, and Mike Deodato Jr. An oversize anniversary issue concludes writer Jeremy Adams's acclaimed tenure, with special guests Mark Waid, Joshua Williamson, and Geoff Johns joining the celebration! As the Adams run races to the finish line, get a prelude to the new Dawn of DC chapter of the Fastest Man Alive's adventures from the dream team of Simon Spurrier (Coda, Detective Comics) and Mike Deodato Jr. (Avengers)!

PENGUIN #0
DC Comics
(W) Chip Zdarsky (A/CA) Belen Ortega
Following the Penguin's death in the landmark Batman #125, the mysterious Executor has enlisted Catwoman to carry out the departed's last wishes and track down his next of kin. But when the Penguin's heirs start getting murdered, Catwoman will have to find the killer and discover what truly became of Oswald Cobblepot. Collects the Batman #125-127 backup stories by the red-hot creative team of Chip Zdarsky and Belen Ortega!

ULTIMATE INVASION #1
Marvel
THE TRANSFORMATION OF THE MARVEL UNIVERSE BEGINS! Superstar creators Jonathan Hickman and Bryan Hitch team up! The Illuminati must form once again to stop the Maker from his plans to destroy - or perhaps rebuild - the universe, with Miles Morales at the center of it all! Bryan's work on THE ULTIMATES helped redefine super hero comics for the 2000s - wait until you see what he and Jonathan have in store for this decade! Including new data pages by Jonathan Hickman - plus exclusive behind-the-scenes material on the world-building that has gone into this project!

WONDER WOMAN #800
DC Comics
(W) Various (A) Various (CA) Yanick Paquette
Written by Becky Cloonan, Michael W. Conrad, and Tom King Art by Joelle Jones, Todd Nauck, Daniel Sampere, and others Whatever Happened to the Warrior of Truth? concludes in a landmark 800th issue! Diana's visions become more vivid as she finds herself trapped in the dreams of those around her! As she struggles to escape, her life as Wonder Woman hangs in the balance. When the dust settles, will she still be the Amazons' greatest champion? Find out in this extra-special celebration!


INCREDIBLE HULK 1
Marvel
THE AGE OF MONSTERS HAS BEGUN! As an enraged Hulk tries to take control of Bruce Banner's body permanently, a mysterious immortal turns every monster in the Marvel Universe against Banner in an attempt to free their creator, the primordial Mother of Horrors. With the help of an unlikely new friend, Banner and Hulk must try to stop the world from getting plunged into darkness in this terrifying new series!

Sign our guestbook

____________________________________________________________________________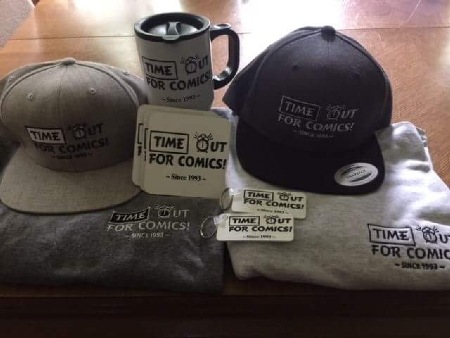 We offer Time Out For Comics! t-shirts, hats, travel mugs, and coasters. Order yours!!


We carry a full line of: MARVEL, DC, DARK HORSE, IMAGE, BOOM, IDW titles. We also carry comic, sports, and card supplies for all your collecting interests.

______________________________________________________________________________________

Whether you have been collecting for years, just starting out, or looking for something to read, with 30 years in the industry Time Out's goal is to meet your individual collecting needs. Missing a book? E-mail us- we can put together a selection of titles to meet your specific reading needs, or find the book you are looking for. Orders from Previews accepted.

You can stay in the comfort of your home and have your collection delivered to you. Read all the exciting issues of the best stories offered by Marvel, DC, or the Independents.

We ship out of state- email us for shipping information.

Your books come bagged.

WEDNESDAY NEW RELEASE DAY

Be sure to click on the Pick of the Week page every Wednesday for hot items! All merchandise is while supplies last.

Check out our monthly newsletter page.

Take Time Out For Comics! Where we take Time Out for YOU!! If you have any questions or wish to place an order you can email us: timeoutforcomicsmyfairpoint.net
Sign our guest book before you leave OR if you wish to leave a comment , need information, or need us to contact you, go to the contact or comment page. Hope to hear from you!

________________________________________________________________________________

THE $1 CARD PACK SALE: EACH PACK IS $1 EACH ! IF YOU ARE CURRENTLY RECEIVING ORDERS FROM TIME OUT THEN PACKS WILL BE INCLUDED IN YOUR NEXT SHIPMENT. IF YOU ARE NOT THEN CONTACT US FOR SHIPPING INFO. QUANTITIES ARE LIMITED SO ACT NOW!!!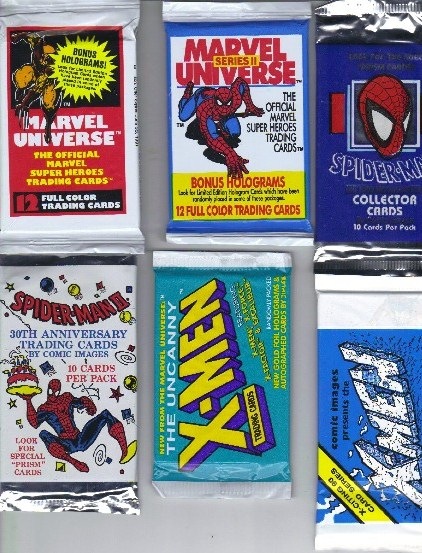 SPIDERMAN COLLECTOR'S CARDS

SPIDERMAN II 3OTH ANNIVERSARY

UNCANNY X-MEN

X-MEN

MARVEL UNIVERSE SERIES I

MARVEL UNIVERSE SERIES II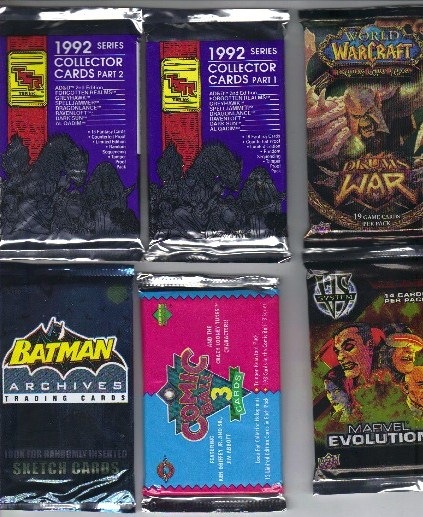 1992 DUNGEONS AND DRAGONS COLLECTORS CARDS PART 1

1992 DUNGEONS AND DRAGONS COLLECTORS CARDS PART 2

BATMAN ARCHIVES

WORLD OF WARCRAFT DRUMS OF WAR

COMIC BALL 3

MARVEL EVOLUTION (SOLD OUT)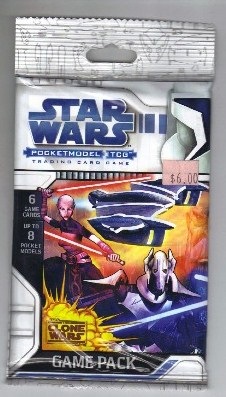 STAR WARS POCKET MODEL TCG CLONE WARS GAME PACK

Special sale on back issues email us your list.

Check out some pictures through the years