FACEBOOK: Time Out For Comics!

Follow us on: Instagram

Email: timeoutforcomics@myfairpoint.net

Phone: 1-207-360-1034

TAKE TIME OUT FOR COMICS! WHERE WE TAKE TIME OUT FOR YOU!!

BECOME A TIME OUT FOR COMICS! MEMBER

On September 1 2021, Time Out For Comics! celebrates 28 years in business!! A big thank you to all for 28 years of friendship, great conversations and memories. Here is to another great year and many more to follow!!!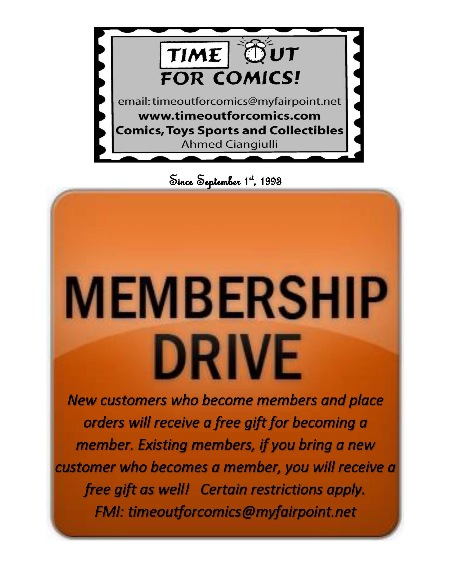 New customers who become members and place orders will receive a free gift for becoming a member. Existing members, if you bring a new customer who becomes a member, you will receive a free gift as well!
Certain restrictions apply.


Sign our guestbook

BACK ISSUE INVENTORY SALE! ALL BACK ISSUES ARE FIFTY CENTS each (.050 )+ SHIPPING.

CLASSIC DAREDEVIL AND ULTIMATE SIGNED EDITION EXEMPT FROM SALE.

SEND US YOUR WANT LIST!

____________________________________________________________________________________

RESERVE YOUR COPY NOW OF THESE UPCOMING RELEASES!!

Order your titles through us. Shipping and Handling fees may apply.

____________________________________________________________________________

May Highlights:

SAVAGE AVENGERS #1
Marvel
AN ALL-NEW, ALL-DIFFERENT, ALL-DANGEROUS TEAM ASSEMBLES! Since his exile from the Hyborian Age, Conan the Barbarian has conquered the most dangerous foes the modern Marvel Universe has to offer - but what happens when this hard-edged Cimmerian finds himself on the run from the cybernetic soldier of the future known as Deathlok? Outgunned and outmatched, Conan must turn to an unlikely group of loners, berserkers and killers if he hopes to survive the night - but can these Savage Avengers defy Deathlok's murderous manhunt, or will they become the next targets in the crosshairs of tomorrow? Don't miss out on a bold new beginning for Marvel's most savage super heroes, as Ringo Award-winning writer David Pepose (Spencer & Locke, Scout's Honor) and superstar artist Carlos Magno (KANG THE CONQUEROR, RoboCop: Dead or Alive) introduce a sensational new lineup that will resonate across every era of the House of Ideas!

SPIDER-MAN 2099: EXODUS ALPHA #1
Marvel
Miguel O'Hara is back! After fighting battles across the timestream, MIGUEL O'HARA is at last back defending hispresent and our our future! For SPIDER-MAN 2099, the only thing constant about life in Nueva York is change. So when a cataclysmic crash creates a new Garden of Eden in what was once the American Wastelands, Spider-Man knows exactly what the next atrocity will be. Watch as THE CABAL plans to set society ablaze - and you'll never guess who is leading them!

GAMBIT #1
Marvel
All-NEW ADVENTURES OF THE LEGENDARY THIEF BY CO-CREATOR CHRIS CLAREMONT! You think you know all there is to know about Remy LeBeau, the Ragin' Cajun, the mutant known as GAMBIT - but legendary X-scribe Chris Claremont has an ace up his sleeve with this new series! Before he joined the X-MEN, Gambit encountered a mysterious girl named 'RO - the mutant STORM regressed to her child self by the nefarious NANNY - and the two went up against the forces of the SHADOW KING! Now, revealed for the first time, Gambit finds his path to becoming the heroic X-Man millions of fans call their favorite! Joined by rising star artist Sid Kotian, Chris weaves a story of action, intrigue and revenge that made Gambit the mutant he is and forged his relationship with Storm. You'll get a charge out of this one, mon ami!

SPIDER-MAN 2099: EXODUS #1
Marvel
INTRODUCING THE WINTER SOLDIER OF 2099! After a massive CELESTIAL body crashes into the Wastelands outside of Nueva York, a new Garden of Eden erupts from the crash site, offering unimaginable power. And it's not just THE CABAL who is hungry to control the Garden. Everyone's got something to gain from Paradise…including WINTER SOLDIER 13. Salvaged from the black market as a child, the Winter Soldier - raised on mad science - is bent on vengeance and rebirth. But what truly lies within the Garden?


BATMAN FORTRESS #1 (OF 8)
DC Comics
(W) Gary Whitta (A/CA) Darick Robertson
When an unknown alien ship enters Earth's atmosphere, disrupting global power and communications and plunging the planet into chaos, the world is left wondering…where is Superman when he is needed most? In the mysterious absence of the Last Son of Krypton, Batman must rally the rest of the Justice League to counter the alien threat...but first, he must quell a crime wave on the blacked-out streets of Gotham! Gary Whitta (Rogue One: A Star Wars Story) and Darick Robertson (The Boys) have joined forces to tell a brutal and shocking adventure that will turn everything you think you know about Superman upside down!

DC VS VAMPIRES HUNTERS #1 (ONE SHOT)
DC Comics
W) Matthew Rosenberg (A) Neil Googe (CA) Jonboy Meyers
A blood-soaked one-shot tale of vampire violence! The Son of Batman, after years of training to be an assassin, is on a path toward utter destruction of the vampire race… Enter Damian Wayne: vampire hunter!


JUNE HIGHLIGHTS:

JUSTICE LEAGUE ROAD TO DARK CRISIS #1 (ONE SHOT)
DC Comics
(W) Various (A) Various (CA) Rafael Sarmento
Written by Joshua Williamson, Jeremy Adams, Brandon Thomas, Chuck Brown, Stephanie Phillips and Phillip Kennedy Johnson Art by Clayton Henry, Fico Ossio, Emanuela Lupacchino, Leila Del Duca and more The Justice League has tragically fallen in battle, and now we see the aftermath. How does the world react to the Justice League being gone? Which heroes rise up...and which villains try to take advantage? And what dark forces are lying in wait to attack? An all-star roster of DC talent showcases a world without a Justice League and sets the stage for next month's Dark Crisis event!

CAPTAIN AMERICA: SENTINEL OF LIBERTY 1
Marvel
"The shield isn't what you think. It's not your symbol. It's theirs." The shield is one of the most iconic images in the world. It stands for hope, justice and the protection of the innocent. It also holds a secret, undiscovered until now, that will change the way Steve Rogers views the 20th century…and how he chooses to fight in the 21st. Nothing is what it appears in this game-changing Captain America run by Jackson Lanzing and Collin Kelly (KANG THE CONQUEROR) and Stormbreaker Carmen Carnero (MILES MORALES: SPIDER-MAN, CAPTAIN MARVEL, STAR).

PUNISHER WAR JOURNAL: BLITZ 1
Marvel
THE TRICK IS TO INVENT A WAR WORTH FIGHTING.Finn Fratz knows that if you want people to hate each other, a Banner cannon in the right pair of hands goes a long way. The aging war profiteer earned his spot on the Punisher's kill list well before he adopted the moniker Hate-Monger, but he has proven an elusive man. Now, with the Hand at his disposal, Frank Castle is ready to smoke him out. But not only has Hate-Monger gone to ground, he's fighting back. Good for him. It's not going to change anything but the death toll. Torunn Grønbekk and Lan Medina join forces to bring you the first of three thrilling tales from between the pages of PUNISHER, exploring Frank's new modus operandi through some of his deadliest missions yet…

FORTNITE X MARVEL: ZERO WAR 1
Marvel
THE MARVEL UNIVERSE COLLIDES WITH FORTNITE! The inhabitants on the Island are locked in what seems like a never-ending war, and only one thing has the potential to turn the tide - a crystallized fragment of the Zero Point that was cast into the Marvel Universe. Spider-Man and Wolverine team up with several Fornite fighters and new recruit Shuri to hunt down the elusive Zero Shard. Will these allies be able to find it in time and avert catastrophe? And can the heroes of the Marvel and Fortnite realities hold off the Imagined Order long enough to give them a fighting chance? Epic Games' Chief Creative Officer, Donald Mustard, teams up with veteran Marvel writer Christos Gage (SPIDER-GEDDON, AVENGERS ACADEMY) and artist Sergio Dávila (CAPTAIN MARVEL) for a five-part crossover event with enormous ramifications for both universes! Each first print issue contains a redeemable code to unlock a bonus digital cosmetic in Fortnite! See issue for details.


TRANSFORMERS: FATE OF CYBERTRON
IDW Publishing
The thrilling conclusion to the saga that started in Transformers (2019) #1! The Decepticons have the upper hand. Cybertron is falling. And Optimus Prime has an imploder—possibly the most dangerous Cybertronian-built weapon in history—to his head. This is the Autobots' last stand. But what does triumph look like in a desperate situation? The War for Cybertron may end here, but the Autobots and Decepticons aren't done yet!


DC VS VAMPIRES KILLERS #1 (ONE SHOT)
DC Comics
(W) Matthew Rosenberg (A) Mike Bowden (CA) Hicham Habchi
In the shadow of the new Vampire World Order, Harley Quinn rules the human underworld in this age of darkness. She has survived by only looking out for herself...but she might have just found the key to saving the world.

July Highlights

BATMAN #125
DC Comics
(W) Chip Zdarsky (A) Jorge Jimenez, Belen Ortega (CA) Jorge Jimenez
Superstar writer Chip Zdarsky joins legendary artist Jorge Jimenez to define a new era in Batman! Bruce Wayne is at a turning point, haunted by dreams of a dark future, while Gotham City billionaires are being gruesomely murdered. With the discovery of an archenemy's involvement and a tragedy unfolding, the Dark Knight's nightmares are just beginning. Failsafe starts here. And in the backup, there's chaos in Gotham as the underworld fights over one of its crown jewels...and Selina Kyle is caught in the middle. Can she stop the bloodshed and maybe even make a little money in the process?

PREDATOR 1
Marvel
HUNT. KILL. REPEAT. In the near future, a young girl sees her family slaughtered by the deadliest and most feared hunter in the universe: a PREDATOR. Years later, though her ship is barely holding together and food is running short, Theta won't stop stalking the spaceways until the Yautja monster who killed her family is dead…or she is. Ed Brisson (IRON FIST, GHOST RIDER) and Kev Walker (DR. STRANGE, DOCTOR APHRA) forge a violent, heartbreaking and unforgettable new chapter in the PREDATOR saga not to be missed!

SPIDER-MAN 2099: EXODUS OMEGA 1
Marvel
THE 30TH ANNIVERSARY OF 2099 REACHES ITS EXPLOSIVE CONCLUSION! The final battle for the Celestial Garden begins! Spider-Man vs. Norman Osborn! The X-Men vs. the Cabal! Two armies, two deadly enemies…and the keys to 2099's future up for grabs! It's a brawl for all: A brave new tomorrow for 2099 starts here!


DARK CRISIS WORLDS WITHOUT A JUSTICE LEAGUE SUPERMAN #1 (ONE SHOT)
DC Comics
(W) Tom King, Brandon Thomas, Chuck Brown (A) Chris Burnham, Fico Ossio (CA) Chris Burnham
When Pariah and his forces of the Great Darkness laid waste to the most powerful superheroes of all time, all hope was lost…with the Man of Steel suffering the same fate as that of his comrades, join us for a look at a world of dreams he would never have thought possible while alive. Where there's life there's hope, and with that hope comes a deeper unraveling of the tapestry of DCU's biggest event of 2022!

AVENGERS 1,000,000 BC 1
Marvel
THE SECRET ORIGIN OF THOR - REVEALED! They are the defenders of the dawn of time. Marvel's first and mightiest legacy heroes. But their greatest secrets have never been revealed. Until now. Witness the dark events that shatter their ranks. See how their lives come to shape the entire future of the Marvel Universe. And be there for the monumental event that reunites them one last time: the true story of Thor's birth.

DC VS VAMPIRES ALL-OUT WAR #1 (OF 6)
DC Comics
(W) Matthew Rosenberg, Alex Paknadel (A) Pasquale Qualano (CA) Alan Quah
One of the last secret, underground human cities is facing total annihilation and its leader—John Constantine—must plan a suicide mission to assassinate a key lieutenant in the vampire empire! Against unreal odds and with an unlikely team including Booster Gold, Deathstroke, and Mary Marvel, does the Hellblazer have one more trick up his sleeve? A gritty, violent, monochromatic companion series to DC vs. Vampires, this series will feature a brutal story with a cadre of talented creators delivering 32 pages of original content!

X-MEN UNLIMITED: X-MEN GREEN 1
Marvel
AN "X" CROSSING DANGEROUS LINES! When a young X-Man breaks the laws of Krakoa and takes a life, it's up to Wolverine to track down his former student and take her down… But Nature Girl is tired of standing by while humanity destroys her home. Can even Logan quell her fury? Find out as a good girl breaks bad to save the planet! The hit story from Marvel Unlimited comes to print for the first time with exclusive bonus content!


X-MEN LEGENDS 1
Marvel
AN ALL-NEW TALE SET BEFORE GIANT-SIZE X-MEN #1! Before GIANT-SIZE X-MEN brought STORM, WOLVERINE, COLOSSUS, NIGHTCRAWLER and THUNDERBIRD to the team, Roy Thomas redefined the merry mutants in two seminal runs on the book. Now Roy, at long last, returns to the saga of the X-MEN to take us through the period between his run and GSX, for the first time detailing Wolverine's government missions before his recruitment by PROFESSOR X (including unrevealed detail on his battle with the green goliath in HULK #181/182), an untold episode involving BEAST and a host of missing mutants, and the secret behind Wolverine's costume! Kicking off an all-new volume of X-MEN LEGENDS by a host of legendary creators, this is but the first story in a run of new, in-continuity tales covering the length and breadth of X-Men history from the early eras to fan-favorite latter day sagas! Face front, True Believers! These are the missing links you've been looking for!

_____________________________________________________________________

Sign our guestbook

____________________________________________________________________________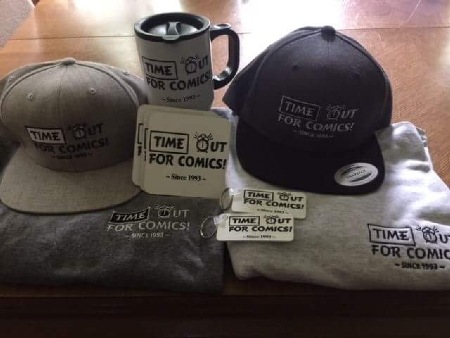 We offer Time Out For Comics! t-shirts, hats, travel mugs, and coasters. Order yours!!


More than a comic store. COLLECTORS ORDER YOUR DC DIRECTS, MARVEL SELECTS AND OTHER STATUES AND BUSTS THROUGH US!

We carry a full line of: MARVEL, DC, DARK HORSE, IMAGE, BOOM, IDW titles. We also carry comic, sports, and card supplies for all your collecting interests.

______________________________________________________________________________________

Whether you have been collecting for years, just starting out, or looking for something to read, with 28 years in the industry Time Out's goal is to meet your individual collecting needs. Missing a book? E-mail us- we can put together a selection of titles to meet your specific reading needs, or find the book you are looking for. Orders from Previews accepted.

You can stay in the comfort of your home and have your collection delivered to you. Read all the exciting issues of the best stories offered by Marvel, DC, or the Independents.

We ship out of state- email us for shipping information.

Your books come bagged.

WEDNESDAY NEW RELEASE DAY

Be sure to click on the Pick of the Week page every Wednesday for hot items! All merchandise is while supplies last.

Check out our monthly newsletter page.

Take Time Out For Comics! Where we take Time Out for YOU!! If you have any questions or wish to place an order you can email us: timeoutforcomicsmyfairpoint.net
Sign our guest book before you leave OR if you wish to leave a comment , need information, or need us to contact you, go to the contact or comment page. Hope to hear from you!

________________________________________________________________________________

THE $1 CARD PACK SALE: EACH PACK IS $1 EACH ! IF YOU ARE CURRENTLY RECEIVING ORDERS FROM TIME OUT THEN PACKS WILL BE INCLUDED IN YOUR NEXT SHIPMENT. IF YOU ARE NOT THEN CONTACT US FOR SHIPPING INFO. QUANTITIES ARE LIMITED SO ACT NOW!!!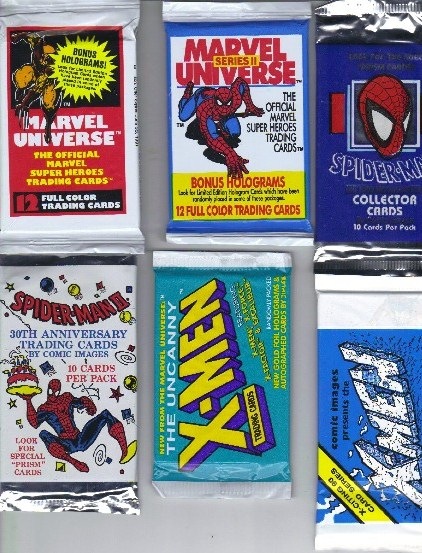 SPIDERMAN COLLECTOR'S CARDS

SPIDERMAN II 3OTH ANNIVERSARY

UNCANNY X-MEN

X-MEN

MARVEL UNIVERSE SERIES I

MARVEL UNIVERSE SERIES II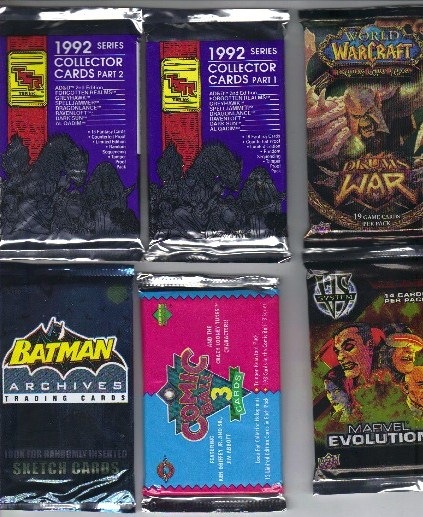 1992 DUNGEONS AND DRAGONS COLLECTORS CARDS PART 1

1992 DUNGEONS AND DRAGONS COLLECTORS CARDS PART 2

BATMAN ARCHIVES

WORLD OF WARCRAFT DRUMS OF WAR

COMIC BALL 3

MARVEL EVOLUTION (SOLD OUT)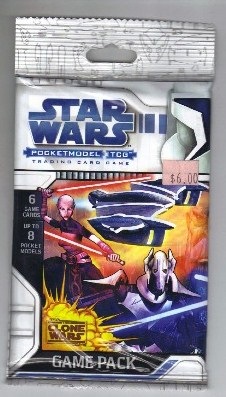 STAR WARS POCKET MODEL TCG CLONE WARS GAME PACK

Special sale on back issues email us your list.

Check out some pictures through the years